Dell Inc. Expects to Donate Over $14 Million Globally in STEM Education for Underserved Children This Year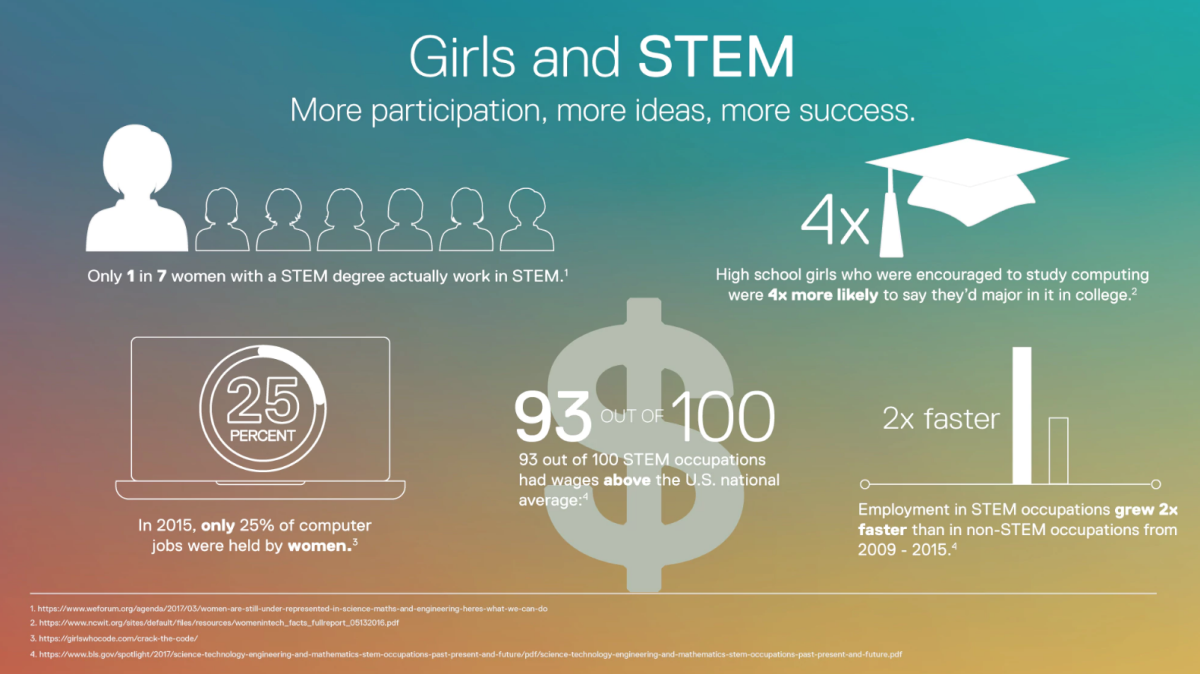 ROUND ROCK, Texas, October 16, 2017 /3BL Media/ -- As a part of ongoing efforts to invest in a more diverse technology workforce, Dell Inc. expects to contribute $14 million in grants and technology donations to support future generations of STEM workers, in current fiscal year which ends Feb. 3, 2018. Current donations made across Dell's 71 youth learning partners globally are expected to bring technology education to more than 1.5 million underserved youth. With the expected contributions, a total of 4 million children will be impacted through Dell's strategic giving programs, since 2014.
The U.S. Bureau of Labor Statistics expects total number of jobs in STEM fields to grow 12.5% by 2022, in the U.S. alone. As the technology industry looks for new ways to diversify its workforce, there's an opportunity to expand STEM initiatives to those who may be underserved in this area currently. Specifically, there is room for the public and private sectors to commit more to STEM education and mentorship to underserved youth. By encouraging all youth regardless of gender or ethnicity or social class to study STEM, there's an opportunity to bring different perspectives to STEM-related industries as well as fulfill jobs in the future.
"We believe that the future belongs to those who can build digital technologies and those who can use technology to solve the world's biggest challenges," said Karen Quintos, chief customer officer, Dell. "The technology industry is creating the jobs of the future, as technology is the critical enabler for business, no matter the sector. It is our responsibility to prepare the next generation, particularly underserved populations, with technology access as well as the core skills and confidence to thrive in a digital world."
Dell's partnerships
Dell has dedicated funds, technology and expertise globally to further empower and enable interested youth from around the world to explore STEM fields. Some of Dell's commitments this fiscal year include:
Power of One
In addition to donations, Dell is launching the "Power of One" mentor program. The program challenges Dell team members and others in the technology industry to dedicate time to volunteer or mentor one child about their job, why they love it, and how it makes a difference. Dell believes that just one conversation can have a lasting impact and set a child on the course to change the world.
"The power of mentorship is immeasurable," Trisa Thompson, senior vice president and chief responsibility officer of Dell. "Children especially need strong role models. We are excited to encourage the tech industry as a whole to embrace a culture of mentorship and to encourage a more diverse, and in turn successful, STEM workforce for tomorrow."
Additional quotes
Reshma Saujani, Founder and CEO of Girls Who Code
"Technology is the single-most powerful industry in its potential to rapidly reinvent society as we know it. We cannot limit a girl's ability to shape this future simply because she lacks access to the necessary technology and resources to gain a computer science education. Dell's continued partnership with Girls Who Code has enabled thousands of young girl to realize the full potential of their future and we are excited to continue working together."
Sajit Menon, Head of Programs, American Indian Foundation
"Too often we give children answers to remember rather than problems to solve. Through the Digital Equalizer Program, supported by Dell's Youth Learning program, we aim at providing underserved children access to technology integrated education with a special focus on science. We empower the teachers by providing them digitized content for science and by creating an enabling environment for students to learn and grow.
John Fitzsimons, CEO, Camara Education
Camara Education has been working with Dell for many years. Our success together is built on our shared vision; to leverage the potential of technology to enhance education. Previous successful projects together include the startup of our Tanzanian hub, which is now a full-fledged social enterprise impacting thousands of students per year. This is also at the core of our partnership; empowering a young generation to improve their own life opportunities. We are very excited to have Dell on board for our groundbreaking project in Ethiopia.
Additional resources
About Dell Inc.
Dell Inc., a part of Dell Technologies, provides customers of all sizes – including 98 percent of the Fortune 500 – with a broad, innovative portfolio from edge to core to cloud. Dell Inc. comprises Dell client as well as Dell EMC infrastructure offerings that enable organizations to modernize, automate and transform their data center while providing today's workforce and consumers what they need to securely connect, produce, and collaborate from anywhere at any time.
Media Contact:
Emily Laderman
Global Marketing
+1 (512) 728-4845
Emily_laderman@dell.com