De Beers Helps Fund a New Book to Tell Tłı̨chǫ Stories From Long Ago
De Beers Helps Fund a New Book to Tell Tłı̨chǫ Stories From Long Ago
A De Beers Group donation has helped capture important cultural lessons for Tłı̨chǫ communities in Canada's Northwest Territories.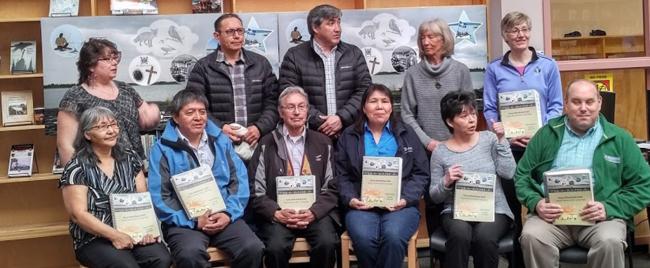 Thursday, September 28, 2017 - 8:30am
Tłı̨chǫ Whaèhdǫǫ̀ Godıı̀ (Tłı̨chǫ Storıes from Long Ago) and an accompanying Teachers' Guide were launched at an event held in Behchokǫ̀.
Tammy Steinwand-Deschambeault, Culture and Language Coordinator for the Tłı̨cho Community Services Association (TCSA), said: "These are our stories from long ago that have been passed down to us. When young people are out on the land, the evidence is out there for them to see. Our history helps them know who they are as Tłı̨cho people."
The book contains stories collected from elders, a process that took two years. Five hundred copies will be distributed to students for use in classrooms at all Tłı̨cho community schools. 
The accompanying guide will help teachers understand how to incorporate the book and its stories into the classroom. Workshops are being planned to introduce the teachers to the resource and other materials, including recordings of interviews with elders, a map of the region and a presentation for teachers to use in the classroom.
"This is a living document and we want it to get bigger and better and we want to keep adding to it," Tammy said.
In addition to funding from the TCSA and the Tłı̨cho Government, C$15,000 was provided through the De Beers Canada Fund.
Erik Madsen, General Manager of Sustainability for De Beers Canada, said: "This is an important book that will help Tłı̨cho youth build a better connection to their culture and history. This is the kind of project that De Beers is proud to support because it will result in real, long-lasting benefits in the communities where we work."
During 2016, De Beers Canada provided close to C$610,000 in social investment projects in the Northwest Territories, of which more than half went to cultural and heritage initiatives. 
De Beers Group has also supported a book by one of its project managers in Botswana. Mike Brook's 'Botswana's Diamonds – Prospecting to Jewellery' was the second of five books he has produced. 
Mike, who specialises in innovative water supply solutions for Debswana, a 50/50 joint venture between De Beers Group and the Government of the Republic of Botswana, has written on a range of aspects of life in Botswana.
About De Beers
De Beers is a member of the Anglo American plc group. Established in 1888, De Beers is the world's leading diamond company with expertise in the exploration, mining and marketing of diamonds. Together with its joint venture partners, De Beers employs more than 20,000 people across the diamond pipeline and is the world's largest diamond producer by value, with mining operations in Botswana, Canada, Namibia and South Africa. As part of the company's operating philosophy, the people of De Beers are committed to 'Building Forever' by making a lasting contribution to the communities in which they live and work, and transforming natural resources into shared national wealth. For further information about De Beers, visit www.debeersgroup.com.
Media Contact 
Press office
Tel +44 (0) 20 7430 3434
pressoffice@debeersgroup.com