Create Your Nonprofit's Strategic Plan With Volunteer Support
Join Taproot Foundation's webinar on strategic planning for nonprofits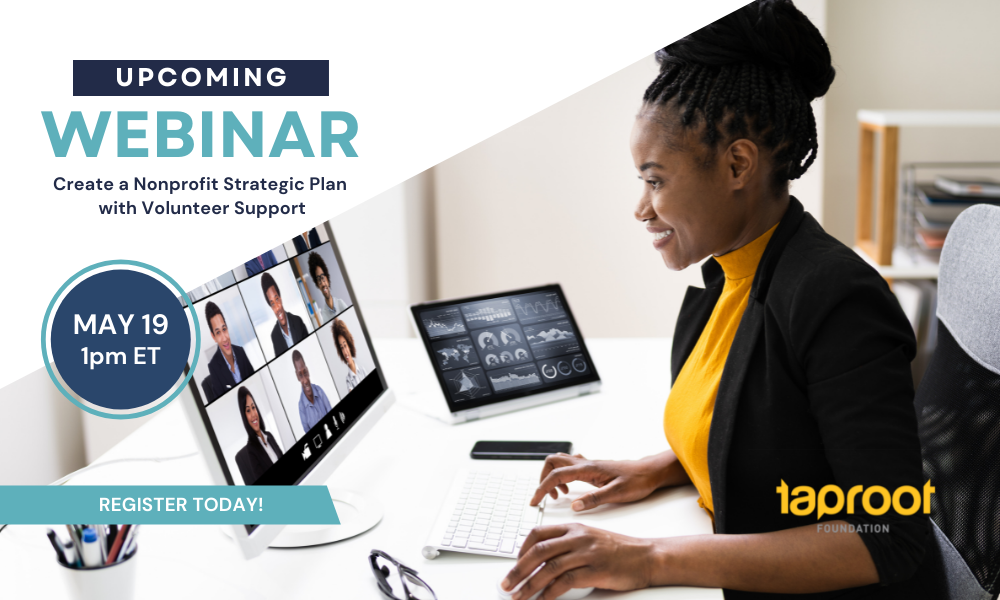 Create Your Nonprofit's Strategic Plan with Volunteer Support
Thursday, May 19, 2022, at 1 PM ET / 12 PM CT / 11 MT / 10 PT
Does your nonprofit have a strategic plan? It's a North Star to follow that will help ensure your organization's focus on your mission and vision, while also setting a framework to evaluate progress towards your goals. But let's name the elephant in the room: Developing a strategic plan is a daunting process. But have no fear, Taproot's community of skilled volunteers is here to help.
During their one-hour webinar on Thursday, May 19, Taproot will cover everything you need to know about creating a strategic plan for your nonprofit:
- A birds-eye view of the strategic planning process
- How professionals from the business community can help tackle the research, data gathering, and facilitation elements that fuel your nonprofit's strategic plan
- How to connect with volunteers - for your strategic planning needs and more - through Taproot's free programs for nonprofits
Register now to join this free webinar on how to create a nonprofit strategic plan - and bring a friend! We appreciate your support in spreading the word that this webinar and all of Taproot's programs for social change organizations are completely free.
Thursday, May 19, 2022, at 1 PM ET / 12 PM CT / 11 MT / 10 PT
Access to this webinar and the Taproot Plus pro bono platform are completely free of cost for nonprofits, public schools, and fiscally social good organizations in the US, UK, EU, Canada, and India. Select Taproot Plus services are also accessible to US-based small businesses.