Consumers Energy Delivers $2.6 Million Check to General Motors for Energy Efficiency Measures
GM Reduces Enough Energy to Power 350 Houses, Heat 2,100 Homes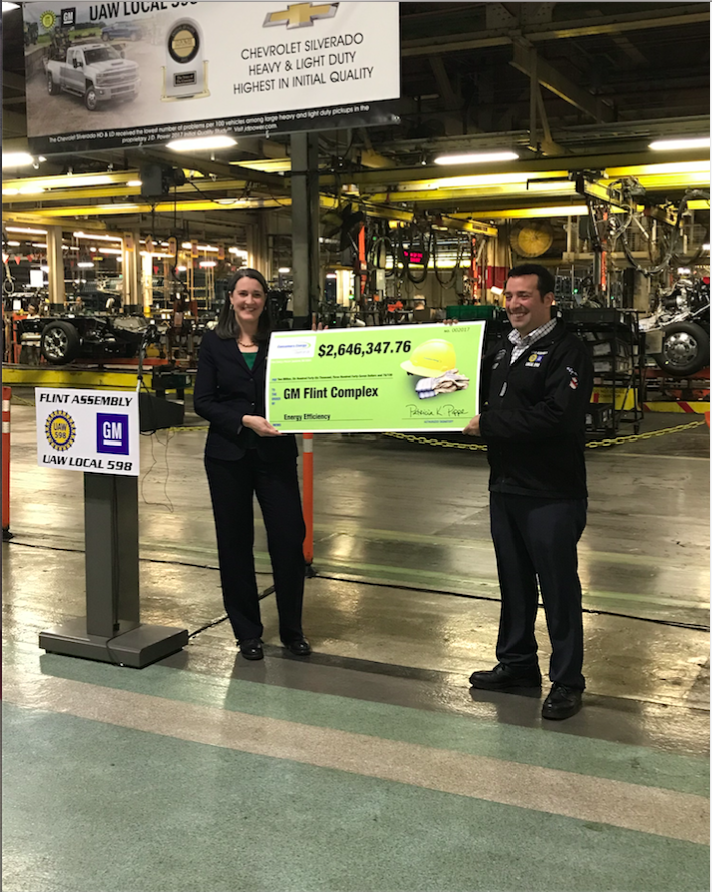 FLINT, Mich., December 6, 2017 /3BL Media/ – General Motors Flint Complex has received a $2.6 million incentive payment from Consumers Energy for energy efficiency upgrades, part of the energy provider's commitment to helping businesses across Michigan lower their energy costs. Consumers Energy President and CEO Patti Poppe presented the incentive check to GM officials at the Flint Assembly plant today.
"Our mission at Consumers Energy is to help Michigan businesses be competitive and grow jobs by lowering their energy costs and we are committed to providing energy solutions for all Michigan businesses including flagship employers like General Motors," Poppe said. "We are proud to give GM Flint a $2.6 million check and congratulate them on their dedication to improving the community and our planet."
The incentive payment is the result of energy efficiency improvements to the plant in 2017. GM Flint Complex completed 28 projects at the Flint complex, estimated to reduce enough electricity to power 350 houses and heat 2,100 homes. The 28 projects are expected to save GM $1.12 million each year. Since Consumers Energy's rebate program began, GM has received $11.5 million in energy incentives.
"The GM Flint team recognizes the importance of being environmental stewards and our strong relationship with Consumers Energy allows us to maximize our opportunities to be good corporate citizens and serve as leaders in the energy conservation business within GM," said Michael Perez, GM Flint Assembly plant manager. 
Consumers Energy has helped Michigan customers save over $1 billion through energy efficiency programs since 2009. Learn more about energy efficiency at www.ConsumersEnergy.com/mybusiness, including information on over 400 rebates available to schools and businesses.
Consumers Energy, Michigan's largest energy provider, is the principal subsidiary of CMS Energy (NYSE: CMS), providing natural gas and/or electricity to 6.7 million of the state's 10 million residents in all 68 Lower Peninsula counties.
Check out Consumers Energy on Social Media Facebook | Twitter | YouTube
For more information about Consumers Energy, go to www.ConsumersEnergy.com
Media Contacts:
Consumers Energy
Katie Carey
517-788-2395
Brian Wheeler
517-788-2394
General Motors 
Liz Trudeau
586-638-8493
liz.m.trudeau@gm.com