CITGO Announces 10th Anniversary Grantee Finalists for the Bronx Social Program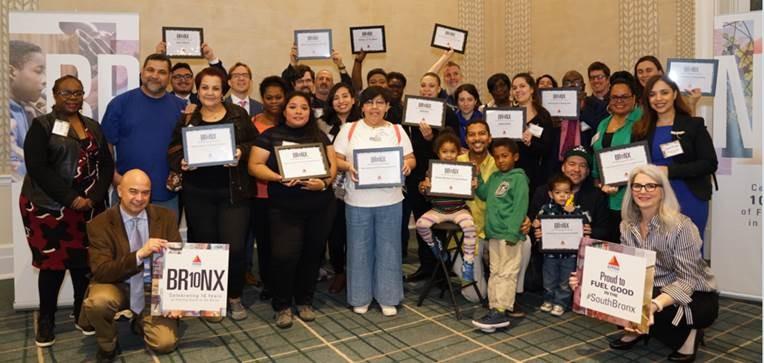 CITGO celebrates the 10th anniversary of its Bronx Social Program with the 2017-2018 grant recipients.
BRONX, N.Y., February 22, 2018 /3BL Media/ - Today, CITGO Petroleum Corporation celebrated the 10th anniversary of its Bronx Social Program by announcing the 2017-2018 grant recipients. The 21 chosen programs were selected because of their efforts to serve the Bronx community through five focus areas, including arts and culture, education, empowering communities, environment and healthy living. CITGO and its charitable organization the Simón Bolívar Foundation created the Bronx Social Program in 2007 to provide grant opportunities to local nonprofit organizations dedicated to ensuring a brighter future for the South Bronx. 
 
"For the last decade, we've supported social initiatives in the Bronx to strengthen the community. This year's grant recipients are supporting education programs and community development that will help improve the lives of area residents for years to come," said CITGO Vice President of Strategic Shareholder Relations Government & Public Affairs Rafael Gómez. "The Bronx Social Program nurtures a career-bound environment and empowers individuals to make their community a home."
This year, the grantee winners are supporting a range of programs, including after-school photography and writing classes that encourage students to express their views around social issues through art, and classes that improve academic performance and college preparation. The 2017-2018 Bronx Social Program grantees are: 
Bronx Documentary Center
Centro Cultural y Educativo, El Maestro
Community Connections for Youth
Destination Tomorrow
Eugenio Maria de Hostos Community College Foundation
Friends of Brook Park
Green Worker Cooperatives
Hondurans Against AIDS
Mary Mitchell Family and Youth Center
Masa-MexEd
Mothers on the Move
New Settlement Parent Action Committee
Northwest Bronx Community and Clergy Coalition
Picture the Homeless
Safety with Dignity/Mass Transit Theater
South Bronx United
The Bronx is Blooming
The Point
UpBeat NYC
Voices Unbroken
Young Urban Christians and Artists
CITGO has a long history of serving the Bronx community and working with local leaders as part of its continued commitment to bettering the lives of students and their families in disadvantaged communities. Since its inception, the Bronx Social Program has provided grants totaling nearly $11 million to support nonprofits and programs that positively impacted more than 200,000 individuals through hands-on learning, job training and environmental advocacy, among others. Overall, with the help of community partners, CITGO has improved more than 2.7 million lives in the last five years through its social responsibility programs, all with the common goal of improving the living conditions and outlook for the region's residents. 
About CITGO
CITGO, based in Houston, is a refiner, transporter and marketer of transportation fuels, lubricants, petrochemicals and other industrial products. The company is owned by CITGO Holding, Inc., an indirect wholly owned subsidiary of Petróleos de Venezuela, S.A., the national oil company of the Bolivarian Republic of Venezuela. For more information, visit www.CITGO.com.