Carlsberg Group Ready with First Carbon-Neutral Brewery
Carlsberg Sverige now runs Sweden's first big brewery with zero carbon emissions from its energy consumption. The brewery in Falkenberg is now 100% powered by biogas and green electricity.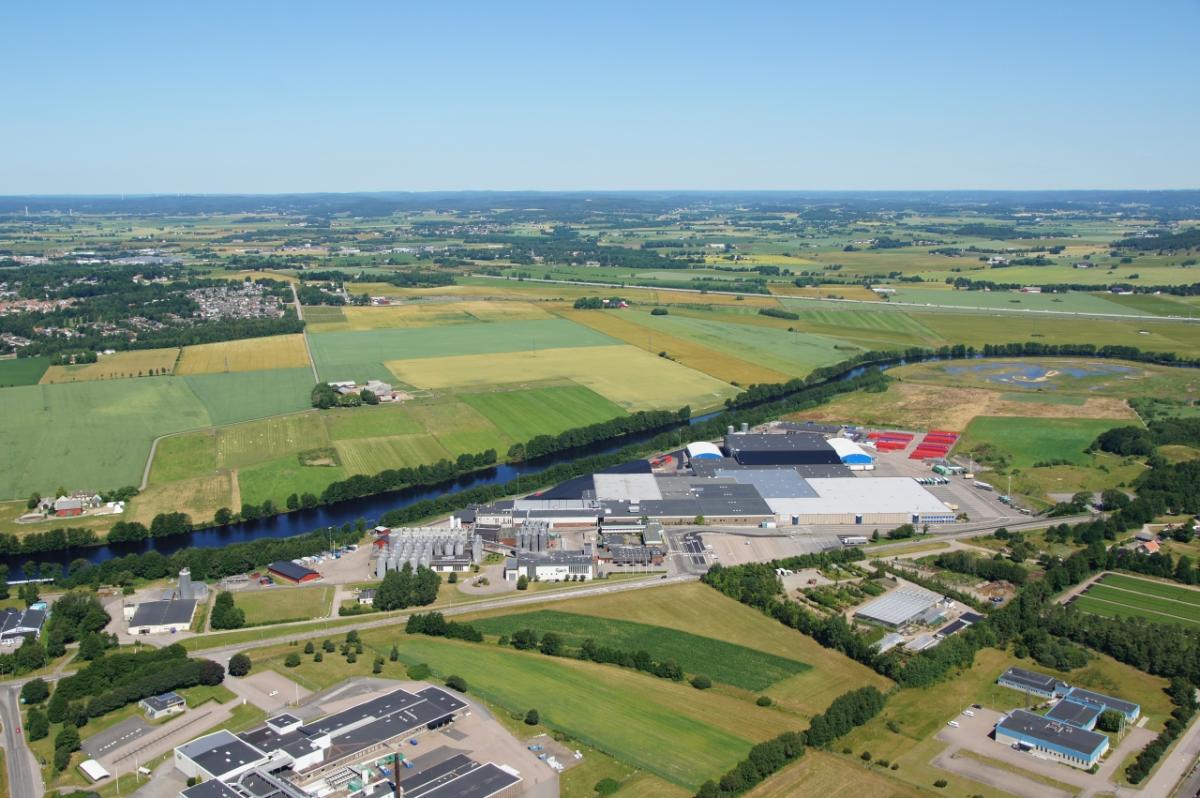 November 24, 2017 /3BL Media/ - Earlier this year, the Carlsberg Group launched a new sustainability programme - Together Towards Zero. One of its four ambitions "Zero Carbon Footprint" is supported by a target to eliminate carbon emissions from all breweries1 and achieving a 30% reduction in the beer-in-hand carbon footprint2 by 2030. To achieve the ambitious targets, Carlsberg Group's breweries will use 100 percent renewable electricity and eliminate coal as a source of energy by 2022.
As part of this journey, Carlsberg Sverige's brewery in Falkenberg is now fuelled 100% on biogas and green electricity3, which reduces the brewery's carbon emissions from thermal energy and electricity to zero. The brewery has been using green electricity for many years, and 26 percent of the thermal energy comes from biogas generated from the brewery's own waste water. The remaining 74 percent have so far been natural gas, which has now, in cooperation with energy supplier Ørsted AB, been converted to biogas4 with certificates ensuring that the biogas supplied to the grid has replaced an equivalent amount of natural gas.
"For many, many years we have been working to create a more efficient brewery with as little impact on our environment as possible. This is clear when looking at how much we have reduced our energy consumption over the years. It is motivating that we now take a big step forward and use solely carbon neutral energy sources", says Ted Akiskalos, MD Carlsberg Sverige.
In Sweden, the well-functioning infrastructure and availability of biogas from the grid makes it possible to convert to fully renewable sources by buying green energy, while other solutions will be deployed for markets where this is not an option. As part of its Together Towards ZERO programme, Carlsberg Group has said it will rely on the best available options for developing and sourcing sustainable energy, including the establishment of solar panels and purchasing renewable energy where possible.
Through the Science-Based Targets initiative, Carlsberg Group has set an industry-leading 1.5 degree ambition compared to the Paris agreement's base-level 2-degree goal. The Carbon Trust highlights Carlsberg among only three major companies having set and approved targets with this level of ambition.
"Our work with Carlsberg has explored the range of options they will need to adopt in the coming years to evolve to a zero carbon brewer. This will include adoption of innovative energy efficiency technologies, own renewable electricity and heat, as well as sourcing of renewable energy, such as biogas. Seeing this first Carlsberg brewery make this transition so soon is very encouraging and should be seen as a demonstration of how industries can embrace new technologies to mitigate climate change", says Tom Delay, Chief Executive, the Carbon Trust.
"Climate change is perhaps the most important issue for our society today, both for citizens, governments and companies all over the world, and we are very pleased with the positive development in Carlsberg Sverige. This underlines our willingness to contribute to tackling climate change at the same time as governments are focusing on scaling and speeding up impact at the COP23 in Bonn these weeks. Carlsberg Group will continue to chase our ambitions and targets, as we strive to brew for a better today and tomorrow", says Simon Boas Hoffmeyer, Sustainability Director, Carlsberg Group.
ENDS
#TowardsZERO
NOTES TO EDITORS
1 From a 2015 baseline.
2 From a 2015 baseline. Beer-in-hand emissions refer to the full life-cycle carbon footprint of a product, taking into account value chain impacts beyond the Carlsberg Group's operational control, such as agricultural production, transport logistics and retail refrigeration.
3 100% electricity from renewable sources (Renewable Electricity with Guarantees of Origin)
4The brewery's total annual consumption of biogas is estimated at over 40 million cubic meters.
About sustainability at the Carlsberg Group:
The Carlsberg Group's sustainability programme, Together Towards ZERO, is a response to global challenges such as climate change, water scarcity and public health issues. It consists of four ambitions and corresponding targets to be achieved by 2022 and 2030 respectively. The ambitions are: ZERO carbon footprint, ZERO water waste, ZERO irresponsible drinking and a ZERO accidents culture. The programme encapsulates how the Carlsberg Group is pursuing its purpose of Brewing for a better today and tomorrow. It is based on a scientific approach and is in line with the UN Sustainable Development Goals.
Learn more about the Carlsberg Group's work with sustainability and the new ambitions and targets: www.carlsberggroup.com/sustainability
Read more about Carlsberg Sverige's sustainability work (in Swedish): www.okorkat.se
Contacts:
Media Relations: Anders Bering +45 4179 1217 Kasper Elbjørn +45 4179 1216
Investor Relations: Peter Kondrup +45 3327 1221 Iben Steiness +45 3327 1232
For more news, sign up at www.carlsberggroup.com/subscribe or follow @CarlsbergGroup on Twitter and LinkedIn.
The Carlsberg Group is one of the leading brewery groups in the world, with a large portfolio of beer and other beverage brands. Our flagship brand – Carlsberg – is one of the best-known beer brands in the world, and the Baltika, Carlsberg and Tuborg brands are among the eight biggest brands in Europe. More than 41,000 people work for the Carlsberg Group and our products are sold in more than 150 markets.
Find out more at www.carlsberggroup.com.