Nestlé in the U.S.: Healthy Individuals & Families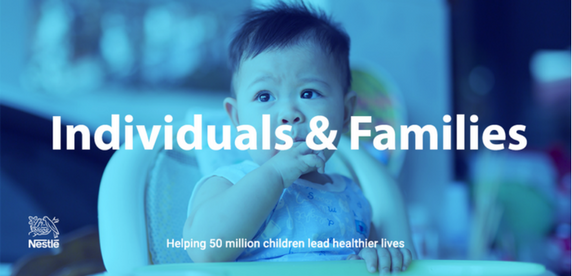 Our 2030 ambition: Help 50 million children to lead healthier lives
Food is not just a source of nutrition, it also brings us together as families or friends. It is part of every culture. It also presents one of the largest public health challenges ever. According to the WHO, obesity has more than doubled worldwide since 1980. More worryingly, since 2014 almost 2 billion adults were overweight and over one third of those obese. Likewise the number of children under 5 considered overweight or obese has risen to over 40 million in the last 3 years.
At the same time, hunger and inadequate nutrition poses a serious threat in many countries. The UN estimates that over 795 million people around the world do not get enough food to eat to lead a healthy, active life. That is 1 in 9 people. Over 100 million children are underweight.
The UN believes the food industry has a vital role to play in helping enable healthier lives. At Nestlé we believe this too. We want to help shape a better and healthier world. This was how we started more than 150 years ago when our founder Henri Nestlé created an infant cereal that saved the life of a child.
Today we support individuals and their families with tastier and healthier choices. We know how important it is that people can enjoy a healthy diet so we are reducing salt, sugar and saturated fats in our products. We are also adding more wholegrains, fibre and vegetables. In countries where it is needed we fortify our products with essential nutrients, helping people to eat healthier.
Videos from this campaign
Content from this campaign