Nutrition Health and Wellness
At Nestlé, our goal is to be the recognized leader in Nutrition Health & Wellness. We believe that the enjoyment of food and beverages is harmoniously linked to life and living at its best. We are committed to offering products that nourish your body, raise your spirits, delight your taste buds, honor the environment and help you celebrate the people you love.
At Nestlé, we recognize three dimensions in Nutrition, Health and Wellness:
Pleasure: Winning consumer preferences on taste and pleasure while enhancing the nutritional value of our products.
Balance: Encouraging responsible nutrition and moderation and variety of food habits. There is no such thing as bad food.
Understanding: Providing clear nutritional advice and information to help consumers make informed choices about their diet and lifestyle.
Videos from this campaign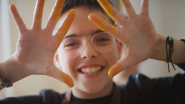 Content from this campaign