Bechtel Build 100 Blog | Summary of the 2017 Bechtel Sustainability Report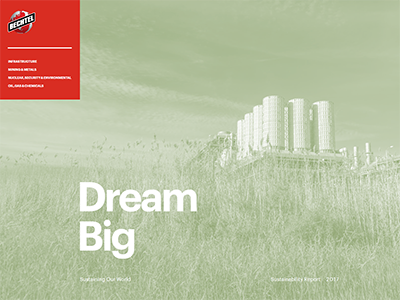 How we deliver projects for our customers matters just as much as what we deliver.
In this year's sustainability report, we feature how we worked with customers to:
Reuse treated industrial wastewater to develop a natural carbon offset system for the Gujarat refinery project in India.
Expand access to new business opportunities for nearly a dozen Aboriginal firms at the Amrun bauxite mine project in Australia.
Generate more power for homes and businesses from the Stonewall combined cycle gas power plant in Virginia without using additional fuel or producing more emissions.
Apply the "circular approach" to minimize waste by maximizing the reuse of food, plastics, wood, and other materials at the Wheatstone liquefied natural gas project in Australia.
Use an advanced sustainability certification standard to design maintenance facilities for the Edmonton Valley light rail project in Canada.
We discuss how we further integrated sustainability across our business, which included more than 50 new policies, procedures, and programs to help achieve our ambitious goals and targets by 2030.
This year we also saw the world bolster its efforts to eliminate the scourge of forced labor and human trafficking, including in global supply chains and on construction sites. Bechtel is proud to be a founding member of Building Responsibly, a coalition of global engineering and construction companies dedicated to improving worker welfare standards.
Finally, as our markets, customers, and industries evolve, Bechtel, too, evolves. We are actively testing and incorporating new technologies, big data, and analytics to deliver projects that will be smarter, safer, greener, and cost-efficient for our customers and society.
Over the next decade, we have an opportunity to shape sustainability in our industry and define what good looks like. We will meet this challenge with our customers and partners because it will not only build better projects—it will make the world a better place.