Attend the Taproot U.S. Pro Bono Summit 2022
Accelerating Trust, Connection, and Impact through Pro Bono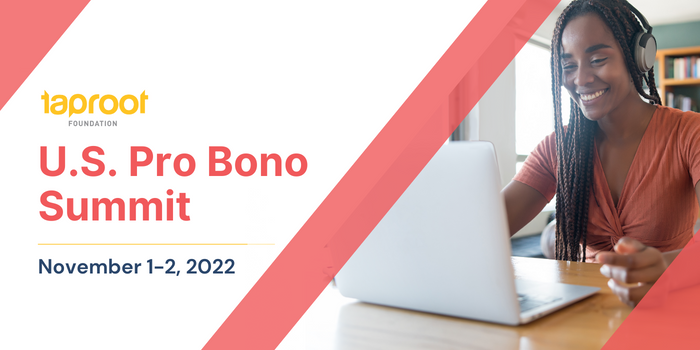 Attend the Taproot U.S. Pro Bono Summit 2022
Attend the Taproot U.S. Pro Bono Summit 2022: Accelerating Trust, Connection, and Impact through Pro Bono
November 1 – 2, 2022 | 1 pm – 5 pm ET/ 10 am – 2 pm PT (both days)
Hybrid Format: Virtual and in-person with presenters and limited attendees
Join Taproot in our milestone 20th anniversary year to celebrate the philanthropic, social impact, corporate leaders, and trends driving a more equitable future for social good organizations.
The 2022 U.S. Pro Bono Summit will be an innovative and collaborative moment to nurture the cross-sector connections vital to advancing pro bono service. We will aim to catalyze and challenge attendees to think differently about pro bono work through storytelling, co-learning, and community-building.
Sign up for free to attend virtually
You are invited to join us either virtually or in person. Please only register for the in-person event if you plan to attend. The event will be hosted in Midtown Manhattan, New York City. Current state and local COVID-19 precautions will be in place.
Sessions include:
November 1, 2022
Confronting the Nonprofit Racial Leadership Gap
Talent Development + CSR: A Game Changing Partnership for Impact
Centering Community – A Practical on Operationalizing DEI in Pro Bono Programming with Blue Cross Blue Shield of North Carolina
November 2, 2022
It's Not All About "Us" – Re-Orienting the Language and Power in Philanthropy
The Executive Effect – How Engaging Senior Leadership in Pro Bono Can Have Broad Impact
Listening to What Nonprofits Really Need: The "What" and "How" of Building Understanding
Boldly Going Nowhere: Why Sugarcoating Our Stories Is Harming the Nonprofit Sector and How to Stop It
Ask a Root Panel – Q+A with Taproot Employees
We're grateful for AIG's contribution of space to Taproot's 2022 Pro Bono Summit. Thank you to our generous event sponsors: 3M, Johnson & Johnson, Comcast NBCUniversal, and Prudential.