Alexion: Working with Our Suppliers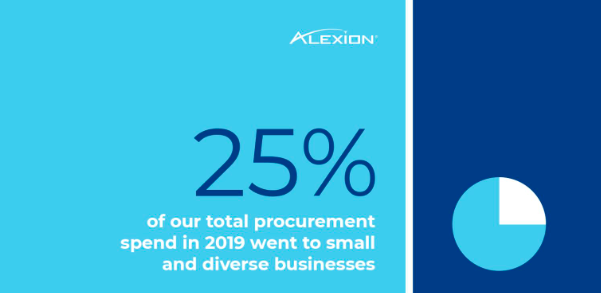 Alexion partners with a wide variety of third parties to deliver the goods and services required to support the discovery, development and commercialization of life-changing therapies. We work to develop mutually beneficial relationships that support our corporate goals, while engaging in a manner that supports our patient focus and values.
Our Vendor Code of Conduct
In 2019, Alexion updated its Vendor Code of Conduct with plans to distribute to all new and existing suppliers in 2020. All suppliers are required to read and acknowledge the Vendor Code of Conduct, which aims to ensure our suppliers share our commitment of high ethical standards and compliance with all applicable laws, regulations and other legal requirements in every country in which they operate. Topics include anti-bribery/anti-corruption, privacy, animal welfare, fair labor and hiring practices, and environmental, health and safety. 
We also created an internal Global Procurement and Sourcing Policy in 2019 to provide global standards for managing the purchase of goods and services. 
Creating a Diverse Network of Suppliers
Alexion strives to work with small businesses and small disadvantaged, women-owned and veteranowned small businesses where we are able. In 2019, Alexion spent nearly 25% of our total procurement spend on small and diverse businesses. In 2020, we aim to take the following steps in association with our work with diverse suppliers: 
Being an active sponsor of the Greater New England Minority Supplier Development Council. 
Networking with peers in the pharmaceutical industry to identify suppliers aligned with our needs and supplier diversity goals. 
Leveraging our Institute for Supply Management membership for best practices in engaging small and diverse businesses. 
Consulting with the U.S. Small Business Administration and U.S. Veterans Affairs to identify potential suppliers. 
Participating in supplier diversity events, examples of which may include the Women's Business Enterprise National Council 2020 National Conference & Business Fair and the Annual Veteran and Small Business Summit.
Learn more about how Alexion's Ethics and Compliance in our 2019 Corporate Responsibility Report.