Alexion Hosts Solo Atlantic Rower Debra Searle in Zurich for an Evening with Healthcare Businesswomen's Association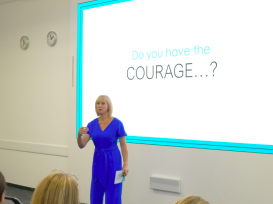 Debra Searle inspires an audience at Alexion's offices in Zurich.
On September 4th, Alexion partnered with the Healthcare Businesswomen's Association to host one of the world's most fascinating business and sports women, Debra Searle, at Alexion's Zurich offices for an evening of inspiration and discussion.
Searle, who has tackled some of the toughest environments on the planet, including rowing solo across the Atlantic Ocean, shared her remarkable story with Alexion employees. She also shared some of her winning strategies for success in life and work, particularly in challenging or unexpected conditions. Searle stressed the importance of shifting one's reaction when faced with an adverse environment.
Leading up to Searle's talk, Nicole Formica-Schiller, Vice President of the HBA Zurich-Zug chapter, and Camilla Hartvig, Head of International at Alexion, reinforced the HBA's and Alexion's shared commitment to developing gender parity leaders and women's leadership, advancement and impact.
Alexion is proud to be a Corporate Partner of the HBA and hopes to continue facilitating events that empower women leaders inside and out of Alexion to help them achieve their full potential.