Alaska Beyond Magazine | Pioneering Parks
America's National Park Service explores new ideas for sustainability and learning opportunities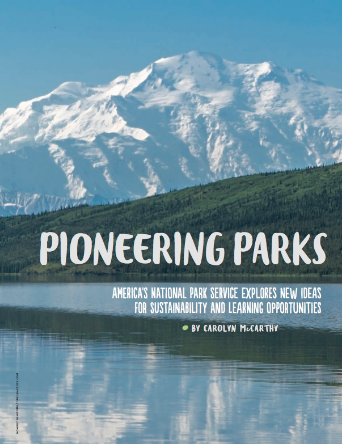 Originally published in the April 2018 issue of Alaska Beyond Magazine
Denali National Park & Preserve, in a partnership with Subaru of America, has been conducting public outreach programs and installing infrastructure to reduce waste via the Denali Zero-Landfill Project.
Visit the Alaska Beyond Magazine website to read the full article.
About the Denali Zero-Landfill Project
You may hear stories or see photographs, but when you look at Alaska, we hope you wonder if anyone has ever been here before. Knowing who we are is what we leave behind, we created the Denali Zero Landfill Project to reduce the waste generated at Denali National Park and Preserve. And we have. In partnership with the Denali Education Center and Doyon/Aramark Joint Venture, and with support from Subaru of America, the National Parks Conservation Association and the Denali community, the park has increased waste diversion by 50%. We love you, Future. Enjoy the scenery.
Visit www.Denali.org/zerolandfill for more information about our progress.