Aflac Serves as Diamond Sponsor at CureFest for Childhood Cancer Awareness Month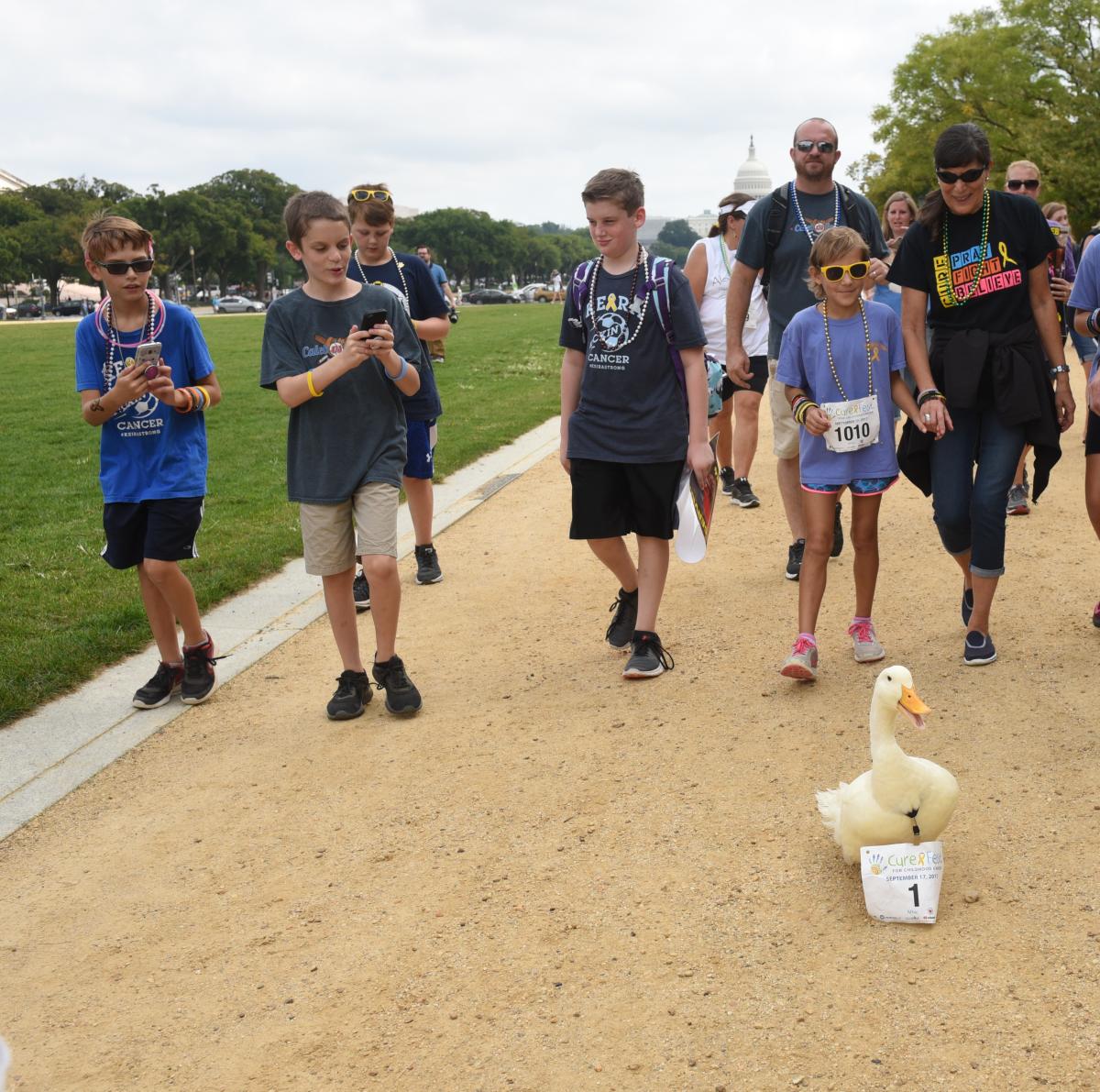 The Aflac Duck participates in the Walk For Life at CureFest at the National Mall in Washington D.C.
Aflac, the leading provider of voluntary insurance sales at the worksite in the U.S. and a longtime champion of the childhood cancer cause, today participated as a Diamond Sponsor of CureFest for Childhood Cancer. A grassroots event held at the National Mall in Washington D.C., CureFest aims to make childhood cancer research a national priority by uniting the childhood cancer community, the general public, the brightest medical minds and elected leaders as one voice against childhood cancer. This is the second year that Aflac has sponsored CureFest after becoming the event's first national sponsor in 2016.
Since 1995, Aflac has contributed more than $118 million to the cause of childhood cancer. Each month the company's independent agents contribute more than $500,000 to this cause. Whenever someone posts or shares on social media using the hashtag #Duckprints Aflac contributes $2 up to $1.5 million to the Aflac Foundation, which supports the company's childhood cancer initiatives.
To download photos from CureFest please click or cut and paste http://bit.ly/Aflac_Wire_091717 and use the password "aflac".
For more information about the Aflac Children's Cancer Campaign, please go to www.AflacChildhoodCancer.org
About Aflac
When a policyholder gets sick or hurt, Aflac pays cash benefits fast. For more than six decades, Aflac insurance policies have given policyholders the opportunity to focus on recovery, not financial stress. In the United States, Aflac is the leader in voluntary insurance sales at the worksite. Through its trailblazing One Day PaySM initiative, Aflac U.S. can receive, process, approve and disburse payment for eligible claims in one business day. In Japan, Aflac is the leading provider of medical and cancer insurance, and insures 1 in 4 households. Aflac insurance products help provide protection to more than 50 million people worldwide. For 11 consecutive years, Aflac has been recognized by Ethisphere as one of the World's Most Ethical Companies. In 2017, Fortune magazine recognized Aflac as one of the 100 Best Companies to Work For in America for the 19th consecutive year and included Aflac on its list of Most Admired Companies for the 16th time. In 2015, Aflac's contact centers were recognized by J.D. Power by providing "An Outstanding Customer Service Experience" for the Live Phone Channel. Aflac Incorporated is a Fortune 500 company listed on the New York Stock Exchange under the symbol AFL. To find out more about Aflac and One Day PaySM, visit aflac.com or espanol.aflac.com.
Aflac herein means American Family Life Assurance Company of Columbus and American Family Life Assurance Company of New York.
Media contacts 
Jon Sullivan
706.763.4813
jsullivan@aflac.com
Aflac analyst and investor contact
David A. Young
706.596.3264 or
800.235.2667
FAX 706.324.6330
dyoung@aflac.com