Bechtel
Corporate Social Responsibility (CSR), Sustainability and Cause News & Media
Bechtel
Campaigns
Bechtel delivers sustainability across its projects using a full-spectrum approach that involves its core engineering, procurement and construction functions, and strategic services.Learn more about how this approach helps:Create cleaner energy Establish economic transitions ...
Bechtel employees are active volunteers in the company's office and project communities, often working side-by-side with customers, contractors, local organizations, and government entities.Many of our Stewardship, or corporate social responsibility, activities are done in collaboration with...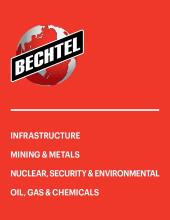 About Bechtel
Bechtel is one of the most respected global engineering, construction, and project management companies. Together with our customers, we deliver landmark projects that foster long-term progress and economic growth. Since 1898, we've completed more than 25,000 extraordinary projects across 160 countries on all seven continents. We operate through four global businesses: Infrastructure; Nuclear, Security & Environmental; Oil, Gas & Chemicals; and Mining & Metals. Our company and our culture are built on more than a century of leadership and a relentless adherence to our values, the core of which are safety, quality, ethics, and integrity. These values are what we believe, what we expect, what we deliver, and what we live.