TreePhilly's Erica Smith Fichman Recognized With Arbor Day Foundation's Trailblazer Award
TreePhilly's Erica Smith Fichman Recognized With Arbor Day Foundation's Trailblazer Award
International Arbor Day Foundation Award recognizes emerging leaders in the tree planting community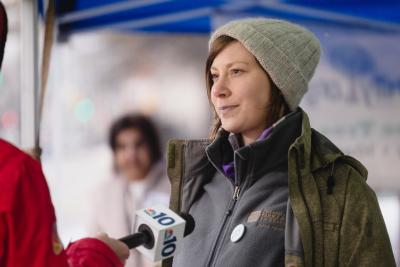 tweet me:
TreePhilly's Erica Smith Fichman Recognized with @arborday Trailblazer Award @treephilly #ArborDayAward #ArborDay http://bit.ly/2Ehfd7S
Monday, April 23, 2018 - 8:00am
LINCOLN, Neb., April 23, 2018 /3BL Media/ - The Arbor Day Foundation has announced today that Erica Smith Fichman has been awarded the Foundation's Trailblazer Award which recognizes an individual under the age of 35 who has demonstrated leadership in forestry, community forestry, research or tree care during the past five years.
The award will be presented the day before National Arbor Day at a private reception on Thursday April 26, 2018.
In 2012, Erica Smith Fichman developed TreePhilly, an urban forestry outreach and education program that would help the Greenworks Plan increase tree canopy to 30 percent across every neighborhood in Philadelphia. Under Erica's leadership, TreePhilly has become one of the city's most engaged programs. Since its launch, the organization as distributed more than 19,000 trees to nearly 10,000 participants. Erica has grown the program from its flagship Yard Tree Giveaways to include a Community Grant program, TreePhilly Realtor Engagement program and the Free Delivery and Planting program, making free trees more accessible to all residents of Philadelphia.
"We are proud to celebrate Erica and her achievements," said Dan Lambe, president of the Arbor Day Foundation. "Erica's determination, drive and passion coupled with her commitment to urban tree planting made her an excellent selection. We are excited to see what else Erica will accomplish."
Since 1972, the Arbor Day Foundation has recognized the inspiring and life-changing work of leading environmental stewards and tree planters through the annual Arbor Day Awards. Award winners from previous years include the late Nobel Peace Prize winner Wangari Maathai, Maryland Governor Martin O'Malley, the United States Forest Service and Enterprise Rent-A-Car.
This award winner is one of six internationally being honored for their outstanding contribution to tree planting, conservation and stewardship. The remainder of the 2018 Arbor Day Award winners will be presented with their award during their local Arbor Day celebrations. More information can be found at CelebrateArborDay.com.
About the Arbor Day Foundation
Founded in 1972, the Arbor Day Foundation has grown to become the largest nonprofit membership organization dedicated to planting trees, with more than one million members, supporters and valued partners. Since 1972, more than 300 million Arbor Day Foundation trees have been planted in neighborhoods, communities, cities and forests throughout the world. Our vision is to help others understand and use trees as a solution to many of the global issues we face today, including air quality, water quality, climate change, deforestation, poverty and hunger.
As one of the world's largest operating conservation foundations, the Arbor Day Foundation, through its members, partners and programs, educates and engages stakeholders and communities across the globe to involve themselves in its mission of planting, nurturing and celebrating trees. More information is available at arborday.org.
###