Timberland Earthkeepers Spotlight: Joyce Chan
Timberland Earthkeepers Spotlight: Joyce Chan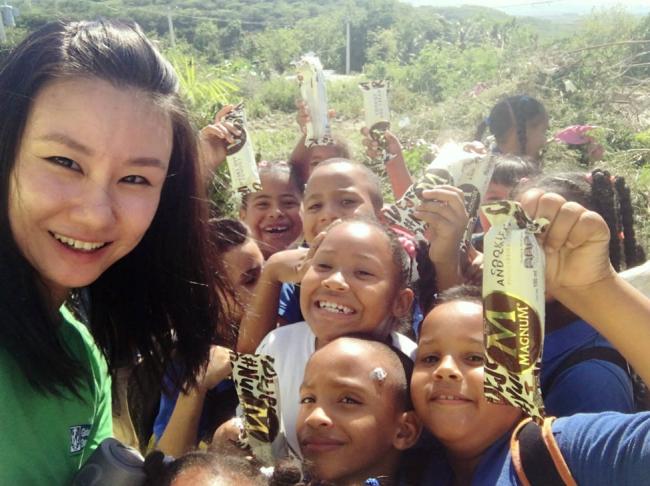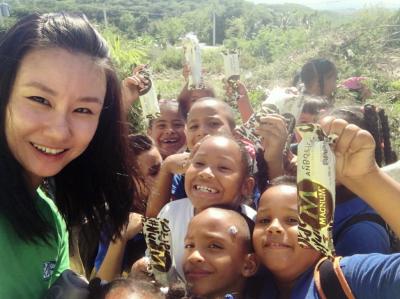 tweet me:
.@Timberland's Hong Kong Regional Merchandising Manager Joyce Chan is one of #Timberland's many #Earthkeepers, finding opportunities to improve the social mobility of youth from Hong Kong's disadvantaged areas http://bit.ly/2SqPy8V
Wednesday, February 13, 2019 - 9:00am
At Timberland we are all Earthkeepers, and we live each day with our purpose in mind, to step outside, work together and make it better. We believe it's necessary to appreciate those who have been going above and beyond to make our products better, our cities greener or our communities stronger. Joyce Chan is someone that lives as an Earthkeeper in her personal and professional life every day. Joyce is our Regional Merchandising Manager in Hong Kong. The support she gives to her community and the inspirational work she does is why we have nominated her as our Earthkeeper Spotlight this month. Let's find out more about Joyce…
WHAT'S YOUR BACKGROUND?
I was born in Hong Kong and raised in Ajax, east of Toronto, Canada.  After I finished university, I moved to London to further my studies and pursue my dream of a career in the fashion industry. While I was in London, I was fortunate enough to have a mentor who taught me to live life with purpose. Later, I returned to my roots in Hong Kong, where I joined the Timberland team. Having such exposure to the world and a great mentor, increased my awareness of the world and my drive to create opportunities for future generations and the less fortunate youth in Hong Kong. 
WHAT DRIVES YOU TO BE AN EARTHKEEPER?
Nature and outdoor activities were a big part of my childhood, as my father was a dragon boat coach. He would paddle outside every day and often would encourage his friends suffering from illness or personal issues to step outside of their problems and join him. After he passed away in 2015, many of his friends came to me and shared their stories of how joining the dragon boat team changed their lives. He is my hero, and my inspiration to look beyond my personal life, appreciate nature, and live life with purpose.
I wanted to turn the grief of his passing into action and continue his legacy. I am doing this now by investing my time in other people's lives who are in need. Because of Timberland, I can live out my purpose and continue my father's legacy by stepping outside and helping others. 
HOW DO YOU LIVE TIMBERLAND'S VALUES?
 
I want to encourage those around me to serve our communities and make a difference. I live Timberland's purpose every day in my personal life, which has become a guide and a life motto for me. It is my goal to help the youth in Hong Kong who suffer in their personal lives with behavioral and emotional struggles due to lacking family stability. My team and I work closely with the Hong Kong Student Aid Society (HKSAS), helping children and their families who are in need. Each time we serve and help these children it becomes more and more rewarding. 
WHAT DO YOU WANT THE OUTCOME OF YOUR WORK TO BE?
We are serving our community with true passion, and we are creating a path of service that is truly meaningful to our society. I am hoping that the work I am doing with HKSAS and other service projects will create a much deeper bond between the corporate world and local community. One of the projects I have been able to be a part of is Box Of Love. This event gives Timberland shoeboxes a second life as a gift box. The boxes are then filled with gifts and given to children in need.
Through all of these projects I hope that people serving the community will become aware of their personal purpose and passion in life. I want to build lasting relationships with the children that we are helping and truly get to know them. As we step outside with passion, we work together with purpose, transforming lives, and making it better. 
---
Throughout Joyce's time at Timberland, she has changed the lives of many and truly gives back to her community. She has lived the definition of what it means to be an Earthkeeper and we could not be more thankful for all that she has done and all that she continues to do.
More From Timberland
Thursday, July 2, 2020 - 11:20am
Thursday, June 25, 2020 - 9:00am
Friday, May 29, 2020 - 8:15am