ON Semiconductor Japan Changes the World with Onigiri (Japanese Rice Balls!)
ON Semiconductor Japan Changes the World with Onigiri (Japanese Rice Balls!)
Written by: Kenichi Kiyozaki, Product Marketing Manager and Grant Advisor for the ON Semiconductor Foundation, Asia Region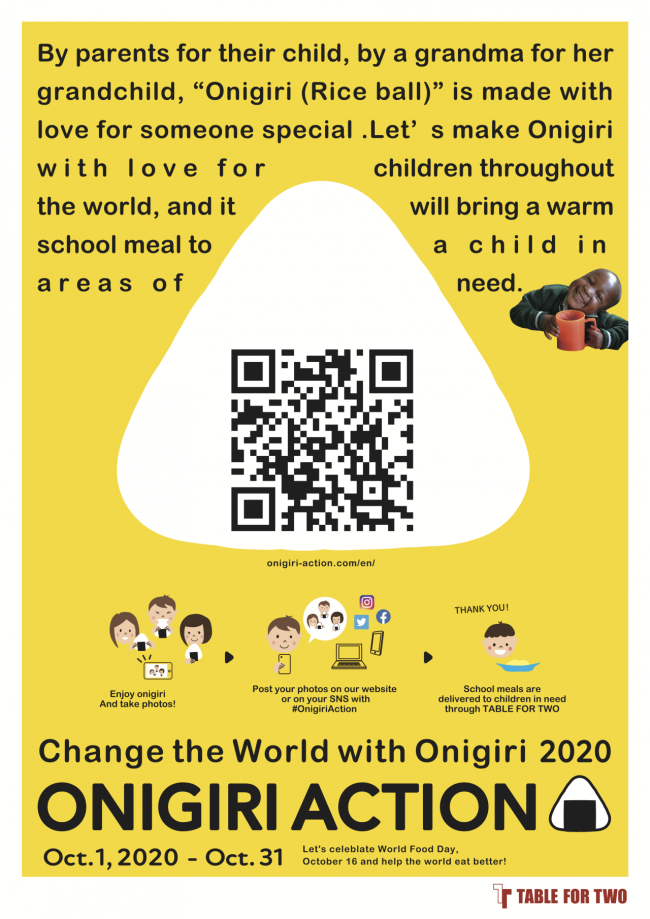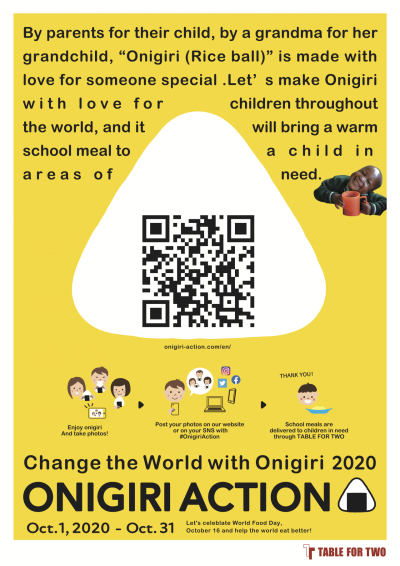 tweet me:
.@onsemi employees in Japan help by posting their rice dish photos during @tablefor2_usa campaign and in return, five school meals will be donated to children in need! #OnigiriAction #TableForTwo #WorldFoodDay #ZeroHunger https://bit.ly/379SNaV
Friday, October 16, 2020 - 3:55pm
Do you know the global activity called TABLE FOR TWO (TFT)? The literal translation of "TABLE FOR TWO" is dining table for two people. The concept is that we in developed countries and children in developing countries share meals.
Of the approximately 7.5 billion people in the world, approximately 1 billion suffer from hunger and malnutrition, while nearly 2 billion have diet-related lifestyle-related diseases such as obesity.
TABLE FOR TWO (TFT) is working on a mission to eliminate this global food imbalance and improve the health of people in both developing and developed countries at the same time.
First established in Japan in 2007, TFT partners with corporations, restaurants, schools and other food establishments to serve healthy TFT-branded meals. For each one of these healthy meals served, $0.25 USD is donated to provide one school meal for a child in need.​
ON Semiconductor resonates with the purpose of TFT. When employees purchase a TFT healthy menu in the cafeteria at one of our Japanese sites (Gunma, Niigata or Aizu), 20 Yen (about $0.25 USD), which is equivalent to one meal in developing countries, will be donated. With these efforts, we are conducting a TFT activity to give one meal to children suffering from hunger while connecting to the Sustainable Development Goals (SDGs) - international goals adopted by the United Nations in 2015 and aimed to be achieved by 2030. Consisting of 17 goals and 169 targets to realize a sustainable world, we pledge that no one on the planet will be left-behind. The TABLE FOR TWO program, which encourages healthy diets in developed countries and delivers school meals to children in developing countries, can contribute to achieving seven of the 17 goals of the SDGs.
Additionally, this program started in Japan in 2019. So far, the employees of ON Semiconductor in Japan have donated 3,593 meals.
TFT was initiated by and is an official affiliate of the World Economic Forum's Young Global Leaders. TFT expanded its activities worldwide to 14 countries. As a non-profit organization, which started in Japan and is expanding globally, TFT has started the innovative programs: "Onigiri Action" and "Wa-Shokuiku-Learn. Cook. Eat Japanese!" – which takes place in the U.S. and features Japanese food culture to eliminate global hunger and reduce health issues related to unhealthy eating.
"Onigiri Action" is one of TFT programs using "Onigiri" ("rice ball" in Japanese, which is representative of Japanese food), with the concept of "changing the world with Japanese food." This event is held from October 1st to October 31st in conjunction with World Food Day on October 16th. This campaign delivers warm meals to children in Africa and Asia, with a goal to deliver 1 million meals to children in need every year.
World Food Day on October 16th was established by the United Nations to raise awareness about food problems around the world. TFT first started in Japan and featuring Onigiri celebrates rice, one of the major Japanese agricultural products, and showcases the Japanese tradition of making onigiri for loved ones.
Every time someone takes a photo of a Japanese rice ball and posts online or via Instagram, Twitter or Facebook with the hashtag, #OnigiriAction," children in Africa and Asia will receive a free school lunch. 
Since its launch in 2015, the Onigiri Action campaign has fed millions of children. Just in 45 days of 2019 campaign, around 300,000 Onigiri photos were posted and over 1.6 million school meals were delivered. The campaign received the Deputy-Chief's Award (by the Minister for Foreign Affairs) at the third Japan SDGs awards ceremony 2019 held at the Prime Minister's Office.
See more details of regarding the Onigiri Action program here: https://onigiri-action.com/en/.
More From ON Semiconductor
Wednesday, January 6, 2021 - 4:45pm
Tuesday, December 29, 2020 - 9:25am
Monday, December 28, 2020 - 8:50am