Reflections on the Global Pro Bono Summit | Taproot Foundation's Advisory Services Newsletter
Reflections on the Global Pro Bono Summit | Taproot Foundation's Advisory Services Newsletter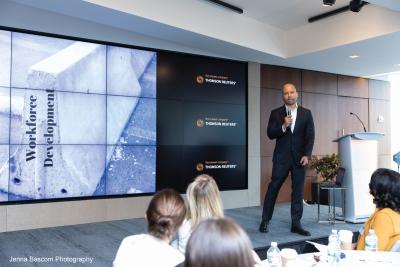 tweet me:
.@TaprootFound releases their latest newsletter reflecting on the 2019 Global Pro Bono Summit in NYC with a special invitation to attend their #GPBS2019 webinar. http://bit.ly/2XeLrv3
Friday, May 31, 2019 - 12:25pm
We recognize that the world's most pressing social issues are persistent and complex. Although we're pro bono evangelists, we know that it isn't a magic bullet—pro bono service alone isn't enough to address the problems that society faces.
 
At the Global Pro Bono Summit's Cross Sector Day on May 8, attendees explored opportunities to expand the pro bono movement across the field. And at Corporate Day on May 9, we asked companies to think strategically about pro bono as just one piece of their philanthropic strategy. Practitioners exchanged best practices and reflected on the impact of their work, inspiring, transforming, and challenging the way we think about leveraging business talent for good.
As leaders who set the tone and standard for corporate pro bono, Corporate Day helped affirm that when accompanied by targeted social impact investing, thoughtful social responsibility practices, and meaningful employee engagement programs, pro bono service is a critical input in our efforts to affect systemic change.
Building Connections at Corporate Day | Key Takeaways --> Read More
Corporate Day at the Global Pro Bono Summit was built on the idea of connections, that pro bono is a piece of a company's broader philanthropic puzzle.  And through this lens, we encouraged practitioners across companies and industries to collaborate and innovate with their peers on how we can truly maximize the impact pro bono has on our communities. 
Global Pro Bono Summit Recap Webinar, June 27 --> Register Now
Over 150 leaders from 20+ countries came together at the Global Pro Bono Summit to dig into topics ranging from building a movement to pro bono as a piece of the philanthropic puzzle. We uncovered what's next in the field, and we're eager to share key takeaways with you in our Global Pro Bono Summit Recap Webinar on Thursday, June 27 at 2:30 ET. Whether you were in attendance or not, we invite you to be inspired by what we found.
Catch us at these conferences:
Social Innovation Summit in LA (June 4-5):  Taproot's President and CEO Lindsay Firestone Gruber will  be leading a roundtable discussion on pro bono service.
Points of Light in Minneapolis (June 18-20): Jennifer Diaz, Director and Western Market Lead of Advisory Services, will be part of a panel on program scaling.
America's Charities Member Assembly in Washington D.C. (June 7)
Charities@Work Summit in NYC (June 12-13)
From Day One: Brooklyn in NYC (June 19)
More From Taproot Foundation
Tuesday, January 21, 2020 - 1:05pm
Tuesday, January 14, 2020 - 1:45pm
Thursday, December 5, 2019 - 10:15am