Putting Students in the Driver's Seat Helps Develop Lifelong Learners
Putting Students in the Driver's Seat Helps Develop Lifelong Learners
by Victoria Glazar, Verizon Corporate Social Responsibility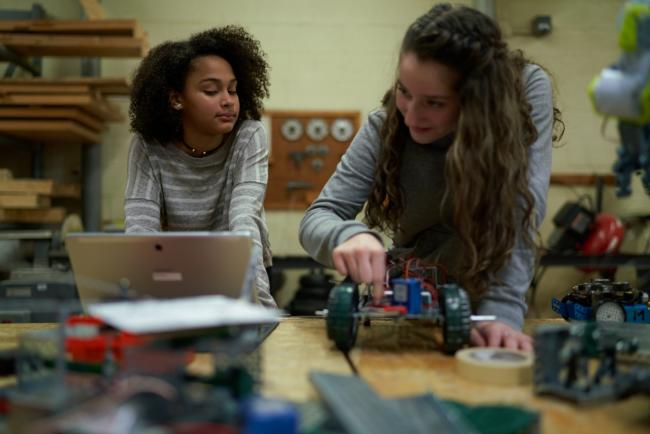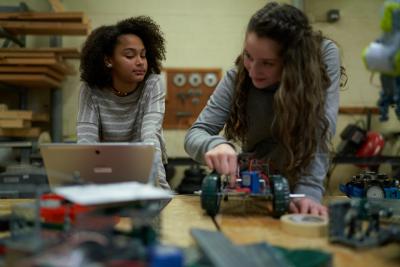 tweet me:
#VerizonInnovativeLearning schools are putting students in the driver's seat. In the process, students are becoming more engaged, creative and persistent – skills that will put them on the path to success in an increasingly tech-dependent job market. http://bit.ly/2oD8RKP
Tuesday, September 4, 2018 - 2:00pm
A recent report by the Institute for the Future notes that the ability and motivation to self-direct one's learning path will be among the most important traits of successful workers in the future. Because advancements in technology will change jobs and create new ones at such a rapid pace, future workers will be in a continual state of on-the-job-training. "By 2030," the report states, "in-the-moment learning will become the modus operandi, and the ability to gain new knowledge will be valued higher than the knowledge people already have."
With this in mind, some innovative middle schools are putting students in the driver's seat, using technology and a transformative curriculum to implement a student-driven approach to learning. In the process, students are becoming more engaged, creative and persistent – skills that will put them on the path to success in an increasingly tech-dependent job market.
The schools are participants in Verizon Innovative Learning, a program that provides a free tablet and internet access to every student and teacher, along with comprehensive teacher training and support. The program, recognized by the International Society for Technology in Education (ISTE) for improving digital learning opportunities for students, will have reached 100 middle schools by fall of 2018.
In Braddock Hills Middle School, a Verizon Innovative Learning school near Pittsburgh, PA, teacher Amber Bittiger says traditional student-teacher conferences have been replaced with student-led meetings. Students use tablets to create digital portfolios filled with artifacts that act as evidence of their learning, and then present them in a collaborative session with teachers and parents/guardians. "It's amazing to see our students use these resources to take ownership and pride in their learning.  It has made a lasting impact on our school community," she says.
Students at Austin Middle School in Irving, Texas, use tablets to record their teacher's explanations of complicated Algebra concepts. They reference the video later, while doing homework, to make sure they're getting it right. "I was impressed by the students' initiative. They came up with the idea on their own, and I think that was one reason it was so effective," says Phyllis Ethridge, who teaches Algebra 1 and Geometry.  The result was higher quiz scores, showing that students had mastered the objective, she notes.
John Russell, another Algebra teacher at Austin Middle, says his students are taking the reins, as well. They are proactive in emailing him and communicating via Google Classroom to get extra help in the evenings. "They send me questions and photos, so I can tutor them effectively," he says. He notes that without the tablets and internet access provided by Verizon Innovative Learning, this would not be possible, as many students in his under-served community don't have reliable internet access at home.  
Another Verizon Innovative Learning school, San Francisco's Herbert Hoover Middle School, is embracing a shift away from traditional "top-down" learning toward a student-driven model. Teacher Thad Austin explains that as early as sixth grade, students are encouraged to decide for themselves how to tackle teacher-posed challenges with the help of digital tools provided through the program. Recently, a duo of sixth-grade students created a video about the effects of smoking menthol cigarettes. "They wanted to create something that would not just satisfy the teacher's required assignment, but in their words, 'make something that would have an impact on their peers and others outside of school,'" Austin says. "And they did. They entered their video in a national anti-smoking contest and won First Place!"
By putting technology into students' hands, providing opportunities for hands-on learning, and supporting their efforts to drive their own learning paths, these Verizon Innovative Learning schools are helping students become engaged and confident lifelong learners.
Verizon Innovative Learning
Millions of American students lack the access to technology and the skills they need to succeed in the digital world1. Since 2012, Verizon has been working to help solve this problem holistically through a transformative program called Verizon Innovative Learning.
Verizon Innovative Learning provides free technology, free internet access, and hands-on learning experiences to help give under-resourced students the education they deserve. Powered by a next-gen, technology-infused curriculum that fundamentally changes the way teachers teach and students learn, Verizon Innovative Learning is giving kids the ability to do more in this world. Students are showing improvement in math and reading2, and they're more engaged in school3.
1Pew Research Center Analysis of 2013 American Community Survey (IPUMS).
2Westat March 15, 2017 Research.
3Across all VIL programs that reported data in 2017.
More From Verizon
Friday, May 22, 2020 - 11:30am
Thursday, May 7, 2020 - 3:00pm
Thursday, April 30, 2020 - 10:00am