Nonprofits Are Lacking the Resources They Need to Do Their Work. Pro Bono Can Help
Nonprofits Are Lacking the Resources They Need to Do Their Work. Pro Bono Can Help
Key findings from Taproot's State of Pro Bono Service report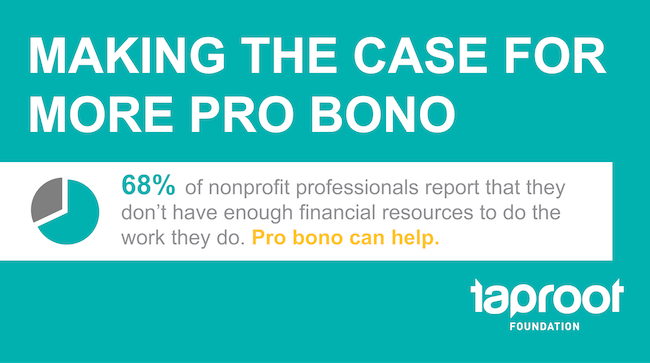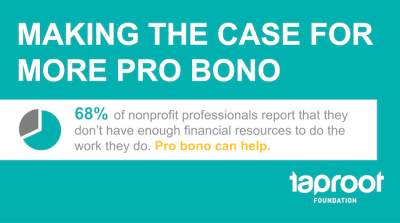 tweet me:
68% of nonprofit professionals report not having enough $$ to do the work they do. Find this & more: http://bit.ly/2ySNcVY @Taprootfound
Thursday, October 26, 2017 - 1:20pm
The Taproot Foundation recognizes that most organizations tackling social problems don't have access to the marketing, design, technology, strategy, or planning resources they need to succeed. Nonprofits are understaffed, under-resourced, and need support.
In the 2017 State of Pro Bono Service Survey, Taproot focused in on the challenges nonprofits experience each day, and in this report, identified how pro bono can be a high-impact resource in overcoming these common barriers.
About the Taproot Foundation
Taproot Foundation, a U.S. based nonprofit, connects nonprofits and social change organizations with passionate, skilled volunteers who share their expertise pro bono. Taproot is creating a world where organizations dedicated to social change have full access—through pro bono service—to the marketing, strategy, HR, and IT resources they need to be most effective. Since 2001, Taproot's skilled volunteers have served 4,600 social change organizations providing 1.5 million hours of work worth over $160 million in value. Taproot is a national organization with offices in New York City, San Francisco Bay Area, Los Angeles, and Chicago and is leading a network of global pro bono providers in over 30 countries around the world. 
www.taprootfoundation.org @taprootfound