Moving Beyond the Role of Token Women
Moving Beyond the Role of Token Women
How Female Government Officials are Fighting for a New Afghanistan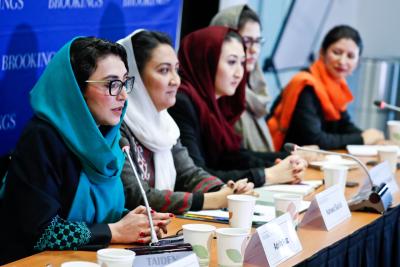 tweet me:
The @BrookingsInst, @giwps, & @USAfghanWC hosted a panel discussion featuring 5 Afghan women, who each shared perspectives on governance and progress in an increasingly volatile political climate. http://bit.ly/2CJF8V4 @PYXERAglobal
Tuesday, February 27, 2018 - 1:00pm
War has consumed Afghanistan for the past 17 years, so it's unsurprising that the country ranks 152 out of 153 on the Women, Peace, and Security Index. The Index reports that the average schooling for women lags at a regional low of four years, while legal discrimination within the court system is the second highest with a score of 45 out of 84 (0 being the best). A new report from the Brookings Institution identifies Afghanistan as one of 31 countries that are least likely to achieve the most urgent objectives of the UN Sustainable Development Goals (SDGs) such as ending extreme poverty, achieving food security, and ensuring quality education to all by 2030. It's also no coincidence that Afghanistan is also included on the World Bank's List of Fragile States.
Leading up to International Women's Day, the Brookings Institution partnered with the Georgetown Institute for Women, Peace, and Security and the U.S.-Afghan Women's Council to host a panel on "The New Generation of Afghan Women Leaders," featuring several members of a delegation from the Afghan government. Five women, each of whom serves in critical roles as government ministers, advisors, and commissioners, spoke on themes of governance and progress in an increasingly volatile political climate.
More From PYXERA Global
Thursday, March 26, 2020 - 1:20pm
Friday, January 3, 2020 - 3:25pm
Friday, January 3, 2020 - 3:10pm