Make 2021 a Year of Giving Back
Make 2021 a Year of Giving Back
[Webinar] Dive into Taproot Pro Bono to Support Nonprofits Virtually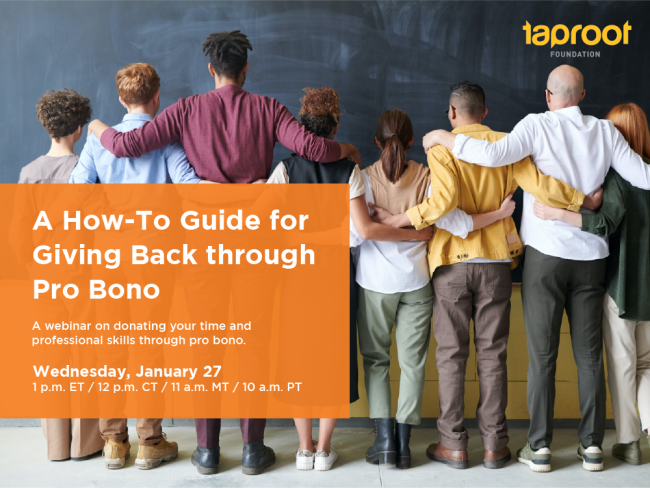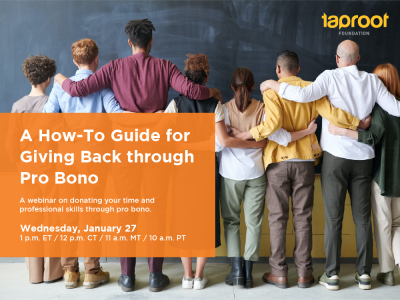 tweet me:
Make 2021 a year of #GivingBack! Learn how to donate your valuable years of marketing, HR, tech, finance, or strategy experience to #SocialGood causes by joining @taprootfound's 1/27 webinar  > https://bit.ly/3qgKwIn
Friday, January 15, 2021 - 12:30pm
Wednesday, January 27 at 1 PM ET / 12 PM CT / 11 AM MT / 10 AM PT  
REGISTER NOW
Make 2021 a year of giving back! As social good organizations look to rebound after a year of sky-rocketing community needs and cancelled fundraisers, it's more important than ever to ensure that nonprofits have the resources they need to continue vital work. That's where you come in.
Dive into pro bono service to make a difference volunteering your time and professional skills to nonprofits in need. Through Taproot Foundation's programs, thousands of nonprofits are teaming up with skilled business professionals just like you to build their capacity to better serve their communities for years to come. Learn how you can lend your marketing, tech, strategy, HR, or finance skills to a good cause by registering for Taproot's free webinar on Wednesday, January 27 at 1 PM/10 AM PT. REGISTER NOW to walk away with all the information and inspiration you need to find and manage great virtual pro bono projects and consultations.
Can't attend live? Go ahead and register anyway—a recording will be sent to all registrants. 
Access to this webinar and the Taproot Plus platform are free of cost for individual professionals across the United States, United Kingdom, European Union, and India.
Wednesday, January 27 at 1 PM ET / 12 PM CT / 11 AM MT / 10 AM PT  
REGISTER NOW