Kimberly-Clark Joins Toilet Board Coalition Summit to Challenge Sanitation's Next Generation
Kimberly-Clark Joins Toilet Board Coalition Summit to Challenge Sanitation's Next Generation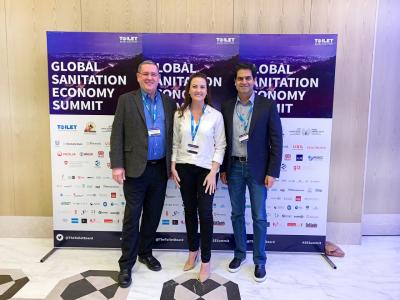 tweet me:
Kimberly-Clark Joins Toilet Board Coalition Summit to Challenge Sanitation's Next Generation http://bit.ly/2pwNwGW @KCCorp
Tuesday, November 19, 2019 - 1:35pm
On World Toilet Day 2019, a delegation of Kimberly-Clark leaders joined hundreds of sanitation entrepreneurs, NGOs and other global businesses at the Toilet Board Coalition's Global Sanitation Economy Summit in Pune, India to discuss investment, innovation and the integration of menstrual hygiene management into the larger sanitation vision.
"What some people see as unaffordable public cost, the Toilet Board Coalition sees an untapped business opportunity," said Dhingra. "As we look to the future, this is the mindset we need to find a sustainable way to solve world's sanitation crisis and ensure no one is left behind."
Kimberly-Clark co-founded the Toilet Board Coalition in 2015. The organization is composed of public companies, government and advocacy groups to fund, support and foster local entrepreneurs around the world who are addressing sanitation in a sustainable way.
Pete Dulcamara, Chief Scientist and Technical Vice President, led a discussion on sanitation and the circular economy, using lessons from his career deriving value-driven innovation to challenge attendees to accelerate the circular economy.
"The focus has been on 'reduce, reuse, recycle,' but the circular economy will only be effective if we can find ways to grow that equation," said Dulcamara. "Renew and rethink must be part of our framework. Innovation is the key for the next generation of leaders to unlock solutions to the global sanitation crisis."
Kimberly-Clark's partnership with the Toilet Board Coalition includes leadership support, industry resources, and mentorship through their Toilet Accelerator program where aspiring entrepreneurs are matched with bespoke mentorship, partnership and the visibility to scale their sanitation economy businesses. To learn more about the Toilet Board Coalition, visit www.toiletboard.org
More From Kimberly-Clark Corporation
Monday, October 5, 2020 - 11:00am
Wednesday, August 26, 2020 - 9:00am
Tuesday, July 14, 2020 - 3:20pm