Keep It Clean: New Tech Tools Give Healthcare Providers a Sanitary and Security Boost
Keep It Clean: New Tech Tools Give Healthcare Providers a Sanitary and Security Boost
HP's second generation of sanitizable PCs and all-in-one devices protect patients and hospital staff from bacteria and bugs.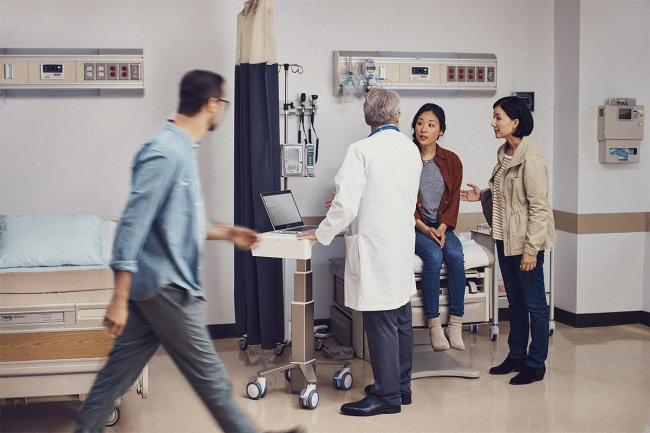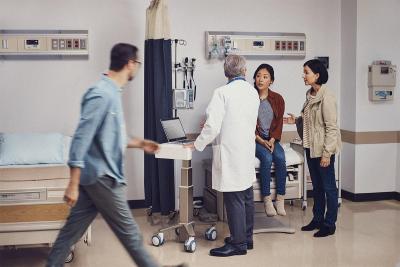 tweet me:
.@HP makes easy to sanitize tech for hospitals and medical offices, protecting patients and hospital staff from bacteria and dangerous pathogen. http://bit.ly/2Oq196w @HPSustainable
Friday, August 9, 2019 - 10:45am
By Travis Marshall
Melinda Schmidt, a registered nurse, understood that dangerous pathogens were part of the hospital landscape while working as an emergency room nurse. Like all modern healthcare providers, she followed strict protocols for hand washing, wearing gloves, cleaning clinical spaces and other steps to help stop the spread of disease among patients and clinical and hospital staff. 
But it was a seemingly innocuous task that caused Schmidt herself to come down with MRSA, a dangerous antibiotic-resistant form of staphylococcus (staph) infection. The entry point for the infection was a paper cut on her finger, and the MRSA bacteria got into the cut while she typed on the keyboard of her computer. Schmidt wound up receiving intravenous antibiotics twice a day for three weeks.
Now a senior healthcare specialist for HP, Schmidt says her personal experience with healthcare-associated infections (HAIs) underscores the importance of making sure every surface and device in a clinical setting is frequently cleaned and thoroughly disinfected. 
"We expected to encounter these things around the hospital," Schmidt says, "but we weren't wiping down our keyboards every time we used them."
The rising threat
HAIs are defined as any infection that a patient acquires while receiving treatment for an unrelated condition in a healthcare environment. Every year in the U.S., nearly 1.7 million patients come down with HAIs and more than 98,000 of these patients die, according to the Centers for Disease Control and Prevention.
Clinical environments are a perfect storm for deadly infections, with high concentrations of pathogens proliferating around people who are at the greatest risk, especially children, the elderly or any patient who is immunocompromised.
Surgery, IV lines and catheters can give pathogens an entry point into a patient's body, but the threat is much more widespread. Deadly bacteria, fungi and viruses can linger on any surface that patients or clinicians might touch, from sinks and bed rails to the computers used to log patients' information into their medical records.
"We know from research that 50 percent of surfaces in a patient room may not be cleaned thoroughly," says Richard Lowe, an associate research fellow with Clorox Healthcare who develops cleaning and disinfection products for healthcare environments. "Any surface can be contaminated with pathogens, so it's important to thoroughly clean and disinfect them."
Clostridioides difficile (C. diff) is a potentially deadly bacterium that causes colon inflammation and diarrhea, and it infects about half a million people in the U.S. every year. Patients diagnosed with C. diff have to be isolated to avoid spreading the bacteria to others, and healthcare workers that interact with these patients are required to follow additional precautions, including cleaning the patient's room with a sporicidal disinfectant.
Another HAI is the fungal disease Candida auris, a global threat that broke out across the U.S. in early 2019. Candida auris is a multi-drug resistant microbe — it doesn't respond to antibiotics or other medications, and can cause serious bloodstream or wound infections.
"As more infectious microorganisms become drug resistant, the best way to prevent HAIs is to stop them from happening in the first place," Lowe says. "Surface disinfection and hand hygiene are the two main drivers that help prevent the transmission of pathogens."
Breaking the chain of infection
Traditional consumer electronics devices used in clinical settings are magnets for these pathogens because they're used by many different people in close proximity to patients, and they have numerous cracks, vents and cables where dust and bodily fluids can collect and pathogens can potentially take root. 
Not only are there more devices in a hospital room today than a decade ago — which means more opportunities for pathogens to spread — but many also don't get cleaned as thoroughly as they should. The plastic and other materials that house consumer electronic devices simply can't withstand the industrial-strength disinfectants used in healthcare environments.
"As more infectious microorganisms become drug resistant, the best way to prevent healthcare-associated infections is to stop them from happening in the first place."

—Richard Lowe, associate research fellow, Clorox Healthcare
To help protect patients and hospital staff, HP recently launched the second generation of its Healthcare Edition portfolio, including all-in-one PCs, along with a keyboard, mouse, a notebook and clinical-view displays, all designed to prevent the spread of HAIs, while also meeting the unique needs of the healthcare environment. 
"Healthcare delivery organizations were asking if we could customize our products for their particular challenges," Raja Bhadury, head of care delivery systems at HP says. "Those challenges include protecting patients and providers from HAIs, while streamlining clinical workflow and ensuring the security of patient data."
One of their biggest selling points: HP is one of the few PC makers in the industry who makes devices that can be repeatedly cleaned and disinfected. 
"We designed our Healthcare Edition products to be sanitized up to 10,000 times with the germicidal wipes commonly used in the clinical setting,"  Bhadury explains.
A new line of defense
The design and engineering of HP Healthcare Edition products emerged from conversations with healthcare providers who struggled to find computers and other devices purpose-built for the healthcare environment. 
Sandi Troyer, director of IT operations and customer service at Akron Children's Hospital in Ohio, says her team was concerned about the risk of HAIs from in-room devices, especially for its population of vulnerable young patients. In late 2017, they launched a new device cleaning and disinfection initiative that not only included PCs and keyboards, but also every piece of biomedical equipment, even the telephone and room thermometer, in patient rooms.  
Because keyboards are a particular area of concern for transmitting HAIs, the one that comes with HP's Healthcare Edition PCs has two important safety features: The notebook features a membrane under the keys to protect the device during cleaning, while the all-in-one PC has a keyboard drape, which covers the keys while a user types and can be removed and sterilized in an autoclave. "We know that no matter how many times we wash hands and change gloves, computer hardware — especially keyboards — can be contaminated when in use," says Troyer. 
It wasn't just the devices themselves that required cleaning and disinfection. The cabling that ran behind them was also a gathering spot for dust and germs. HP gets around this issue by integrating as much technology as possible into the device, and then wall-mounting or configuring them into "workstations on wheels" to reduce cable clutter and the number of external peripherals.
"The typical computers we were using on a VESA bracket behind the monitor still had all of the cables, nooks, and crannies that dust, dirt, grime, and contaminants could get into," Troyer says.
So far, Akron Children's has deployed more than 500 HP EliteBook 840 G5 Healthcare Edition notebooks to clinicians and 400 HP EliteOne 800 G4 Healthcare Edition All-in-One PCs in hospital settings, NICUs and affiliate community health centers and pediatric offices, with plans to deploy HP Healthcare Edition models in public-facing spaces such as welcome desks and registration areas. 
The ultimate benefit, Troyer adds, is protecting the health and safety of children. "We're keeping our environment clean while ensuring that clinicians' time is spent taking care of the kiddos," she says.
Safer, smarter and secured
As technology becomes more deeply integrated into patient care and clinical workflows, and more information is stored and communicated using electronic medical records, clinical spaces need devices designed to meet new challenges. 
Computers in clinical spaces traditionally require peripherals like proximity badge readers, fingerprint scanners and web cameras, which often get plugged into USB ports and scattered around a desk. These peripherals create more hard-to-clean surfaces where pathogens can linger, and the devices frequently get lost or broken.
HP built these features into the germicidal wipe-resistant bodies of the Healthcare Edition PCs and clinical review displays. This allows clinicians to quickly log in and out of devices, stay up-to-date with new safety requirements for electronic prescribing, and use telemedicine services that meet HIPAA requirements without adding additional external devices that need to be disinfected.
The Healthcare Edition devices also help keep patients' private health data safe. Between 2010 and 2017, around 176.4 million patient records were impacted by data breaches, according to the Journal of the American Medical Association, and individual patient records can sell for about $60 each on the dark web. 
The Sure Start feature offers sophisticated antivirus protection built into the device. If malware, rootkits or corruption are detected, the computer self-heals by restoring the most recent unaffected version of the firmware.
"Healthcare is under attack because of the value of the data," Bhadury explains. "In our devices, HP Sure Start protects users from hackers at a deep firmware level, and the HealthCare Edition all-in-one and notebook have integrated privacy filters that can be toggled on and off."
Healthcare providers are required to have HIPAA-compliant privacy screen filters, yet external filters often get removed. The on-off integrated privacy filter built into the display causes the screen to appear dark when viewed from an angle preventing people other than the user from seeing protected health information, while allowing clinicians to share their screen with colleagues when needed.
"As a clinician these products are very exciting to me, as it protects patients and staff," Schmidt says. "Products like these need to be engaged anywhere there is patient contact, especially in the critical care setting."
Discover more: How a printer is helping scientists fight superbugs.