Infographic: NBCUniversal Kicks off 9th Annual "Green Is Universal" Holiday Campaign in Partnership With Arbor Day Foundation
Infographic: NBCUniversal Kicks off 9th Annual "Green Is Universal" Holiday Campaign in Partnership With Arbor Day Foundation
#ShareATree social media campaign engages viewers to select and share trees to support the campaign through the holiday season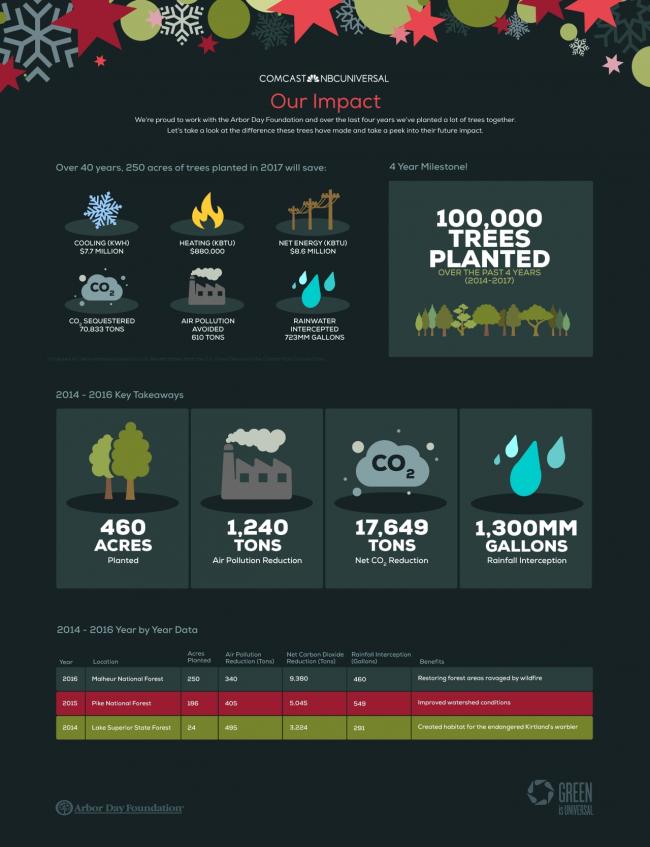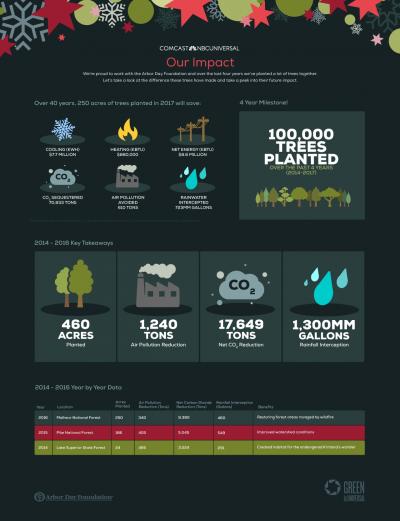 tweet me:
INFOGRAPHIC: NBCUNIVERSAL KICKS OFF 9th ANNUAL "GREEN IS UNIVERSAL" HOLIDAY CAMPAIGN IN PARTNERSHIP WITH ARBOR DAY FOUNDATION http://bit.ly/2zR9V4R
Thursday, November 30, 2017 - 8:00am
The Arbor Day Foundation is partnering with NBCUniversal for the ninth annual "Green Is Universal" holiday campaign. NBCUniversal will support tree-planting efforts to promote recovery in disaster-stricken areas brought on by the 2017 hurricanes Harvey, Irma and Maria.  As part of the partnership, NBCUniversal has committed to placing 25,000 trees in the hands of homeowners in the affected areas. People from around the country can get involved and show their support by visiting www.greenisuniversal.com to select a tree image to post online using #ShareATree from November 27-December 25. Each share will contribute to the Arbor Day Foundation's tree-planting efforts, funded by a $25,000 donation from NBCUniversal.
Download the attached file(s):
More From Arbor Day Foundation
Tuesday, February 23, 2021 - 9:00am
Wednesday, February 17, 2021 - 12:15pm
Tuesday, February 9, 2021 - 6:00pm