Diaper Banks Deliver Hope One Diaper - and Menstrual Pad - at a Time
Diaper Banks Deliver Hope One Diaper - and Menstrual Pad - at a Time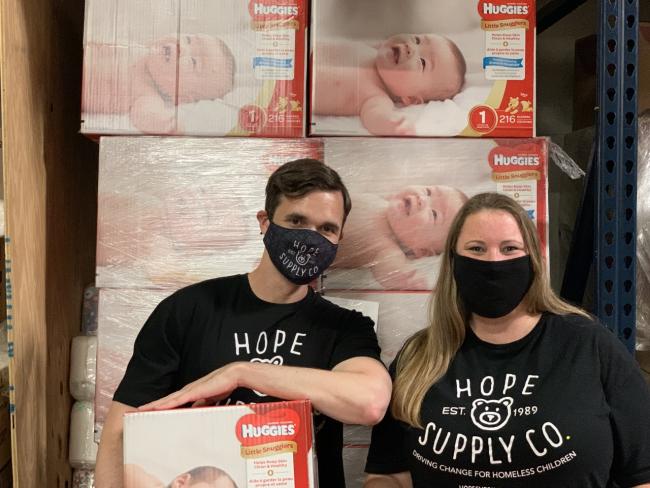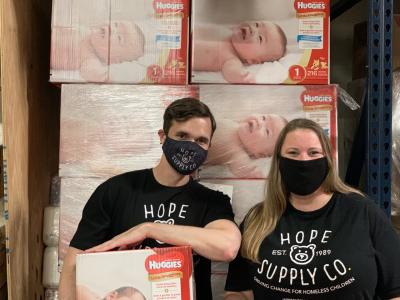 tweet me:
.@KCCorp's North America brands @Huggies & @brandKotex are working to help meet the need for both #diapers and period supplies – during the pandemic, and beyond. https://bit.ly/2ICJV3k
Summary
The COVID-19 pandemic has increased the need for both diapers and period supplies in the U.S., and local diaper banks predict that the demand will only rise as the pandemic evolves. Kimberly-Clark's North America Huggies® and U by Kotex® brands are working to help meet this need – during the pandemic, and beyond.   
Monday, November 16, 2020 - 4:00pm
Since the COVID-19 pandemic began in March, the Baby Booties Diaper Bank in McKinney, Texas has seen a 600% increase in need from the families it serves compared to last year. The bank distributes 23,000 diapers every other Saturday in less than an hour and serves nearly 500 kids. It also recently distributed a year's supply of period products to 21 local middle and high schools to ensure students have access to the basic necessities they need to thrive.
"We are seeing some families who would have never asked for help prior to COVID-19, but the pandemic has led to unexpected job layoffs across so many sectors and economic crises that most of these families never could have imagined," said Helen Hutton, Executive Director of Baby Booties.
"One mom stopped by with four daughters, and she was a housecleaner before the pandemic. She lost all of her income in a day, and she can't recover. These are people who have no safety net and no one else to rely on, so they're relying on their community to survive."
U.S. families struggle to afford diapers and period supplies
Prior to COVID-19, a nationwide study conducted by Huggies® found that 1 in 3 U.S. families reported experiencing diaper need and cannot afford enough diapers to keep their child clean, dry, and healthy, and the pandemic has only magnified this need. Together with the National Diaper Bank Network (NDBN), Huggies ensures that diaper banks across the country and the families they serve have access to clean and dry diapers.
"The research shows that a lack of access to clean diapers leads to negative and long-lasting impacts on a child's physical and mental health," said Joanne Goldblum, CEO of NDBN. "We want every child to achieve his or her full potential, and having a clean diaper is one of the essential building blocks to making this a reality."
Since 2011, Huggies has donated more than 270 million diapers to diaper banks across the country, and 2020 has marked the brand's biggest donation year in history with more than 30 million diapers.
In addition to diaper need, 1 in 4 U.S. women struggles to afford period products. To address that need, Kimberly-Clark's U by Kotex® brand partnered with the National Diaper Bank Network in 2018 to become the founding sponsor of the Alliance for Period Supplies (APS). U by Kotex has donated nearly 13 million period products thus far in 2020 through APS, and 35 million since 2018.
Both the diaper and period products donation efforts ladder up to Kimberly-Clark's ambition to advance the well-being of 1 billion people in underserved communities around the globe by 2030.
"Receiving high-quality products from Huggies and U by Kotex means everything to these families," said Hutton. "Kimberly-Clark walks the walk. They understand our mission, help us raise awareness and lean in across many aspects of need for women and children. They also help us tell our story, which enables us to make more of an impact across the United States."
Need will only increase
Hutton predicts that the need will only increase as winter approaches and heating bills increase. Roughly 65% of the families she serves have working family members, but even with two incomes, many just can't make ends meet. In addition, numerous families now face the added pressure of workplaces shutting down due to local mandates or layoffs.
"They're always trying to play catch up," said Hutton. "The families we serve are working around the clock just to keep the lights on. You'd be surprised at the number of people in our community who are one paycheck away from trouble. If you're living paycheck to paycheck and then your paycheck stops, that's catastrophic."
Diapers and period supplies are essential
Barbara Johnson serves as the CEO of the Hope Supply Co., a diaper bank in Dallas, and she couldn't agree with Hutton more. Hope Supply Co. provides diapers and period supplies to nearly 80 social service partners, including domestic violence shelters, homeless shelters and drug rehabilitation facilities, and they have all seen an exponential spike in demand due to the pandemic – especially at domestic violence shelters.
Johnson emphasized that diapers and period supplies are essential items, and we cannot thrive without them. Hope Supply Co. helps families that attempt to clean out and dry disposable diapers and then reuse them – or simply don't change their child's diaper as much as they should because they can't afford to buy diapers.
Hope Supply Co. has also helped girls who are forced to miss school or experience bullying because they do not have the proper supplies to manage their periods. Some women have even mentioned using t-shirts or toilet paper if they can't afford pads or tampons. All of these situations negatively impact people's mental and physical well-being.
Diaper banks help break the 'vicious' cycle
Mary Beth Walsh, a high school senior in Dallas, serves as the co-president of Hope Supply Co.'s student board, which includes 24 students from 10 local schools who focus on fundraising for the organization and raising awareness in their community about the need for diapers and period supplies. Mary Beth recently made 110 packs filled with U by Kotex period supplies and other menstrual products that Hope Supply Co. distributed to local domestic violence and homeless shelters.
"We take so many necessities for granted, and I can't imagine not being able to go to school or work because of my period," said Walsh. "Diaper need is also staggering. While there are plenty of Americans who don't think twice about paying for diapers, it's a very different reality for many other families."
According to Johnson, families must provide daily supplies of disposable diapers in order to send their kids to daycare, go to work and earn an income. Most daycare facilities will not accept cloth diapers, and while cloth diapers are viable solution for some families experiencing diaper need, many low-income families are unable to afford a washer or dryer for their home.
"Diaper banks break this vicious cycle and give people hope," said Walsh. "But they couldn't do it without the support from partners like Kimberly-Clark and our local community. Together, we can change the trajectory of people's lives."
To learn more about the National Diaper Bank Network or the Alliance for Period Supplies, please visit NationalDiaperBankNetwork.org or AllianceForPeriodSupplies.org. To learn more about Kimberly-Clark and its goal to advance the well-being of 1 billion people in underserved communities around the globe by 2030, visit Kimberly-clark.com/sustainability.