Celebrating Boston Children's Hospital's Birthday with The Hole in the Wall Gang Camp
Celebrating Boston Children's Hospital's Birthday with The Hole in the Wall Gang Camp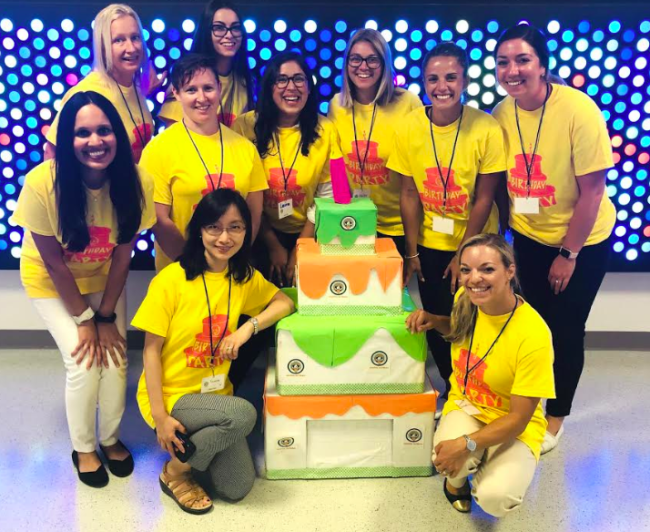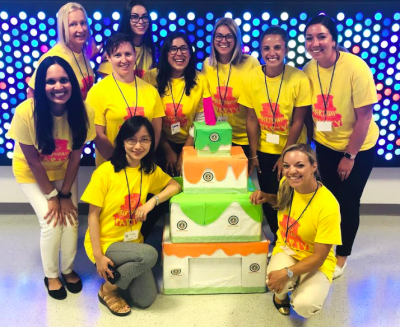 Monday, October 14, 2019 - 2:00pm
Boston Children's Hospital, which continues to be recognized as the leading pediatric hospital in the U.S., recently celebrated its 150th anniversary. Employee volunteers from Alexion took part in the celebration by partnering with The Hole in the Wall Gang Camp.  Founded by renowned actor and philanthropist Paul Newman in 1988, the organization is dedicated to providing "a different kind of healing" to seriously ill children and their families across the Northeast, all completely free of charge. Camp's Hospital Outreach Program (HOP) brings the spirit of its unique summer programming to hospitals and clinics through a variety of activities and interactions.
On Wednesday, July 31st, Alexion volunteers joined Camp's HOP staff at one of their annual Camp Days at Boston Children's Hospital to engage in a number of birthday activities such as creating "slothtastic" birthday cards and decorating birthday hats, which Alexion's Head of Culture, Sonia Singhvi, says, "was the most popular activity by far." Sonia and other Alexion employees used their artistic abilities to help customize hats and birthday cards for children and family members. "Giving back to the community is such an important part of our culture.  It was an honor to support the hospital in providing a fun-filled afternoon for families inspired by Boston Children's Hospital's 150th birthday," said Nicole. The fun-filled day ended with everyone singing a powerful Happy Birthday to Boston Children's Hospital!
In addition to Alexion's engagement with the Hospital Outreach Program, Alexion employees are excited to partner with The Hole in the Wall Gang Camp again during Alexion's Global Day of Service on September 26th. They will be rolling up their sleeves to assemble kits for a HOP special event! 
To learn more about Alexion's commitment to serving the communities in which we live and work, visit Alexion.com/Responsibility.
More From Alexion Pharmaceuticals
Wednesday, August 5, 2020 - 3:55pm
Monday, July 20, 2020 - 3:00pm
Monday, July 6, 2020 - 2:00pm
Videos from Alexion Pharmaceuticals