World Environment Center Awards the 2022 Gold Medal for International Corporate Sustainability to AB InBev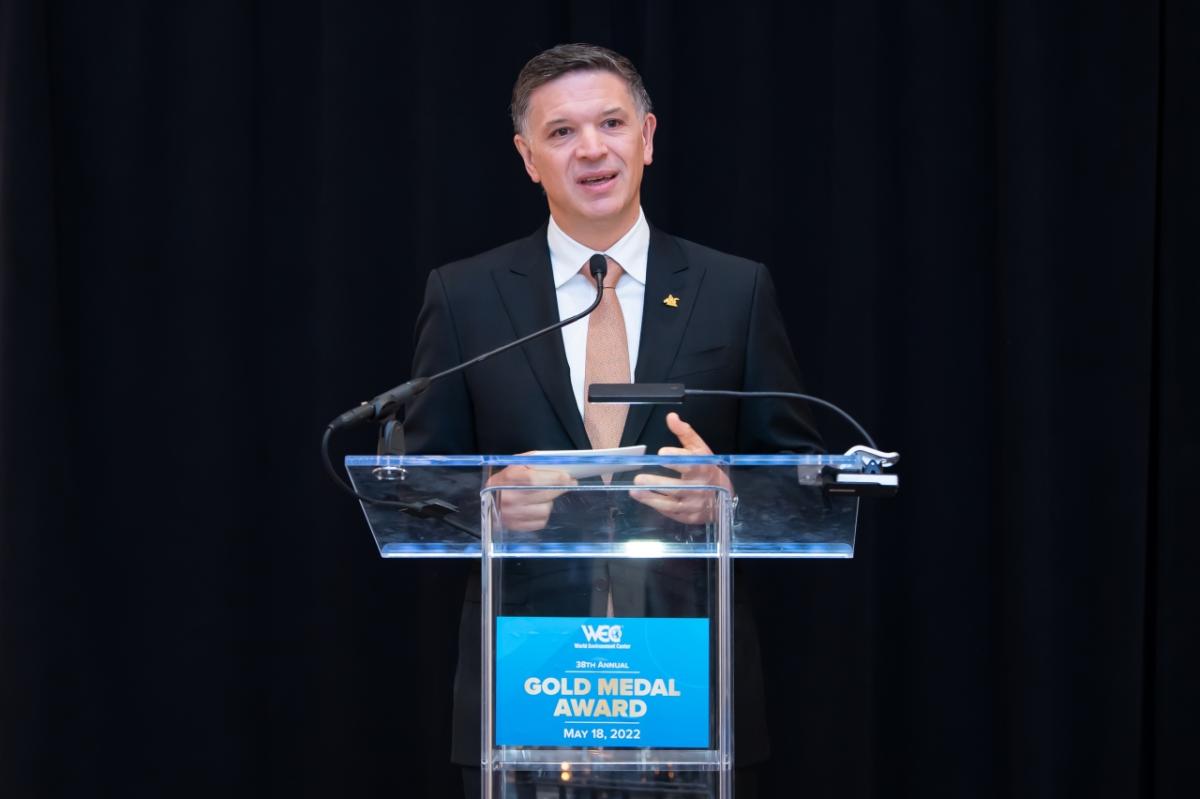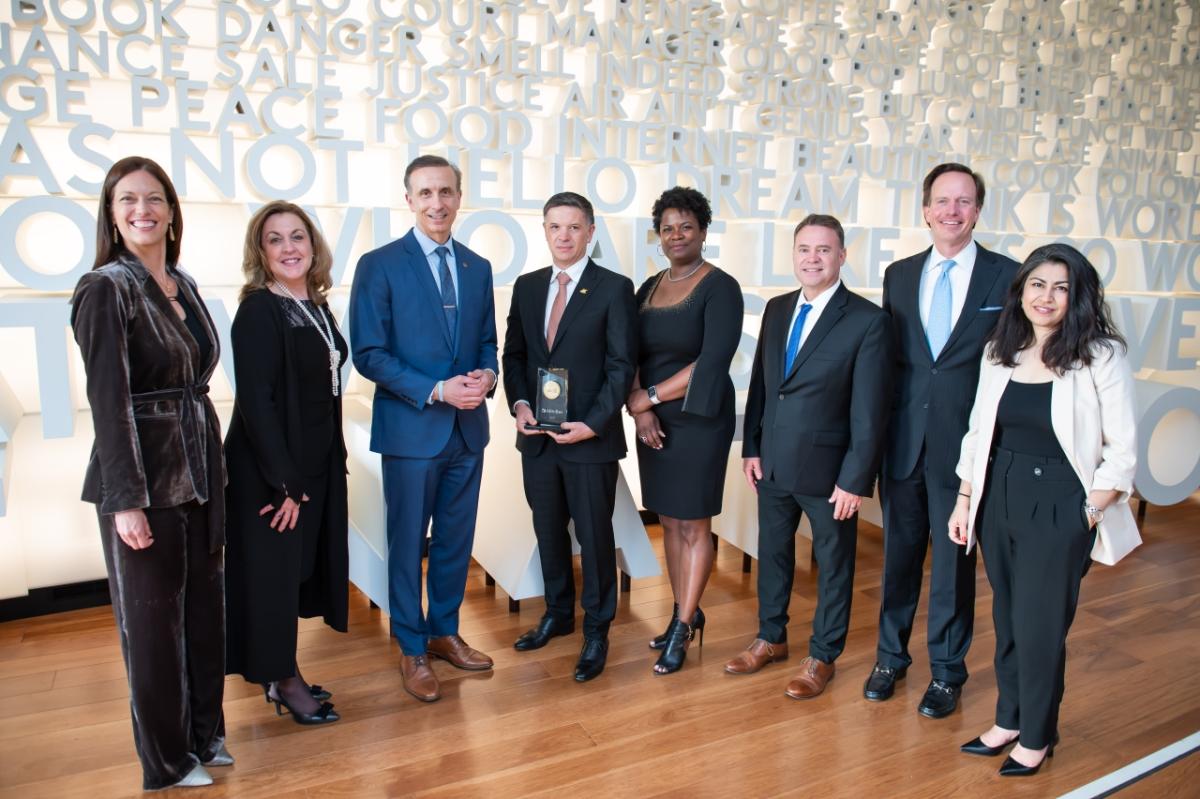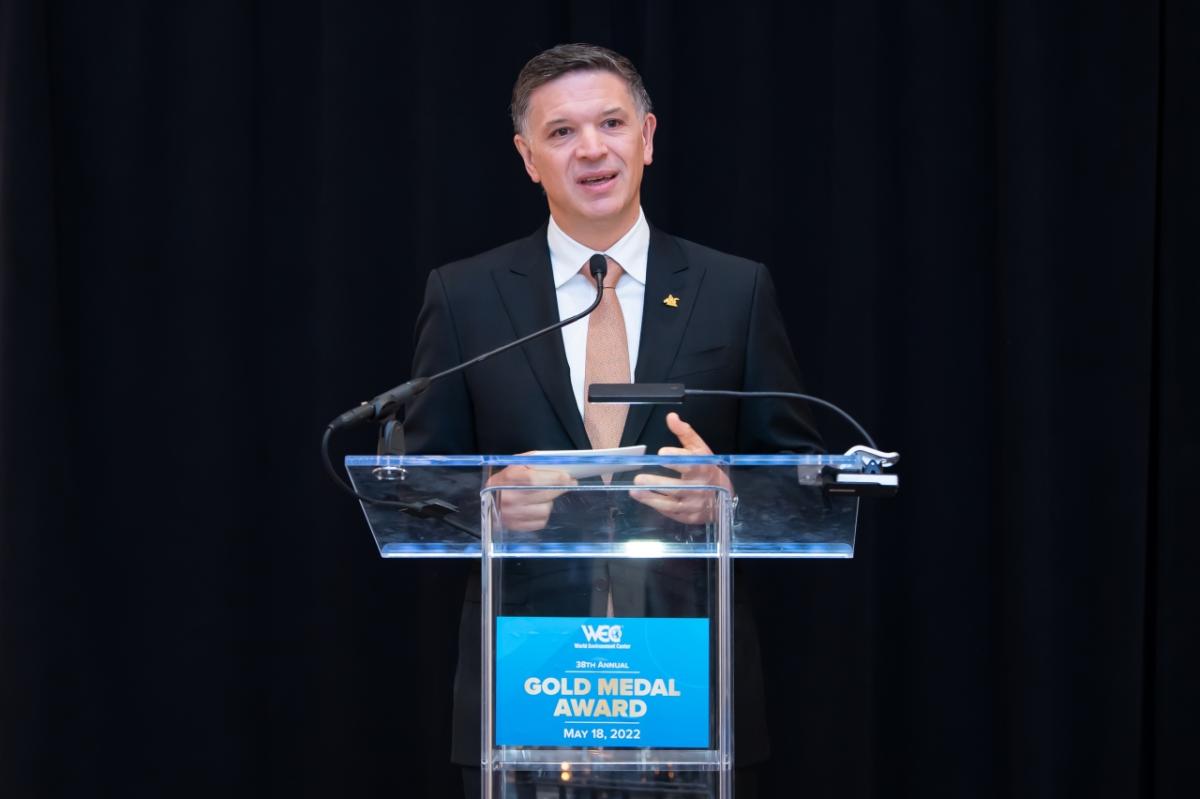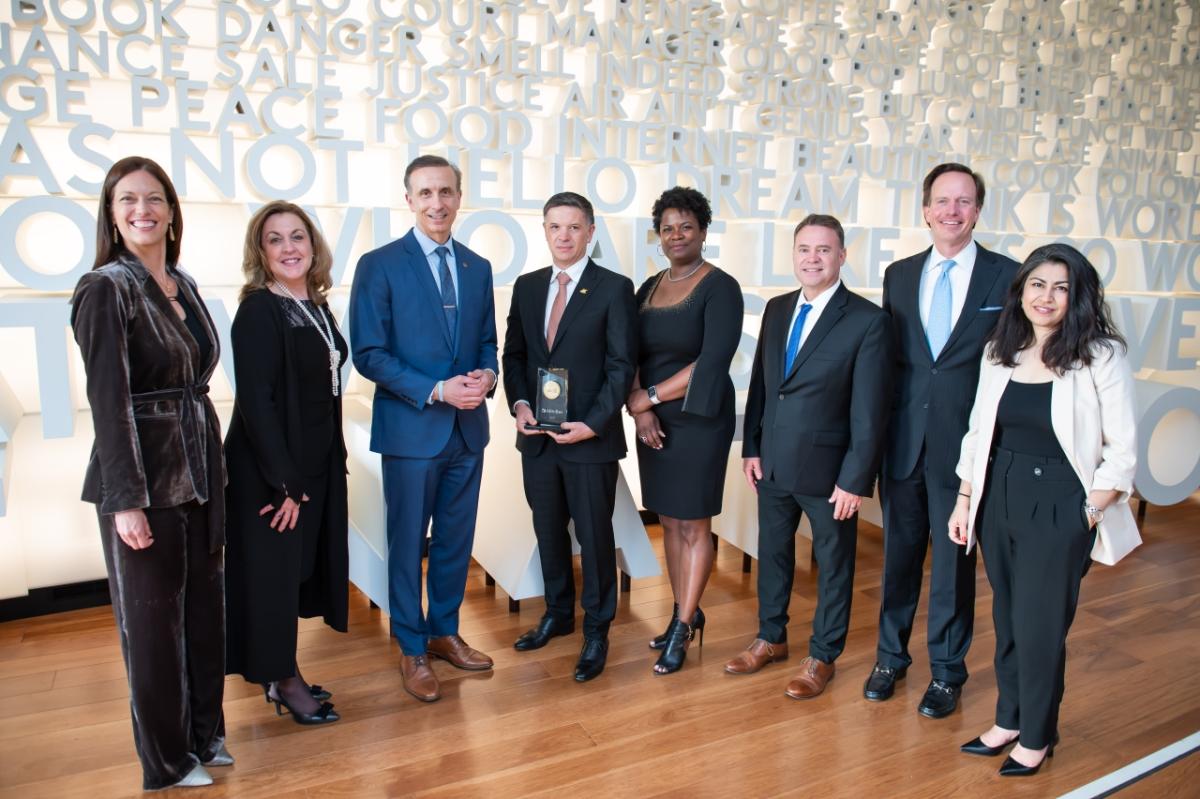 May 19, 2022 /3BL Media/ - The World Environment Center was pleased to award its 38th Gold Medal for International Corporate Achievement in Sustainable Development to Anheuser-Busch InBev (AB InBev), the world's leading brewer. The Gold Medal Award was presented to AB InBev CEO Michel Doukeris at an in-person ceremony at Washington, DC's Planet Word on Wednesday, May 18, 2022.
The Gold Medal Award is presented annually to a global company that has integrated sustainability into its business practices, created ground-breaking solutions to critical environmental and social challenges, and demonstrated global leadership to accelerate progress toward a sustainable future. An independent Gold Medal Jury comprised of recognized sustainability experts selects the Gold Medalist through a global competition among nominated companies invited to apply for the Award.   
The Gold Medal Jury selected AB InBev this year in recognition of the company's strong sustainability track record, ambitious commitments, and its focused ESG strategy aimed at creating shared prosperity across its value chain. The Jury recognized AB InBev for catalyzing impact beyond its own operations through its 2025 Sustainability Goals and ambition to achieve net zero across its value chain by 2040; its engagement with suppliers, business partners and consumers to scale impact; and its commitment to innovation through the award-winning 100+ Accelerator Program.
Gold Medal Jury Chair Linda Fisher, former Vice President & Chief Sustainability Officer of DuPont, said "on behalf of the Jury, I extend my sincere congratulations to AB InBev for its thoughtful approach to sustainability. AB InBev has demonstrated its commitment to renewable energy, water stewardship, smart agriculture, circular packaging, and human rights.  These commitments coupled with a global supply chain have a far-reaching and positive sustainability impact around the world."
"We are honored to receive the 2022 Gold Medal Award for International Corporate Achievement in Sustainable Development. Beer is inclusive, natural and local. We envision a future that is more sustainable and more inclusive. This award recognizes our ambition on sustainability, and I want to thank our team for their commitment as we continue to dream big to create a future with more cheers," said Michel Doukeris, Chief Executive Officer, AB InBev. 
"We congratulate AB InBev and salute the company's commitment to sustainable development," said WEC President & CEO Glenn Prickett. "In these challenging times, we hope that recognizing AB InBev's leadership with the Gold Medal Award will inspire other companies to aim higher in their commitments to sustainability."
Preceding the award ceremony, WEC hosted its annual WEC Gold Medal Symposium, which this year focused on the theme "Leadership for a Sustainable Future: Building a Next Generation Business Today." Featured panelists included Ezgi Barcenas, Chief Sustainability Officer, AB InBev and Thomas L. Friedman, Foreign Affairs Columnist, The New York Times.
About the Gold Medal
The World Environment Center's Gold Medal for International Corporate Achievement in Sustainable Development was established in 1985 to recognize significant industry initiatives in global environmental excellence and sustainable development. Recent recipients of the WEC Gold Medal Award are Microsoft (2021), the Ford Motor Company (2020), Trane Technologies (formerly Ingersoll Rand; 2019), Ecolab, (2018), HP Inc. (2017), Jacobs – formerly CH2M (2016), SC Johnson (2015), Unilever (2013), IBM (2012), Nestlé (2011), Wal-Mart Stores (2010), The Coca-Cola Company (2009), and Marks & Spencer (2008).
The Gold Medal Jury is independent of WEC and its programs, and is composed of international leaders from academia, government, non-governmental organizations, and retired industry professionals. 
About the World Environment Center
The World Environment Center advances sustainable development through corporate business practices. Headquartered in Washington, D.C. with offices in Europe and Latin America, WEC creates business solutions through executive roundtables on key sustainability challenges, builds capacity of small enterprises in emerging markets, and honors industry excellence through its annual Gold Medal Award. WEC is an independent, non-profit, non-governmental organization. For more information, please visit www.wec.org.