World Environment Center to Award 2021 Gold Medal for Corporate Sustainability to Microsoft During Annual Gold Medal Award Presentation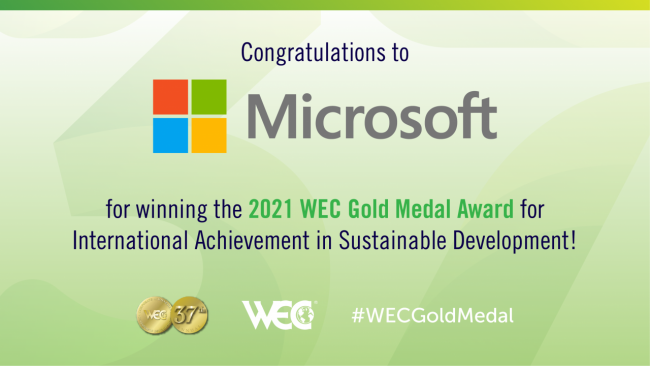 June 8, 2021 /3BL Media/ - The World Environment Center (WEC) will award its 37th annual Gold Medal for International Corporate Achievement in Sustainable Development to Microsoft during the annual Gold Medal Award virtual presentation on June 9, 2021.
During the award presentation Brad Smith, President, Microsoft will be accepting the Gold Medal Award on behalf of Microsoft. Bob Holycross, VP, Sustainability, Environment and Safety Engineering and Andy Hobbs, Global Director of the Environmental Quality Office from Ford Motor Company – 2020 WEC Gold Medal Award winner – will join the presentation. Speakers also include New York Times journalist, Thomas L. Friedman.
Through a global competition, the independent Gold Medal Jury selected Microsoft's application for integrating sustainability into the core of their business. The Gold Medal Jury selected Microsoft this year in recognition of the company's strong sustainability record and ambitious commitments. The Jury recognized Microsoft for advancing global progress beyond its core business by its investment in carbon removal, its Climate Innovation Fund, and its public policy engagement on climate change.
In summarizing the decision of the Gold Medal Jury, Jury Chair Katherine Sierra, former Vice President for Sustainable Development at the World Bank, stated, "On behalf of the Jury members, I extend my sincere congratulations to Microsoft for its thoughtful approach to sustainability impact. Microsoft demonstrates its strong commitment to be a carbon negative, water positive, zero waste company and its exemplary ambition to develop a Planetary Computer. These commitments coupled with a global supply chain have a far-reaching and positive sustainability impact around the world."
"The World Environment Center's Gold Medal for corporate sustainability emphasizes the importance of holistic, company-wide approaches to sustainability," said Microsoft President Brad Smith. "To reach an equitable, net-zero future, society requires a similarly thoughtful approach, where everyone does their part. That's why we're committed to taking responsibility for our own emissions, and why we are helping to empower our partners, customers and suppliers to do the same."
Following the award ceremony, WEC will host its annual Gold Medal Roundtable, which this year focuses on the theme "Climate Action for a Green Recovery." The Roundtable will feature keynote speaker Lucas Joppa -- Chief Environmental Officer, Microsoft and company executives. Both Gold Medal events are by invitation only.
The World Environment Center's Gold Medal for International Corporate Achievement in Sustainable Development was established in 1985 to recognize significant industry initiatives in global environmental excellence and sustainable development. Recent recipients of the WEC Gold Medal Award are: Ford Motor Company (2020), Trane Technologies (formerly Ingersoll Rand; 2019), Ecolab, (2018), HP Inc. (2017), Jacobs – formerly CH2M (2016), SC Johnson (2015), Unilever (2013), IBM (2012), Nestlé (2011), Wal-Mart Stores (2010), The Coca-Cola Company (2009), and Marks & Spencer (2008).
The Gold Medal Jury is independent of WEC and its programs, and is composed of international leaders from academia, government, non-governmental organizations, and retired industry professionals. 
About the World Environment Center
The World Environment Center, headquartered in Washington, D.C., with offices and operations in emerging and developed markets, is unique in its direct application of sustainable development strategies and practices to the business operations of global companies. WEC creates sustainable business solutions through individual projects in emerging markets; convenes leadership roundtables to shape strategic thinking across a range of sustainability topics with a specific focus on the preparation of business leaders to implement sustainability; and honors industry excellence through its annual Gold Medal Award. An independent non-profit organization, WEC conducts no advocacy activities. For more information, please visit www.wec.org.