Why a Mission-Driven Company Culture Leads to Employee Engagement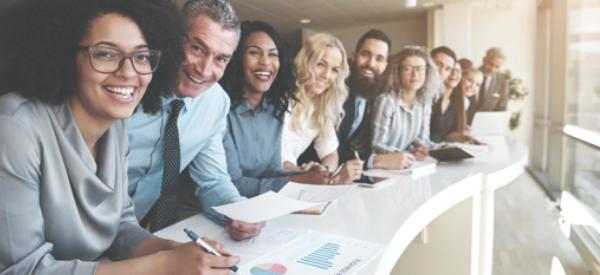 Originally published on the Realized Worth blog
By Dave Armon
Prospective employees today are able to learn more about companies than ever before - a position that gives them a lot of power when considering their next career move.
This knowledge shift is dramatic, especially when you consider that trust, loyalty, and belief in a company's mission has outpaced salary and perks in the workplace, as explained In Jim Collins's book, "Good to Great." Collins, among others, states that money is not the magnet it once was for potential employees; rather, purpose-driven performers are propelled to get "on the bus" by a company's mission.
Research shows that companies do better when employees buy into their mission. Therefore, it's crucial for organizations to understand who they are and what drives them, particularly when today's employees want to be part of something larger than themselves and develop working relationships and goals that matter and motivate great work.
Interestingly, the 2017 Edelman Trust Barometer revealed that 75 percent of survey respondents expect businesses to lead the charge to reestablish trustworthiness in the world by taking actions that both increase profits and improve socio-economic conditions.
As discussed in the Edelman report, a general lack of trust has created an environment where the masses have historically high influence and authority, and peers are viewed as more credible sources of information than the media or government. In the workforce, this translates to networking as a more reliable means for prospective employees to find the right place to land.
All this collectively points to the importance of mission-driven culture as a significant touchpoint for companies to attract the right employees.
Realized Worth's methodology to help companies create transformative employee volunteering and giving programs is a powerful way to foster engagement in organizations.
Events such as the COMMIT!Forum 2017: Brands Taking Stands conference, to be held October 11-12, 2017 at the MGM National Harbor, Maryland, near Washington, D.C., is another way individuals can network and learn from experts about best practices in recruiting and retaining an engaged workforce. Topics of discussion at the event will include responsible business operations, managing brand and reputation in a changing environment, and sustainability and profitability, along with other related issues.
Angela Parker, Co-Founder and President of Realized Worth, will lead an event discussion titled, "Neuroscience and Transformative Volunteering: How Civic Engagement Changes our Brains." Conference speakers will include CEOs and executives from the Campbell Soup Company, CECP: The Force for Good, JetBlue, Smithfield Foods, the U.S. State Department's Office for Global Partnerships, and the Center for Corporate Citizenship at Boston University, among others.
Research makes it clear that companies will excel in the future if they recognize the value of attracting and nurturing employees who are mission invested. The key, then, is for organizations to act on that knowledge through volunteering and giving programs that maximize benefits for all.