General Mills Works to Protect Pollinators
Helping the Honey Bee by Jim Witkin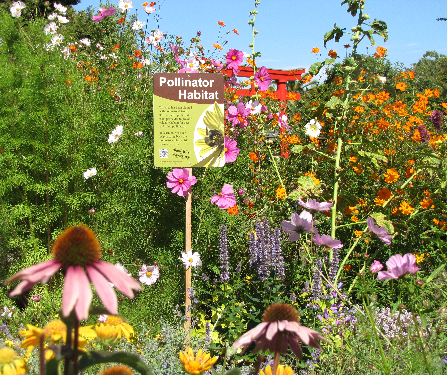 Part of the COMMIT!Forum Special Series | Learn More
Could you do your job if you were kicked out your house, had no food, and under constant attack by parasites and poisons? Not likely. But this is what life is like for many species of birds, bees and other insects who pollinate our crops and help grow one-third of the global food supply.
The numbers are not pretty. According to a 2016 report from a United Nations group, about 40 percent of pollinator species globally are now facing extinction from threats including mite parasites, industrial pesticides and disappearing habitat. Also endangered are millions of livelihoods and hundreds of billions of dollars' worth of food supplies. The report further suggested that to reverse these trends will require a combined effort from public agencies and the private sector.
The good news is that a number of those affected are taking a stand, like the recently announced partnership between the food giant General Mills, the U.S. Department of Agriculture's Natural Resources Conservation Service and the Xerces Society, the world's oldest pollinator conservation nonprofit. The group takes its name from the Xerces blue, the first butterfly species in North America to become extinct from habitat loss.
The project aims to add more than 100,000 acres of pollinator habitat on or near existing crop lands over the next five years. The goal is to increase pollinator numbers and diversity. General Mills has pledged $2 million to the effort, the USDA has matched this amount, and the Xerces Society will manage the project.
The money will be used to fund six field biologists on the Xerces team in Minnesota, North Dakota, California, Nebraska, Iowa and Maine. The biologists will work with farmers and ranchers in these regions to develop habitat restoration plans tailored to local biodiversity. Those farms and ranches that opt in are not required to be part of General Mills' supply chain.
For pollinators, restored habitat provides a diversity of drought-tolerant, flowering native or naturalized plants, as well as egg-laying or nesting sites. The work can take many forms, according to Eric Lee-Mäder, the Co-Director of the Xerces Society pollinator program. These can be field edges or property boundaries planted in high densities of native wildflowers or shrubs. Habitat can also consist of flowering cover crops – such as buckwheat or crimson clover – in rotation with cash crops.
"This model of providing large scale functional habitat with supplier farms will be the wave of the future," he said, "if we want to continue to eat and continue to source the ingredients that make up our diet."
General Mills has been at the forefront of this movement, according to Lee-Mäder, and no wonder: The stakes are high for the company. "About 35 percent of our business is impacted by pollinators not only for the grain crops used in our products but also for ingredients like honey used in products like Honey Nut Cheerios brand," said Beth RobertsonMartin, who leads the organic and non-GMO sourcing group at General Mills. "So of course, we care about the native pollinator species as well as those honey bee hives and colonies."
In addition to the project with the Xerces Society, General Mills is also working directly with farms in its own supply chain to make them more bee-friendly. Cascadian Farm, one of General Mills organic brands, has committed to planting 3000 to 5000 acres of habitat on the 150,000 acres of farms that support their business. The farms used in the Honey Nut Cheerio supply chain have also committed to plant native wildflower habitat on 60,000 acres of oat farms.
"Success will be measured by the number of acres planted for both the Xerces project and the work we are doing with our supply chain," said RobertsonMartin. "Our research shows that these habitats do make the difference and impact the number of pollinators when you do it right," she added.
General Mills is working on multiple fronts in this effort, not only engaging their supply chain but also consumers and employees.
The company's Honey Nut Cheerios brand ran a #BringBacktheBees promotion earlier this year to give away packets of wildflower seeds for consumers to plant pollinator-friendly gardens. They intended to give away 100 million seeds, but the response was "overwhelming," according to Mollie Wulff, the Corporate Communications Manager at General Mills. At the close of the campaign, the company had shipped out almost 1.5 billion seeds.
The response from employees has been on a similar scale, according to Wulff. Starting in October 2015, the company set aside a large plot of land on its corporate campus in Golden Valley, Minn., a suburb of Minneapolis. Since then groups of employees have worked together to transform the unused plot into native wildflower pollinator habitat. "It's been an effective activity to build awareness within our own walls and educate employees about the work we are doing in this area," she said.
All these projects together will provide multiple benefits for General Mills, protecting a vulnerable part of its supply chain while enhancing brand loyalty from consumers and employees. For other companies considering projects on this scale, Wulff suggests first recognizing that you can't do this on your own. "If we want to move the needle here, we need to partner with reputable, results-oriented nonprofits, NGOs, and governmental organizations to make an impact. We know we can't do it alone so we need to work together."
In fact, Lee-Mäder recommends that everyone should consider getting involved, "No matter how big or small your garden, even if you just have a single flower pot, you can put in a blooming plant and it can become habitat for bees. You can reduce the need for insecticides in your garden. And as a consumer you can embrace brands that are working to reduce the use of pesticides in their supply chain and increase the role of habitat. Those are the core principles of pollinator conservation and regardless of who you are you can plug into that movement."
Want to plug in and get involved in National Honey Bee Day? Check out these tips from Cascadian Farms and the Xerces Society on things you can do to bring back the pollinators.
Image credit: Celeste Ets-Hokin