WELL Summit To Kick Off Against Backdrop of Surging Global WELL Adoption
State of the healthy buildings movement stands stronger than ever, as two-day event prepares to welcome hundreds of global WELL champions to continue advancing WELL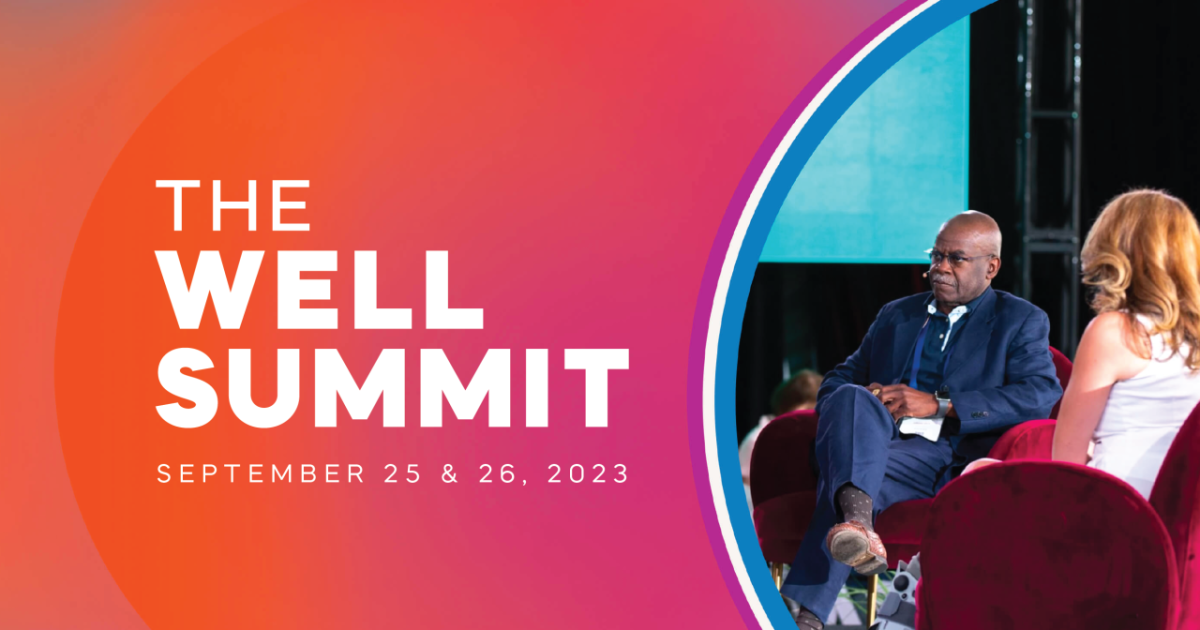 The WELL Summit will take place September 25-26, 2023, in Washington, D.C.
WASHINGTON and NEW YORK, September 19, 2023 /3BL/ - As the WELL Summit prepares to launch next week, the International WELL Building Institute (IWBI), the global authority for driving market transformation through healthy buildings, organizations and communities, celebrates the leadership of the people and projects that have been a driving force behind the WELL movement for nearly a decade.
The WELL Summit, which will take place in Washington, D.C. on September 25-26, will feature the movement's top thought leaders on the MainStage, provide unique networking and technical education opportunities and showcase the latest in products and services supporting the healthy building industry, all the while reinventing the event experience and prioritizing attendee health with curated wellness activities and outdoor programming.
The two-day event will feature continuous programming, showcasing speakers and MainStage sessions including:
"Food as Medicine," a fireside chat featuring Physician and New York Times best-selling author Dr. Mark Hyman in conversation with Nancy Roman, CEO of Roman Leadership, former President and CEO, Partnership for a Healthier America
"A Prescription for Well-being: Places that Put People First," a panel convened by IWBI Governance Council member Dr. Richard Carmona, 17th Surgeon General of the United States, who will be featured alongside three other former Surgeons General colleagues about their perspective on the state of public health today
"Real Estate Reboot: Return to Office Won't Save Us, So What Will?," with executives from HOK, Empire State Realty Trust, Johnson Controls and Chandan Economics
"WELL PechaKucha: Stories that Transform and Transcend," featuring storytelling from healthy building pioneers at Babylon Micro-Farms, IWBI, Lendlease, MindShift, Shaw Industries and Standard Chartered Bank
Programming rooted in equity: "Lessons from Canada's Truth and Reconciliation Process: Centering and Celebrating Indigenous Wisdom" and "Using Investor Influence to Change the World: How to Move Capital Toward Racial Justice"
"With a bold new take on how we gather in person, including a dynamic, open-air experience at D.C.'s vibrant Union Market, the WELL Summit is all about connecting and energizing leaders across our global network," said IWBI President and CEO Rachel Hodgdon. "We are excited to engage with hundreds of renowned experts and industry pioneers who will convene to celebrate the power of place, and who have served as the backbone for driving the incredible growth and adoption of WELL around the world."
The WELL Building Standard (WELL Standard), the world's leading roadmap for creating and certifying spaces that advance health and well-being, has been adopted by nearly 44,000 projects encompassing 4.85 billion square feet of real estate across 127 countries. With the growing emphasis on workplace well-being, thousands of organizations, including more than 25 percent of the Fortune 500, have embraced WELL to guide their health leadership journey. To date, 24,700 people from 128 countries are either credentialed or registered through the WELL AP (Accredited Professional), which demonstrates mastery of the WELL Standard. More than 200 organizations are engaged in IWBI's membership program, a global initiative that offers commercial benefits, as well as brand visibility and networking opportunities.
Organizations across the public, private and nonprofit sectors, and from diverse international markets ranging from North America and Europe to Asia-Pacific and the Middle East, are increasingly using WELL as a framework to prioritize the health and well-being of the people using their buildings and across their communities. Leading businesses utilizing WELL hail from real estate, building design and construction (AECD), and financial services and insurance, with other sectors driving momentum across the landscape of manufacturing, industrial and logistics, research, IT and technology, government and healthcare, among others.
"As we reflect on all that WELL has delivered, we are honored and humbled to bring our community together to propel the healthy buildings movement forward and advance IWBI's mission of creating people-first places," added Hodgdon.
The WELL ecosystem is grounded in the WELL Standard, a library of holistic evidence-based building and organizational strategies – organized into 10 impact categories – that can improve the health and well-being of people. WELL Certification is the highest pinnacle of achievement of strategies across all 10 concepts: Air, Water, Nourishment, Light, Movement, Thermal Comfort, Sound, Materials, Mind and Community.
Certification is available through the WELL Building Standard and WELL Community Standard pilot, along with ratings that are targeted subsets of strategies from the WELL Standard, and which focus on thematic, goal-focused achievements that demonstrate an organization's commitment to health and well-being. The WELL Health-Safety Rating helps organizations address the health, safety and well-being of their people, and communicates to everyone entering a space that evidence-based measures and best practices for safety and long-term resilience have been adopted and third-party verified. The WELL Performance Rating helps organizations implement best practices for continuous monitoring and performance across key IEQ metrics related to air quality, water quality, thermal comfort, acoustics, lighting and occupant experience. Launched in late 2022, the WELL Equity Rating is a roadmap for organizations to set, achieve and report on goals that elevate diversity, equity, inclusion and accessibility in driving health equity. IWBI's WELL at scale program is for business leaders who want to prioritize health and well-being across their entire organization or real estate portfolio, while contributing to strategic environmental, social and governance (ESG) objectives.
Newer opportunities to engage with WELL include the Works with WELL licensing program, which recognizes products and solutions that contribute to the achievement of specific features in the WELL Standard as indicated by a licensed Works with WELL trademark. Additionally, projects now have access to a new streamlined pathway for pursuing certifications for the LEED green building rating system and WELL, along with a suite of new tools and resources.
"We are proud to deliver the WELL Summit experience, including technical training and presentations that will earn attendees CEUs and tap into the overall power of face-to-face engagement," said Kimberly Lewis Inkumsah, Executive Vice President, Equity, Engagement and Events, IWBI. "It's the premier opportunity to learn from the leaders of the movement and participate in provocative discussions on key topics and trends that are transforming our world and our well-being. Let's normalize a gathering that creates time and space for attendees to integrate well-being into every aspect of their event ROI. We'll see you there!"
About the International WELL Building Institute
The International WELL Building Institute (IWBI) is a public benefit corporation and the world's leading organization focused on deploying people-first places to advance a global culture of health. IWBI mobilizes its community through the administration of the WELL Building Standard (WELL Standard) and WELL ratings and certifications, management of the WELL AP credential, the pursuit of applicable research, the development of educational resources and advocacy for policies that promote health and well-being everywhere. More information on WELL can be found here.
International WELL Building Institute, IWBI, the WELL Building Standard, WELL v2, WELL Certified, WELL AP, WELL Portfolio, WELL Score, The WELL Conference, We Are WELL, the WELL Community Standard, WELL Health-Safety Rating, WELL Health-Safety Rated, WELL Equity, WELL Performance Rated, WELL Performance Rating, Works with WELL, WELL and others, and their related logos are trademarks or certification marks of International WELL Building Institute pbc in the United States and other countries.
Media Contact:
media@wellcertified.com