WEC Gold Medal Winner AB InBev Host Entrepreneurship in Sustainable Value Chains Event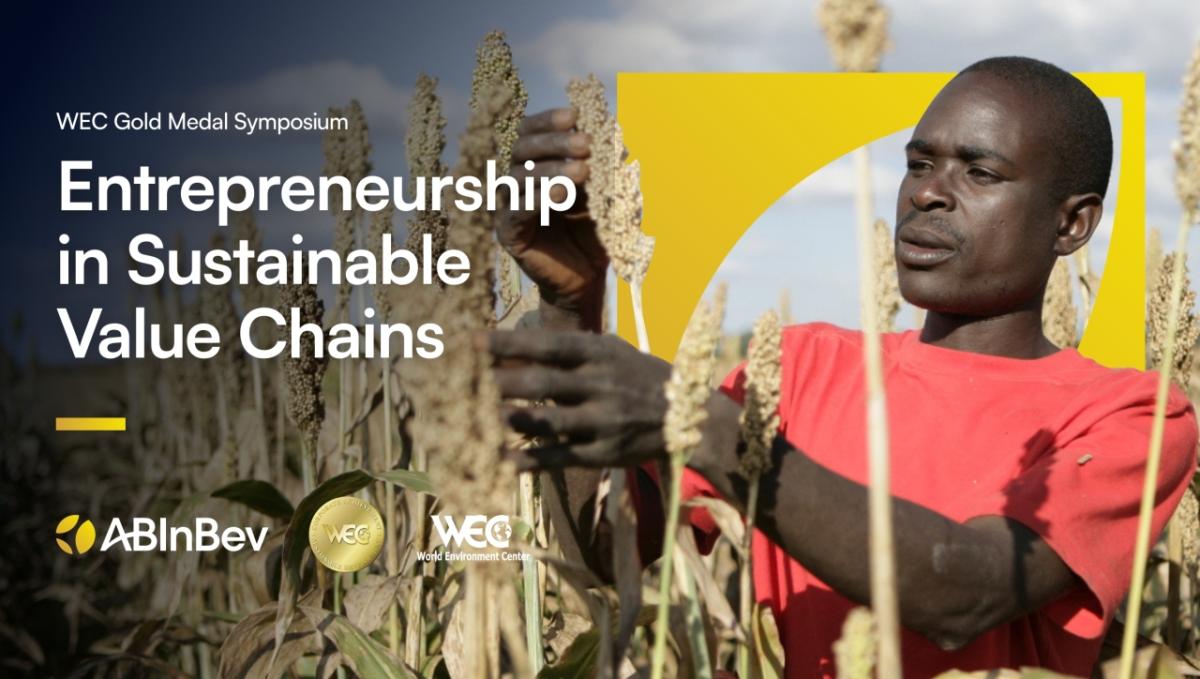 WEC Gold Medal Winner AB InBev Host Entrepreneurship in Sustainable Value Chain…
November 14, 2022 /3BL Media/ - World Environment Center (WEC) and AB InBev will host the WEC Gold Medal Symposium on Entrepreneurship in Sustainable Value Chains on Thursday, November 17th in New York City.
Tackling the climate crisis and other sustainable development challenges requires collaboration and innovation. By supporting entrepreneurship in value chains, the private and public sectors can play a key role in promoting sustainable and resilient development.
AB InBev's Chief Sustainability Officer, Ezgi Barcenas, along with sustainability leaders across industries will explore Entrepreneurship as a key aspect of a forward-looking ESG (Environmental, Social, and Governance) agenda. WEC brings expertise in sustainable development through corporate business practices and will co-host and moderate the event.
Featured speakers include executives from AB InBev, Colgate-Palmolive, Inter-American Development Bank, Mastercard and more!
While this is an invite-only event, anyone interested in attending can reach out to the Program Manager, Smitha Konduri (skonduri@wec.org) to request an invitation.
Event Information:
Date: November 17th, 2022, Time: 4:30 PM – 7:00 PM
Location: Midtown Manhattan, New York City, NY
About WEC Gold Medal Symposium
AB InBev, the world's leading brewer, was the recipient of the 2022 WEC Gold Medal Award for International Corporate Achievement in Sustainable Development. The Gold Medal Award was presented to AB InBev CEO Michel Doukeris in Washington at DC's Planet Word on Wednesday, May 18, 2022.
The Gold Medal Award is presented annually to a global company. The award integrates sustainability into its business practices, creates ground-breaking solutions to critical environmental and social challenges, and demonstrates global leadership to accelerate progress toward a sustainable future.
An independent Gold Medal Jury comprised of recognized sustainability experts selects the Gold Medalist through a global competition among nominated companies invited to apply for the Award. This event is part of a series of Symposiums hosted by WEC to recognize AB InBev and raise important dialogues on relevant sustainability topics. You can read the press release here.
About World Environment Center
WEC is an independent, global non-profit, non-advocacy organization that advances sustainable development through the business practices and operations of its member companies and in partnership with governments, multi-lateral organizations, non-governmental organizations, universities, and other stakeholders. WEC's mission is to promote business and societal value by advancing solutions to sustainable development-related problems.
WEC manages projects for companies across their global operations, builds executive level learning and competency in incorporating sustainable development principles across several business sectors, and recognizes performance excellence through an annual awards program. WEC is headquartered in Washington, D.C., with regional offices in China, El Salvador, and Germany.