We Are Still In: How Businesses Reshape Political Advocacy in Washington
By Jan Lee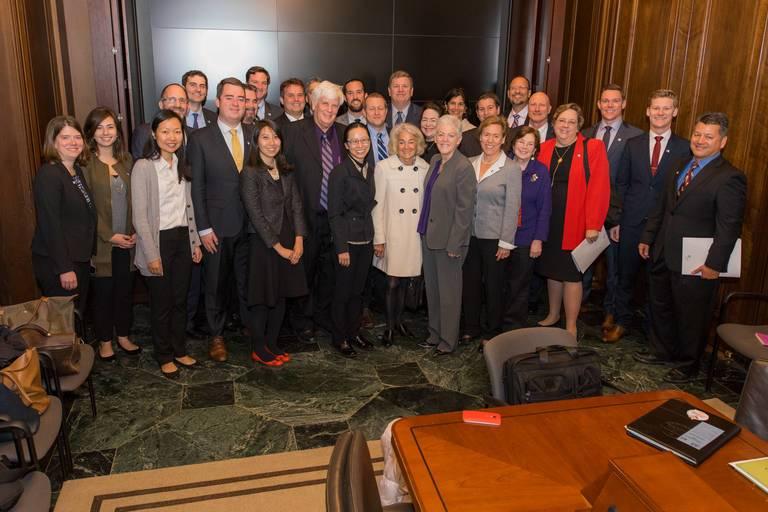 E2 business leaders meet with former EPA director Gina McCarthy (right of center, gray suit) in Washington, D.C.
Originally published on TriplePundit
In June, after months of debate and tense speculation, President Donald Trump did something that would have unprecedented impact in the U.S. business community: He announced he would be pulling the United States' support for the Paris Accord.
Years of negotiations with international counterparts to bring about consensus on how global warming could be slowed across the planet received what many thought at the time was a fatal blow. Without US support of a protocol to restrict environmental temperature, many feared, businesses would be reluctant to follow the recommendations of the UN, which included limiting carbon emissions.
But they were wrong.
Within days, business leaders across the country had marshaled their own intuitive response to the president's decision, harnessing a bounty of data that proved that Trump was not only incorrect in the reasons he gave for pulling out, but even more notably, that his administration was acting against the interests of U.S. business leaders and voters.
Schools, counties, cities, states, nonprofit organizations and large and small businesses stepped up to tell the president that whether or not the federal government planned to represent voters at the Paris talks, the country's largest network of lobbyists – a commercial sector representing $6.2 trillion – planned to continue to endorse the Paris Agreement.
"In the U.S., it is local and state governments, along with businesses, that are primarily responsible for the dramatic decrease in greenhouse gas emissions in recent years. Actions by each group will multiply and accelerate in the years ahead, no matter what policies Washington may adopt," signers of the We Are Still In agreement stated.
"In the absence of leadership from Washington, states, cities, colleges and universities, businesses and investors, representing a sizable percentage of the U.S. economy will pursue ambitious climate goals, working together to take forceful action and to ensure that the U.S. remains a global leader in reducing emissions."
This isn't the first time that companies have stepped up to the plate to lobby for political measures from Washington that seemed unpopular with lawmakers. Organizations like Ceres, a network of environmental organizations, businesses and stakeholders from across multiple sectors have had similar success in moving the needle when it comes to investment in fossil fuel products, coming up with better water management in water-stressed California and encouraging companies to disclose their climate risks.
And there's a reason why it makes perfect sense that business leaders are leading the call on some the country's most decisive initiatives. According to Bob Keefe, executive director of Environmental Entrepreneurs (E2), who helped launch the We Are Still In initiative, there's a strong business case for supporting the Paris Accord, and for putting it in the framework that business people – including President Trump – can understand.
"Especially with a businessman in the White House and state governments focused on economic development and jobs, explaining the economic benefits of clean energy and acting on climate change is more important than ever," said Keefe, who points out that addressing climate change isn't "just about addressing global warming, weather disasters and polar bears." It has a compelling business impact, too.
"This is also about creating jobs and driving economic growth. Nobody can explain that better than business people and investors who are creating those jobs, and the workers who are filling them."
Like the 3 million people now working in the clean energy industry, Keefe says. It's "a lot more than work in the coal and gas industries," he pointed out. So those stakeholders need to have a voice.
A key example, said Keefe, is the funding that goes into the Advanced Research Projects Agency – Energy (ARPA-E), the country's fundamental research program. Recent efforts by the Trump administration and its supporters have announced plans to cut funding to the program at a time when renewable energy jobs are actually growing.
"That's crazy," said Keefe, who points out that "in the cross-hairs are thousands of entrepreneurs and small start-up clean energy companies in every corner of the country who could see their hopes, dreams and big ideas – maybe the next Tesla or the next game-changing battery or solar technology – disappear because our government doesn't support their work."
That realization, he said has encouraged not just more dialogue among ARPA-E supporters, but a growing willingness by CEOs of cleantech incubators and industry leaders to travel to Washington "on their own dime and their own time" and communicate the need to keep such funding in place.
"[They know cutting the funding] will affect all of those businesses, our country's competitiveness and our economy, if they don't speak up," said Keefe.
One of the earliest successes to bring cutting-edge concepts to Washington emerged as E2 gained ground in California. Keefe said the effort to educate California lawmakers on the benefits of implementing clean energy standards began in the early 2000s.
"Back then, nobody was bringing together businesses to talk about the economic benefits of environmental policies. As a result, all lawmakers and the public heard was from the petroleum industry and car manufacturers predicting that placing pollution limits on vehicles would put them out of business, ruin our economy and send California to hell in a hand-basket," Keefe said. "E2's founders and their business friends and associates knew better."
Today, California is considered the leader when it comes to clean energy standards on many fronts. That business acumen has helped reshape not just how energy is managed and produced and how cars are built, but the potential for state and federal agencies to expect and implement common-sense legislation that not only encourages sustainable business practices, but global environmental policies as well.
"Those clean car standards also were ultimately replicated at the federal level, and in other countries as well," Keefe pointed out.
The key to harnessing constructive advocacy, said Keefe, is "to include lots of different players. Activists, consumers, moms, kids – and business leaders – all of their voices are important if we want to make change happen for the better," he said.
We Are Still In resonates today because it speaks not just for environmentalists or businesses whose reputations have backed environmental advocacy, but the many businesses that know there's a business case for building global policies that everyone can get behind.
Image credit: E2.org  
Jan Lee is a former news editor and award-winning editorial writer whose non-fiction and fiction have been published in the U.S., Canada, Mexico, the U.K. and Australia. Her articles and posts can be found on TriplePundit, JustMeans, and her blog, The Multicultural Jew, as well as other publications. She currently splits her residence between the city of Vancouver, British Columbia and the rural farmlands of Idaho.