Voya Financial Recognized by Women's Forum of New York for Achieving Gender Parity of Board of Directors in 2017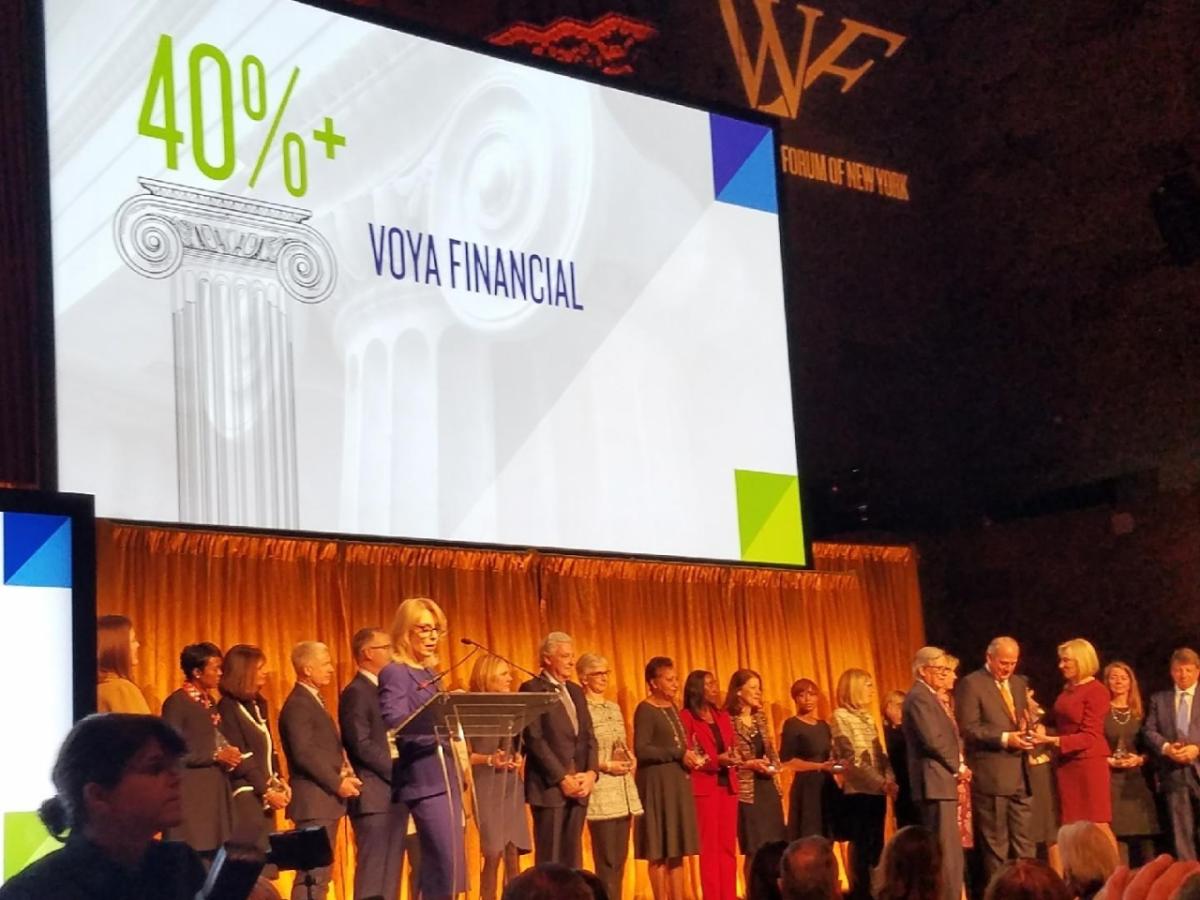 We're proud to have joined the 2017 Breakfast of Corporate Champions, along with companies who are moving the needle in achieving gender parity on corporate boards. It is an honor to be recognized by the Women's Forum of New York for reaching board parity, with 50% of our independent directors being women – and to share our story that brought us from zero diversity to parity.
For more information about Voya Financial, please visit www.voya.com
Media Contact: 
Jeanne LaCour 
Voya Financial 
Office: (212) 309-8949 
jeanne.lacour@voya.com
Investor Contact:
Darin Arita 
212-309-8999 
IR@voya.com 
About Voya Financial® 
Voya Financial, Inc. (NYSE: VOYA), helps Americans plan, invest and protect their savings — to get ready to retire better. Serving the financial needs of approximately 13.6 million individual and institutional customers in the United States, Voya is a Fortune 500 company that had $11 billion in revenue in 2016. The company had $541 billion in total assets under management and administration as of Sept. 30, 2017. With a clear mission to make a secure financial future possible — one person, one family, one institution at a time — Voya's vision is to be America's Retirement Company®. Certified as a "Great Place to Work" by the Great Place to Work® Institute, Voya is equally committed to conducting business in a way that is socially, environmentally, economically and ethically responsible and has been recognized as one of the 2017 World's Most Ethical Companies® by the Ethisphere Institute, as well as one of the Top Green Companies in the U.S., by Newsweek magazine. Follow Voya Financial on Facebook and Twitter @Voya.
About the Women's Forum of New York
The Women's Forum of New York is the city's premier organization of women leaders. The invitation-only membership of more than 500 women represents the highest levels of achievement across all professional sectors from finance to fine arts. The organization is dedicated to the advancement of women's leadership through programs which enrich members' lives both personally and professionally, through The Education Fund, which enables talented women whose potential has been disrupted by extreme adversity to resume their education, and through the Corporate Board Initiative, which extends and expands the contribution of women leaders through corporate board participation. Founded in 1974, the Women's Forum of New York is the flagship of the International Women's Forum, a global organization of over 6,500 outstanding women leaders in over 74 Forums around the world.