Voya Financial Named a 2017 "Great Place to Work"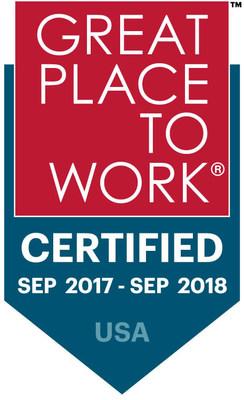 NEW YORK, October 3, 2017 /3BL Media/ - Voya Financial, Inc. (NYSE: VOYA), announced today that it has been certified as a 2017 Great Place to Work by the independent analysts at Great Place to Work® — the global authority on high-trust, high-performance workplace cultures — for the second consecutive year.
"We take pride in being a unique company to work for and are proud to be recertified as a Great Place to Work," said Chairman and CEO Rodney O. Martin, Jr. "To drive business and operational performance, we start with our foundation — our employees. Voya strives to be a diverse and energetic environment, where employees care about each other and are excited to come to work. Our culture enables us to work towards our mission of making a secure financial future possible — one person, one family, one institution at a time."
Voya Financial earned this certification after an extensive process, which included completing a culture briefing questionnaire around the company's practices and programs, and having employees  complete a Trust Index© survey. The survey, which measures the level of trust in their organization and the extent to which employees say it is a great workplace, asks employees about the company's challenges, atmosphere, rewards, pride, communication and bosses. The independent analysts at Great Place to Work then reviewed all of the results to determine if Voya met the certification threshold, which is a 70 percent average Trust Index© score.
Voya's employee participation rate exceeded last year's number by more than 400 additional respondents. Approximately 1,300 Voya Financial employees completed the Trust Index© survey, resulting in a 90-percent confidence level and a margin of error of ± 2.04. Other highlights from the survey results include:
90 percent of employees say Voya has a great atmosphere;
91 percent of employees feel good about the ways Voya contributes to the community; and
92 percent of employees say they have great pride working at Voya.
Voya joins the ranks of 85 other financial service and insurance companies that are also certified. Great Place to Work® provides the benchmarks, framework and expertise needed to create, sustain and recognize outstanding workplace cultures through proprietary assessment tools, advisory services and certification programs, including Best Workplaces lists and workplace reviews. Since last year's certification, Voya has conducted focus groups to gain insight on its health care offerings and released a financial wellness survey to help improve employees' financial futures, both of which enhanced practices and services provided to employees. The company also announced an employee value proposition — a unique set of offerings or attributes that characterize how Voya differentiates itself from competitors and drives the employee experience.
"We applaud Voya Financial for seeking certification and releasing its employees' feedback," said Kim Peters, Executive Vice President of Great Place to Work's Certification Program. "These ratings measure its capacity to earn its own employees' trust and create a great workplace — critical metrics that anyone considering working for or doing business with Voya Financial should take into account as an indicator of high performance."
Voya Financial's full results are available at http://reviews.greatplacetowork.com/voya-financial.
Media Contact: 
Jeanne LaCour 
Voya Financial 
(212) 309-8949 
Jeanne.LaCour@voya.com
About Voya Financial® 
Voya Financial, Inc. (NYSE: VOYA), helps Americans plan, invest and protect their savings — to get ready to retire better. Serving the financial needs of approximately 13.6 million individual and institutional customers in the United States, Voya is a Fortune 500 company that had $11 billion in revenue in 2016. The company had $517 billion in total assets under management and administration as of June 30, 2017. With a clear mission to make a secure financial future possible — one person, one family, one institution at a time — Voya's vision is to be America's Retirement Company®. Certified as a "Great Place to Work" by the Great Place to Work® Institute, Voya is equally committed to conducting business in a way that is socially, environmentally, economically and ethically responsible and has been recognized as one of the 2017 World's Most Ethical Companies® by the Ethisphere Institute, as well as one of the Top Green Companies in the U.S., by Newsweek magazine. For more information, visit voya.com. Follow Voya Financial on Facebook and Twitter @Voya.