Video | A Macy's Parade Sneak Peek for a Family Facing Pediatric Cancer
Video | A Macy's Parade Sneak Peek for a Family Facing Pediatric Cancer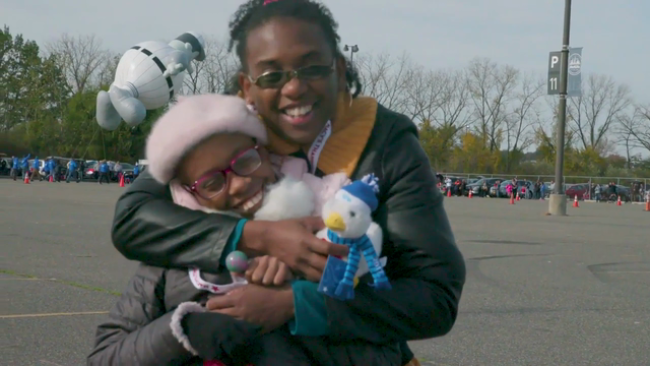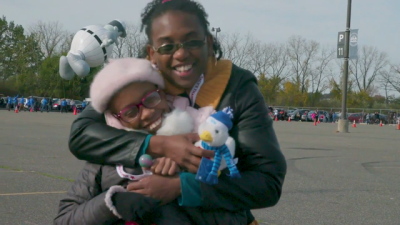 Tuesday, December 12, 2017 - 5:15pm
It's been a challenging year for 10-year-old Teryn Buster. But on November 3, her spirits were flying high — as the Macy's Thanksgiving Day Parade balloons recently did — during a visit to Macy's Parade Studio in Moonachie, New Jersey, headquarters of the world-famous parade. Inside this warehouse is where most of the parade's balloons and floats are constructed.
Buster was on the trip of her young lifetime.
Born with sickle-cell anemia, she developed germ cell cancer earlier this year. She is currently undergoing treatment at the Aflac Cancer & Blood Disorders Center in Atlanta.
She and her mom, Tiffany Harris, a single parent studying to be a nurse, were due for a break. Aflac leveraged its sponsorship of the parade to provide a one-of-a-kind VIP experience for the pair, along with Buster's grandmother, Linda Lias.
Aflac has been a committed corporate ally in raising funds and awareness for childhood cancer for more than 20 years. Helping pediatric cancer patients experience some of the joys of childhood is part of its mission.
The trip included the works — a behind-the-scenes tour of the Macy's Parade Studio with studio vice president John Piper, lunch at kids' New York City hotspot Serendipity, shopping in Times Square and even a carriage ride through Central Park.
The next day took the family to Balloonfest in East Rutherford, New Jersey, where they got a sneak peek at some of the balloons debuting this year, including the 2017 Aflac Duck Balloonicle.
Watch the video for your own insider tour and meet this remarkable young girl, whose courage and generosity have served as inspiration to everyone around her.
To learn more about Aflac's commitment to childhood cancer, visit AflacChildhoodCancer.org.