The Vanguard Group Adoption Policies Benefit Employees Looking to Grow Their Family
Dave Thomas Foundation for Adoption ranks Top 100 employers annually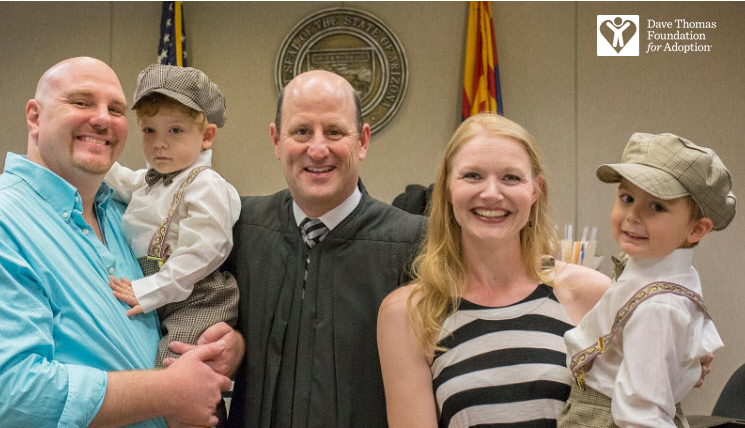 /*-->*/
Each year the Dave Thomas Foundation for Adoption ranks the nation's Top 100 Best Adoption-Friendly Workplaces.
Throughout November, National Adoption Month, we are sharing the adoption stories from our top adoption-friendly partners. This year The Vanguard Group was 18th on the list and shared one employee's adoption journey.
Mark Stevens and his wife were able to adopt twice because of the Vanugard adoption policies.
"The adoption leave time, financial assistance, and recent parental leave policy have helped us tremendously. I was able to be home with both of my children for several weeks and I'm truly grateful for that opportunity. We always dreamed of having more than one child and I don't think we could have adopted two children without Vanguard's financial assistance. It shows me that Vanguard is truly committed to the well-being of its crew members and their families," Stevens said.
Service association Will Lebo (pictured to the right with his family) was able to adopt because of Vanguard's financial reimbursement policy. "Knowing that Vanguard is willing to reimburse for adoption costs helps defeat a barrier often heard around adoption, 'it's too expensive.' Money should never keep kids from a loving family," Lebo told the Foundation.
The Dave Thomas Foundation for Adoption is committed to dramatically increasing the number of adoptions from foster care, which is low cost and often free. However, the Top 100 Best Adoption-Workplace survey recognizes employers who offer benefits for any type of adoption.
To view the entire list of Top 100 Best Adoption-Friendly Workplaces, visit www.adoptionfriendlyworkplace.org
If you'd like to submit your employer for the 2018 list, email info@davethomasfoundation.org and request to be put on the mailing list. The 2018 survey opens in January.