UPS Trials New and More Sustainable Urban Delivery System in London
Innovative 'depot-to-door' system reduces traffic congestion and carbon emissions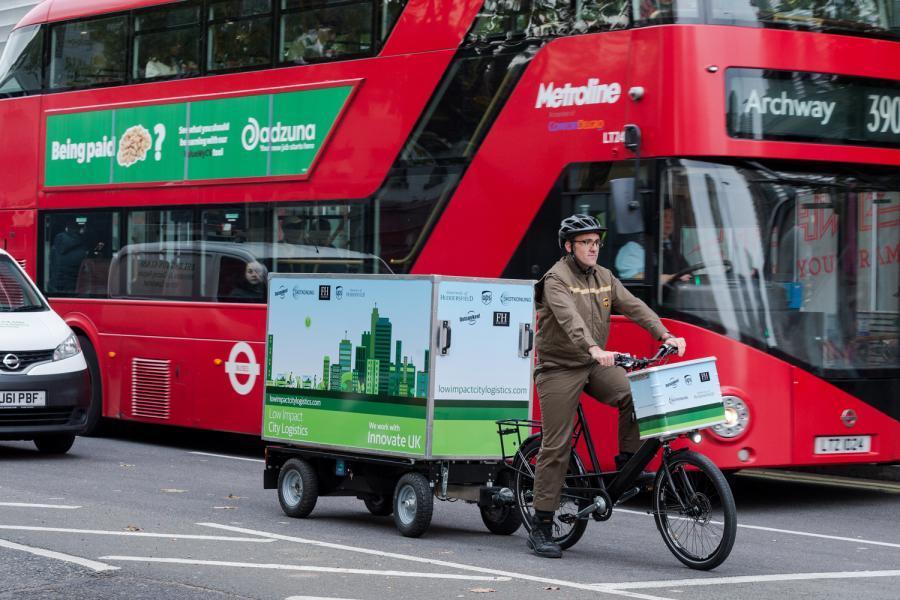 November 30, 2017 /3BL Media/ - UPS (NYSE:UPS) is testing a depot-to-door delivery system in central London. The Low Impact City Logistics project will reduce traffic congestion and emissions associated with urban package delivery by using a power-assisted delivery trailer. If successful, it could change the way packages are delivered in cities in the UK.
Following a competitive pitch process, the project is a partnership of five organizations: UPS, Fernhay, Skotkonung, University of Huddersfield, and Outspoken Delivery. The first of its type in the UK, the trial will take place from UPS's London depot.
Packages will be loaded onto pay load boxes at the depot and delivered by a single trailer to a central hub located within a busy urban area. The boxes are distributed from the hub via power-assisted trailers. The packages are then delivered to homes and businesses by bicycle or on foot.  
The pay load boxes are moved by electric assisted trailers which feature patented net-neutral technology, which means the weight of the parcels – up to 200 kilograms – isn't felt by the handler. This allows for increased last mile deliveries in a sustainable manner. The trial will feature bike trailers making deliveries in and around Camden during November and December.
"Low Impact City Logistics is a collaborative project that could revolutionize the way we deliver packages in our cities," said Peter Harris, Director of Sustainability, UPS Europe. "UPS has a long history of developing, deploying and promoting the use of more sustainable technology and delivery methods – and this collaboration will facilitate a one-of-a-kind urban delivery solution."
In partnership with cities around the world, UPS is developing a number of innovative solutions to reduce congestion and emissions in the urban communities it serves. According to UN projections, continuing population growth and urbanization are projected to add 2.5 billion people to the world's urban population by 2050, increasing demand for deliveries and straining current practices.
Recognizing this, UPS and GreenBiz teamed up earlier this year to publish "The Road to Sustainable Urban Logistics," providing a global view of the changing urban delivery landscape. The study determined that strong public-private partnerships, like this Low Impact City Logistics project in central London, are critical to the successful implementation of forward-thinking new delivery solutions in urban environments – and that a wide array of approaches are often required to solve the unique needs of the world's largest cities.  UPS has successfully deployed a variety of urban logistics solutions in numerous cities, including: Frankfurt, Offenbach, Hamburg, Munich, Oldenburg and Herne, Germany, as well as in Leuven and Mechelen, Belgium; Rome and Verona, Italy; Toulouse, France and Dublin, Ireland.
The Low Impact City Logistics project is also part of a £10 million investment by Innovate UK in a range of collaborative research and development projects that improve the efficiency and experience of the end-to-end journey for people and freight.
Specialist product development firm Fernhay led the design and development of the prototype trailer and pay load box, supported by the University of Huddersfield. "A key feature is our IP protected, 'net neutral' technology that stops the weight of the trailer being felt by the rider," said Robin Haycock, Director, Fernhay. "All drivers, regardless of their fitness level, will be able to make deliveries using our new system."
Professor Simon Iwnicki from the University of Huddersfield said: "The system used in this trailer allows the rider to carry higher loads over longer distances than would otherwise be possible. It is a project that has the potential to transform the way packages are delivered in urban areas."
The project also includes optimization algorithms written by Skotkonung, through a GPS tracker fitted within the trailer allowing for continuous improvement in route speed and efficiency. "We are proud to be involved in a project where the unique delivery management tools that we have developed along with our partners' work will help to transform the environments where we live and work," said Jonathan Cole, Managing Director, Skotkonung. 
Outspoken Delivery conducted initial trials of the system earlier in 2017.
ABOUT FERNHAY
Fernhay is a project management and product delivery consultancy that specializes in drawing together diverse types of organizations to deliver products and services in the energy and transport sectors. See Fernhay's website at www.fernhay.com.
ABOUT SKOTKONUNG
Formed in 2011, Skotkonung specialises in developing complex, data rich technology solutions for UK and international clients. Skotkonung has worked with UK and US government funded projects around the world and has a highly-specialised team that brings together skills in the international development, business administration, data management, visualisation, system and software development. Skotkonung's website is: www.skotkonung.com.
ABOUT OUTSPOKEN DELIVERY
Outspoken Delivery (www.outspokendelivery.co.uk) based in Cambridge, Glasgow and Norwich are the largest cycle based delivery company in the UK. Using their fleet of cargo bikes and trikes they provide same day, point to point delivery to over 300 local companies in the areas they operate and last mile delivery services for national and international logistics companies.
ABOUT UNIVERSITY OF HUDDERSFIELD
The University of Huddersfield is an inspiring, innovative provider of higher education of international renown. It has a national reputation in enterprise and innovation and has been the recipient of the Times Higher Education's University of the Year Award and Entrepreneurial University of the Year as well as a Queen's Awards for Enterprise. In 2015, it was recognised with 5-star status by international ratings organisation QS Stars for teaching, internationalisation, employability and for facilities and access.  See www.hud.ac.uk.
ABOUT INNOVATE UK
Innovate UK is the UK's innovation agency. It works with people, companies and partner organisations to find and drive the science and technology innovations that will grow the UK economy.  For further information visit www.innovateuk.gov.uk
ABOUT UPS
UPS (NYSE: UPS) is a global leader in logistics, offering a broad range of solutions including transporting packages and freight; facilitating international trade, and deploying advanced technology to more efficiently manage the world of business. Headquartered in Atlanta, UPS serves more than 220 countries and territories worldwide. The company can be found on the web at ups.com or pressroom.ups.com and its corporate blog can be found at longitudes.ups.com. To get UPS news direct, follow @UPS_News on Twitter.