UPS Longitudes | Flying to New Heights
UPS Longitudes | Flying to New Heights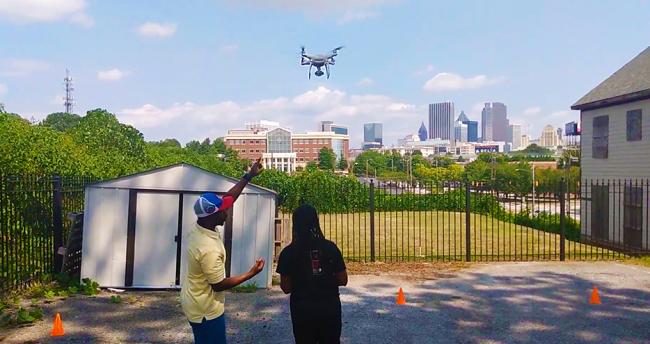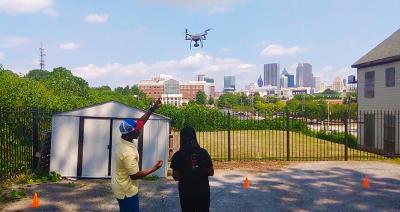 Wednesday, December 16, 2020 - 11:00am
Knowledge is power. More specifically, knowledge about technology is power.
That's why I devote my time to bringing the drone industry to as many people as possible (even in the face of an unprecedented global pandemic).
I started my business, Fly Vekter, in late 2017. Why? Because I wanted to leverage drones before they went mainstream, while I could still find a way to differentiate myself from the competition.
But I'll be honest … those few first months were difficult. We received our first opportunity, training students at a summer camp in Atlanta. But it was another four months before we even found another customer.
Those were the longest four months of my life — until COVID-19 hit.
Navigating the drone race (and COVID-19)
Coronavirus was a potential death sentence for my business: The pandemic suspended all our contracts outside of federal services.
We're in the business of training people to use drones. So how do you do that in the age of social distancing?
We have a hands-on model and traditionally required our teams to be on site to perform assigned missions and teach students. I thought our portfolio was diversified enough to withstand turmoil — then Fly Vekter ran into this once-in-a-lifetime crisis.
But we adjusted, and our strategy is starting to pay off. We now coordinate training classes online, and we hold meetings and organize introductions through online platforms such as Zoom. Previously, one-fourth of our business took place online; now it's roughly 75 percent.
We recruit, advertise and accept all payments through e-commerce platforms. We'll also integrate e-commerce options for our specialized customers, including the federal government and school districts.
As we continue to grapple with COVID-19, we're working in conjunction with education leaders to find ways to teach our classes online. I am also in talks with other business partners to expand our weekend classes and make them friendlier to customers who want to learn to fly from their homes.
This holistic approach mirrors the broader drone industry. Right now, there is an arms race of sorts taking place.
As UPS knows, with its world-class drone airline, drones need to fly faster, maneuver in tight spots and adapt to multiple situations. The autonomous drone race is fierce, with many players becoming more involved in the industry — from major corporations to startups.
That's why we're now working on innovative training, security and safety features that will change the landscape of the battlefield. We're also jumping headfirst into e-sports, developing a partnership with UNLV's Troesh Center for Entrepreneurship and Innovation and working with casinos on innovative gaming and COVID-19-friendly entertainment options.
We're leaving no stone unturned as we transform our business.
But even in this time of widespread disruption, age-old principles are more important than ever. At Fly Vekter, our values continue to guide our decisions large and small.
We continue to provide a premium service to traditionally underserved communities. That helps us stand out from the crowd regardless of changes in the business environment today.
So much attention is devoted to finding new customers (rightfully so). But that just gets you in the front door. Regardless of your industry or the size of your business, you must prove your value over and over again.
In other words, if you can't solve the customer's latest problem, they'll show you the door. And this is where it's important to maintain a little perspective.
We've trained more than 700 people in the last three years. Most of them were completely new to flying a drone. They needed us to show them the way.
As such, we're still building a strong team and network of partners who share our vision and want to be ambassadors for our organization. Our pilots are great at flying and providing intangible customer service — such qualities will endure, even as we pivot operations amid the coronavirus pandemic.
Our mission to bring technology to those who need it most will live on. My business might not look the same as a few years ago — but that's a good thing.
For Fly Vekter to reach new heights, it must drive the commercial drone movement. We'll continue to do just that — one reinvention at a time.
Photos courtesy of Jae Brown.