UPS Longitudes | As UPSFF Women Blaze Trails in Aviation, Everyone Benefits
Sherri Roberts @ UPS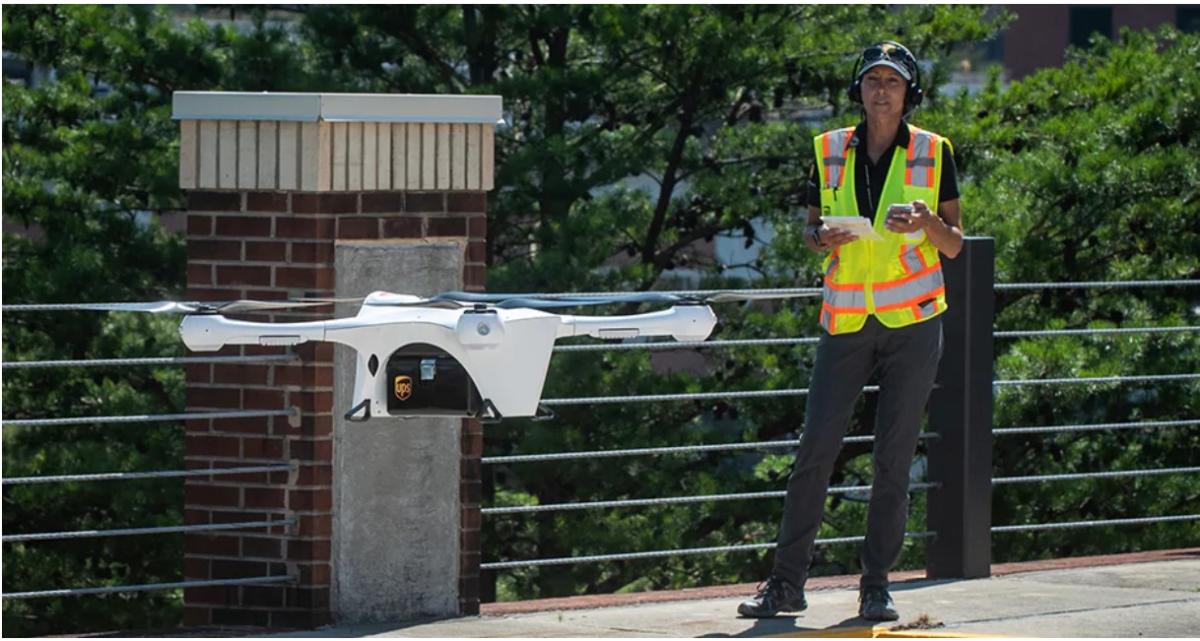 AS UPSFF WOMEN BLAZE TRAILS IN AVIATION, EVERYONE BENEFITS
When your company's primary mission is to test the boundaries of logistics to better serve customers, a diverse, inclusive team — with women in leadership positions — is crucial to fostering the kind of innovation that leads to success.
A diverse team increases talent engagement, fuels creative thinking, enhances customer service and ultimately drives better financial performance.
UPS Flight Forward (UPSFF), a pioneer in the drone delivery industry, proves that point every day. The UPS subsidiary, founded last year, features a deep bench of talented technologists and business professionals with diverse backgrounds. Many are women, which is particularly notable considering that men hold about 93 percent of the jobs in the drone industry overall.
At UPSFF, women occupy leadership positions in business development, engineering, human resources, maintenance, flight operations and technology. The company's resulting success is undeniable.
Making history
In just one year of operation, UPSFF developed a highly successful drone delivery use case, transporting medical samples and equipment faster than ground vehicles between locations on hospital campuses.
An all-female crew also staffed the first revenue-generating flight for UPSFF. The company also earned the Federal Aviation Administration's Part 135 Standard certification, enhancing UPSFF's ability to grow and expand beyond healthcare campuses.
Women who are aviation and business professionals have played an enormous role in the success of UPS Flight Forward, which has made history again and again in the field of drone delivery. In fact, UPSFF is the 2020 Women and Drones Honoree in the Team/Innovation category.
Women and Drones is a global networking platform for women who work in the drone industry.
UPS Chief Information and Engineering Officer Juan Perez credits much of UPSFF's success to diversity and the presence of women in leadership roles in this complex business.
"Through diversity and inclusion, we generate what I believe is most important, and that is diversity of thought," he said. "Diversity brings new ideas to the table — it helps us understand the markets that we serve more effectively so we can provide innovative solutions that support our customers of all backgrounds, all around the world, and it helps UPS develop technology that works for everyone."
Find what you love to do
UPSFF had a role at the Commercial UAV (Unmanned Aerial Vehicle) Expo last month, when four women team members spoke at the virtual event via a video panel about their roles, including their advocacy for women in the drone industry.
During the discussion, the panelists detailed their personal journeys as they navigated a male-dominated career path in aviation. The main takeaway? Persistence pays off, as reflected in professional successes that speak volumes.
"The key is to really find what you love to do," said Candice McHargue, UAS maintenance controller at UPSFF. "Companies are looking for innovation and people who can think outside the box. As a young girl, over 25 years ago, I never thought I'd be working with drones."
The women noted that it helps to have the support of UPS, an organization that prizes diversity and inclusion at all levels. But advancing women in a field predominately occupied by men is just one of the many ways UPS Flight Forward has taken a leadership role in the commercial drone industry.
Drones are unlocking a whole new dimension in logistics, and while we can already point to important real-world accomplishments, we have only scratched the surface of what's possible.
UPS intends to stay at the forefront of innovation as this story unfolds, largely thanks to the many contributions of women in leadership positions.