UPS Longitudes | Women Small Business Owners Look Beyond the Pandemic
Nikki Brown @ SHE Media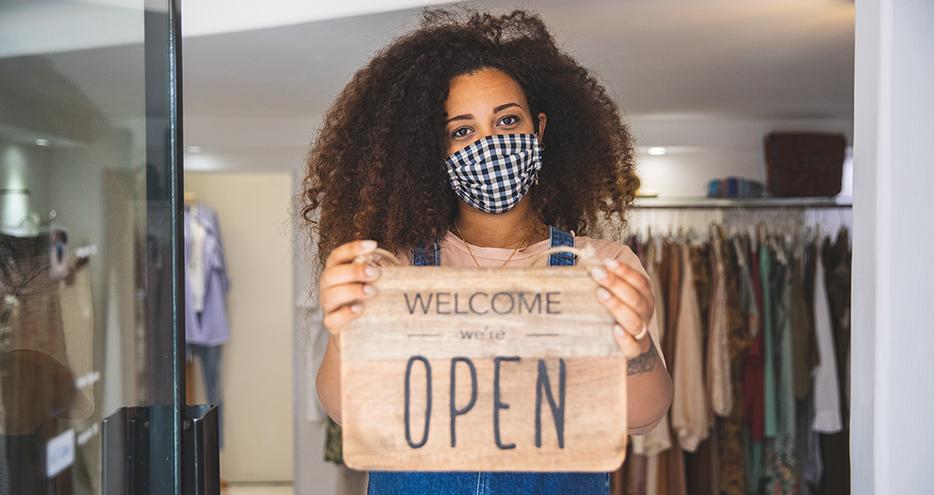 WOMEN SMALL BUSINESS OWNERS LOOK BEYOND THE PANDEMIC
In a year unlike any other, with COVID-19 shutdowns disrupting millions of small businesses, the pandemic has proven especially disheartening for women entrepreneurs.
According to a study by the Stanford Institute for Economic Policy Research, the number of women business owners dropped roughly 25 percent in the United States between February and April alone.
Still, women business owners are trend setters, showcasing resiliency and innovation even in the midst of a pandemic. They're doing more than just surviving — they're thriving. And they're still passionate about culture, work-life balance, the environment and making the world around them a better place.
We talked to several small business owners about lessons from these unprecedented times and how they plan to move forward. Below is a summary of what they learned, as well as their expectations for 2021.
Justina Blakeney, founder of Jungalow:
The most difficult thing about being a business owner this year has just been the emotional rollercoaster and the general day-to-day uncertainty of it all. From the pandemic to wildfires to social justice issues and balancing work responsibilities with family ones in a new work-from-home setting, this year has definitely shaken me.
Trying to be a good leader in a climate where nothing feels "normal" is very tough. We have run into supply chain issues and have had to pivot to learn how to onboard new employees remotely and do photo shoots with a skeleton crew, but all of that seems manageable compared to the existential angst of 2020 and the uncertainty of it all.
We are working hard (for 2021) to be more environmentally sustainable and also to work more closely with our suppliers to make sure that we can feel really good about how all our products are made — and the materials that they're made from.
Grace Duong, founder of Mystic Mondays:
My biggest challenge as a business owner in 2020 was to reframe what connection meant. I was always under the impression that in-person events were the only way to be effective, but I've had powerful experiences digitally and with the rise of the pandemic.
We're realizing as a society that we can be just as effective at home — or around the world — as in the office, which can create more freedom in the day to day. This also means that we need to develop rituals and routines that sustain us and the discipline to maintain boundaries between home life and work life — something that I struggled with before the pandemic.
I think we'll start to see (in 2021) smaller and more remote teams that support small businesses — and also a rise of small businesses building their personal brands to obtain the freedom they seek for themselves and their families. For marketing and promotion, there will be less focus on celebrities and more focus on people who can authentically connect with you. We will see less "fancy" equipment for marketing — all you need is a phone these days, which most people connect with more.
Ashley Judge, founder and CEO of AlwaysFits:
As the owner of a gift shop filled with pop culture references and profanity, I'm rarely asked to make choices that have a serious impact. But 2020 called me to lead my team through a true crisis and a true unknown; it was the biggest challenge of my career. Never have I had the health and safety of my staff so firmly in my hands, and it was — in a word — terrifying.
Industries (next year) will ask: Is this idea pandemic proof? Business models that cater to the large-scale party culture may feel tone deaf while ones that cultivate joy in small spaces or small groups will feel safe. Industries that rely on trade shows will learn to stay digital. Companies that once thanked their employees with large outings and frequent lunches in a small conference room will need to ask themselves how they can celebrate their employees more safely.
Junea Rocha, co-founder and CMO of Brazi Bites:
We are used to constant change — it's in our DNA — but the amount of change and first-time events in 2020 is a whole new territory. We've had to adjust the way we work, communicate and stay connected. We are having to work harder to maintain our culture, productivity and engagement under these new conditions.
In the food industry, consumers (in 2021) will seek innovative, better-for-you, delicious products that deliver on convenience, both during the shopping experience and at home. We believe grocery sales will also continue to grow as consumer confidence in restaurants will be slower to come back. Millions of consumers are also being introduced to online food shopping and grocery delivery in 2020 and will continue to use these services next year and beyond.
Jena Wolfe, founder of Piecework Puzzles:
Our biggest challenge in 2020 was keeping up with demand. Puzzles made a serious comeback this year! Due to COVID-19, we had to switch manufacturers this spring and onboard a new partner; ensuring quality control was certainly a challenge and a work stream that we didn't anticipate tackling so early on.
Next year will be an important time for companies like ours to think outside of the box when it comes to company culture and feeling connected to each other. It's a huge step for a small company to make its first few hires, and we want to get to know everyone on the team for more than their resumes. Welcoming new team members via Zoom is not ideal. Zoom fatigue is real!
Grace Lee, founder and CEO of Birdy Grey:
This was supposed to be our growth year, but COVID-19 hit the bridal industry in a pretty significant way. We're really proud of the way we leaned into our content and channels to connect with our customers. We became a resource for brides who were going through the heartbreak of pivoting their wedding plans and watched our social community band together in an unprecedented way.
We went into survival mode. We kept the team lean and remained incredibly prudent on cash burn. We did a lot of scenario modeling, reforecasting often, hoping for the best, but expecting the worst.
Having to be "on" 24/7 with minimal real human interaction has been challenging for a lot of people — us included. We'll see (in 2021) more managers turn meetings into tasks, chats or emails, leaning into platforms such as Slack or Asana. However, maintaining culture will continue to be mission critical, so we'll see a lot of creative ways teams stay engaged and connected, from socially-distanced team outings to virtual coffee breaks (Donut is a great tool for this).
Headshots courtesy respective interviewees.