The UPS Foundation, American Red Cross and Cyphy Works Launch Disaster Relief Drone Pilot Program
Trial will Assist with Hurricane Harvey Assessments and Serve as Future Model for a Rapid Assessment Unit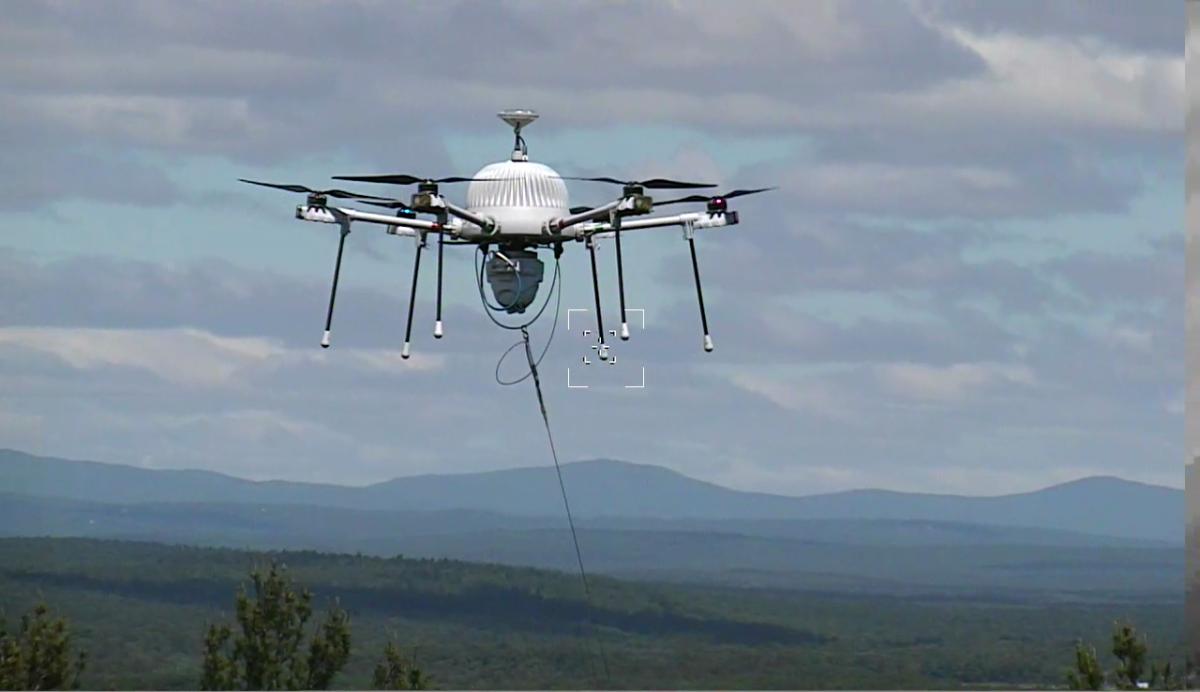 ATLANTA, September 7, 2017 /3BL Media/ – The UPS Foundation, the American Red Cross and drone manufacturer CyPhy Works, Inc., today announced a partnership to launch a drone pilot program, marking the first time the American Red Cross will test using a tethered drone to assess damage after a major natural disaster in the United States.
"With such catastrophic injury and damage being caused by natural disasters, every minute counts. It's essential that public and private organizations work together to find new and innovative solutions to support and enhance recovery efforts after a natural disaster strikes," said Eduardo Martinez, president of The UPS Foundation and chief diversity and inclusion officer. "Accurately and quickly assessing the impact is a critical step to help save lives and lay the groundwork for eventual recovery and rebuilding. The UPS Foundation is pleased to bring together, fund and support this effort, in partnership with CyPhy Works and the American Red Cross."   
Given the magnitude of recovery efforts taking place in Texas and Louisiana following the devastation caused by Hurricane Harvey, the parties agreed there was no better time to begin the pilot. UPS, the American Red Cross and CyPhy will deploy the drone and conduct a one-week, on-site test in an area badly affected by the flooding. This pilot could serve as a future model for a rapid response team. 
"The measure of success for the American Red Cross on this pilot will be to prove that drones can help support, complement and accelerate the work already being done by our tremendous volunteers," said Brad Kieserman, vice president, Disaster Services & Logistics, American Red Cross. "In collaboration with UPS and CyPhy Works, we are thrilled to be conducting a pilot program with a drone for the first time in the United States. This will help us make faster assessments of affected communities that critically need our assistance."
The CyPhy Works Persistent Aerial Reconnaissance and Communications (PARC™) system is being evaluated for effectiveness in supporting ground-based response teams. The tethered drone will go up 400 feet to provide aerial observation. The 30X zoom camera provides tens of miles of visibility and will be able to identify homes that have experienced water damage long before waters recede. A tethered drone can provide uninterrupted coverage at a disaster site for days or weeks at a time. Also, PARC can keep flying when hooked up to a generator as it's powered from the ground, whereas a battery-operated drone in disaster conditions would need to be re-charged. High-image recognition tools and online comparison with previous imagery may help identify areas with the most damage and allow the extent of damages to be understood more quickly.
 "CyPhy Works is proud to be part of this important mission," said Lance Vanden Brook, CEO of CyPhy Works, Inc.  "PARC will provide the first responders and recovery crews with a stable fixed-location point of observation to help capture these crucial images without interruption."
Innovation through automation and robotics has long been a focus for the world's largest package delivery company. In fact, UPS has been exploring the use of drones to deliver humanitarian aid in hard-to-reach parts of the world. In May of last year, UPS entered into a first-of-its-kind, public-private partnership with Zipline, a California-based robotics company, and Gavi, the Vaccine Alliance, to help create the world's first national medical drone delivery network in Rwanda.  And, last September, UPS and CyPhy Works conducted a test using a drone for delivery of urgently needed medical products to a remote, difficult-to-access location off the coast of Massachusetts.   
About The UPS Foundation
UPS (NYSE: UPS) is a global leader in logistics, offering a broad range of solutions including the transportation of packages and freight; the facilitation of international trade, and the deployment of advanced technology to more efficiently manage the world of business. Since its founding in 1907, UPS has built a legacy as a caring and responsible corporate citizen, supporting programs that provide long-term solutions to community needs. Founded in 1951, The UPS Foundation leads its global citizenship programs and is responsible for facilitating community involvement to local, national, and global communities. In 2016, UPS and its employees, active and retired, invested more than $116 million in charitable giving around the world. The UPS Foundation can be found on the web at UPS.com/Foundation. To get UPS news direct, follow @UPS_News on Twitter.
About the American Red Cross
The American Red Cross shelters, feeds and provides emotional support to victims of disasters; supplies about 40 percent of the nation's blood; teaches skills that save lives; provides international humanitarian aid; and supports military members and their families. The Red Cross is a not-for-profit organization that depends on volunteers and the generosity of the American public to perform its mission. For more information, please visit redcross.org or cruzrojaamericana.org, or visit us on Twitter at @RedCross.
About CyPhy Works
CyPhy Works is a leading drone company pursuing innovative aerial platforms to support customers in industries including defense, public safety, agriculture, energy, logistics, marine, mining, power and transportation.  CyPhy Works' tethered drones offer persistent, long-duration mission capability; secure data links for payload data, and for command/control; and easy, autonomous flight. For more information please visit http://www.cyphyworks.com or follow us on twitter at @CyPhyWorksInc or @HelenGreiner.