UN Global Compact Bulletin (November 2017)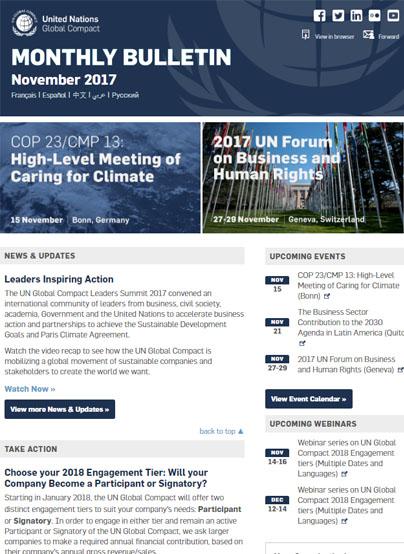 UN Global Compact Bulletin (November 2017)
Find out how the private sector can contribute to accelerating and enhancing the Nationally Determined Contributions (NDCs) and Paris Agreement at COP 23 in Bonn on 15 November.
Join the world's largest annual gathering on business and human rights at the 2017 UN Forum on Business and Human Rights in Geneva on 27-29 November.
NEWS & UPDATES
The UN Global Compact Leaders Summit 2017 convened an international community of leaders from business, civil society, academia, Government and the United Nations to accelerate business action and partnerships to achieve the Sustainable Development Goals and Paris Climate Agreement.
Watch the video recap to see how the UN Global Compact is mobilizing a global movement of sustainable companies and stakeholders to create the world we want.
TAKE ACTION
Choose your 2018 Engagement Tier: Will your Company Become a Participant or Signatory?
Starting in January 2018, the UN Global Compact will offer two distinct engagement tiers to suit your company's needs: Participant or Signatory. In order to engage in either tier and remain an active Participant or Signatory of the UN Global Compact, we ask larger companies to make a required annual financial contribution, based on their company's annual gross revenue/sales.
Join the Pathways to Low-Carbon and Resilient Development Action Platform
Pathways to Low-Carbon and Resilient Development aims to mobilize the private sector to become a catalyst for enhancing country-level action to meet the ambitions of the Paris Agreement and the Sustainable Development Goals (SDGs).
Now it is time for business leaders to implement climate action deep into local markets everywhere and pioneer a pathway forward to ensure a sustainable future for all.
Secure Dignity and Equality for all Human Beings
Human rights are universal and every person around the world deserves to be treated with dignity and equality. Basic rights include freedom of speech, privacy, health, life, liberty and security, as well as an adequate standard of living. While Governments have the duty to protect individuals against human rights abuses by third parties, businesses are recognizing their legal, moral and commercial need to get involved.
Nominations for the Oslo Business for Peace Award 2018
The UN Global Compact and the Business for Peace Foundation invite you to nominate candidates for the 2018 Oslo Business for Peace Awards. The award recognizes exceptional individuals who exemplify the concept of being "businessworthy" by ethically creating shared value for the economy and for society.
The 2018 awards will be presented at Oslo City Hall on 16 May 2018. As a partner of the Business for Peace Foundation, the UN Global Compact is accepting nominations until 21 November 2017.
LOCAL NETWORK NEWS
UPCOMING EVENTS
UPCOMING WEBINARS
FROM OUR LIBRARY