Twitter Chat Announcement: "Non-Communicable Diseases: Co-Creating Solutions for Prevention and Treatment" with PSI, Intra Health International, and the Novartis Foundation Next Wed at 10, ET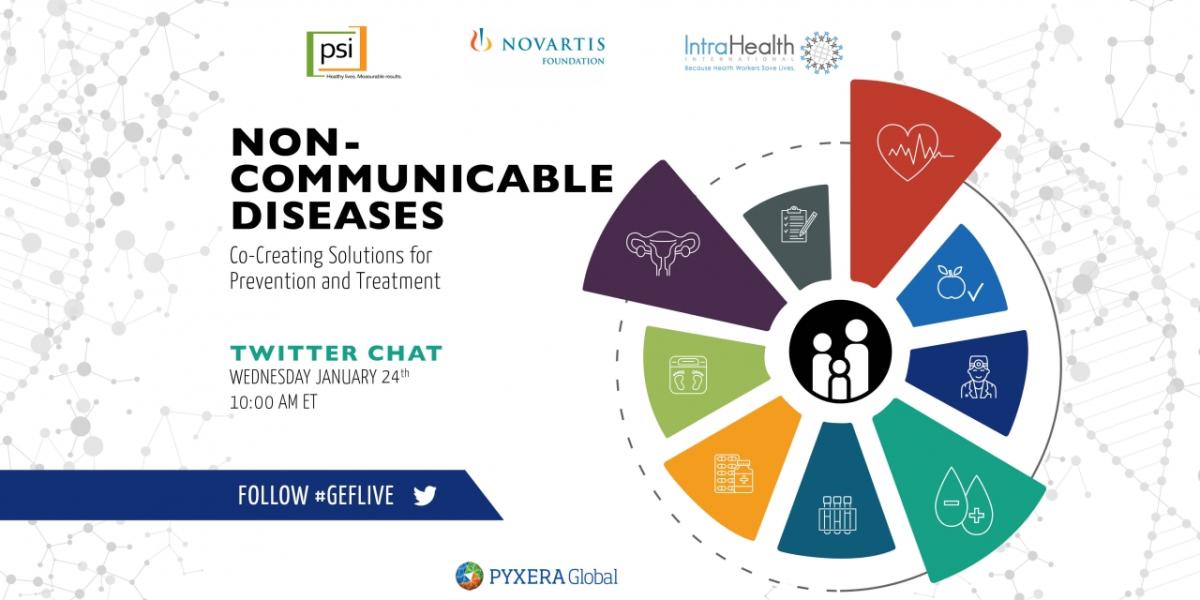 Twitter Chat Announcement: "Non-Communicable Diseases: Co-Creating Solutions fo…
WASHINGTON, D.C., January 19, 2018 /3BL Media/ - What do cervical cancer, Type 2 diabetes, and hypertension have in common? They are three diseases that are largely preventable, easily screened for/diagnosed, and highly treatable with known therapies. Addressing non-communicable diseases (NCDs) such as these, is a problem we can solve if we work together. To lessen the impact of the three diseases requires a comprehensive approach from all sectors, including healthcare, finance, international development, education, and government, to work together to reduce the risks associated with NCDs as well as to promote the interventions which prevent and manage them. 
Join the PYXERA Global Solvable Problem Twitter chat: Non-Communicable Diseases: Co-Creating Solutions for Prevention and Treatment Wednesday, January 24th 10 AM ET on #GEFLive. Building on the outcomes of the Global Engagement Forum: Live, convened by PYXERA Global in April 2017, this chat features leaders in NCD treatment and prevention, PSI, IntraHealth, and the  Novartis Foundation.
In this conversation, you will hear:
How organizations collaborate to prevent and treat non-communicable diseases, including the newest ideas to meet the biggest challenges.
Key findings from the  newly published report, "Preventing and Treating Non-Communicable Diseases" by PSI and PYXERA Global.
How you can get involved in addressing Non-Communicative Diseases.
While there is no "silver bullet" to address all NCDs, the first step is to truly understand the problem. The "Non-Communicable Diseases: Co-Creating Solutions for Prevention and Treatment" Twitter Chat will be fueled by findings from the recent publication co-authored by PSI and PYXERA Global, Preventing and Treating Non-Communicable Diseases – a work based on discoveries from the Global Engagement Forum: Live. This publication highlights the outcomes of collaborative action sessions at the Forum and core principles to guide collaborative action. (Read more here.)
"Within the time frame of the Global Goals, cervical cancer can be virtually eliminated, and Type 2 diabetes and hypertension prevalence and complications can be significantly reduced… Low-cost solutions exist to reduce the common modifiable risk factors like tobacco use, alcohol use, physical inactivity, and unhealthy diets. Other ways to reduce NCDs are high impact interventions delivered through a primary healthcare approach, which emphasizes early detection and timely treatment."  
Excerpt from Preventing and Treating Non-Communicable Diseases
Moderated by @PYXERAglobal, this #GEFlive chat will feature:
@PSIimpact – PSI is a global non-profit organization dedicated to improving the health of people in emerging and frontier markets.
@IntraHealth  – IntraHealth believes everyone everywhere should have the health care they need to thrive. And they're focusing on health workers to get there.
@NovartisFDN – Novartis transforms healthcare in lower middle income countries. They focus on NCDs, leprosy, digital health, and urban health.
About PYXERA Global
Submit a solvable problem to the Solvable Problem Challenge and to be considered to be for a feature track at the next Global Engagement Forum: Live on October 11 and 12. Learn more here and submit your idea by February 28th.
The PYXERA Global team is passionate and dedicated to navigating challenges and pinpointing purposeful global engagement opportunities for its clients and partners. Initiatives include a wide range of services from local content development to global pro bono programs and integrated community development efforts that transform lives and livelihoods. 
For questions please contact:
Contact: Morgan Singer
Communications Coordinator, PYXERA Global
msinger@pyxeraglobal.org
202.872.0933