The Top 5 Ways Your Company Can Help Nonprofits Right Now Through Pro Bono
How your team can share the expertise and services nonprofits need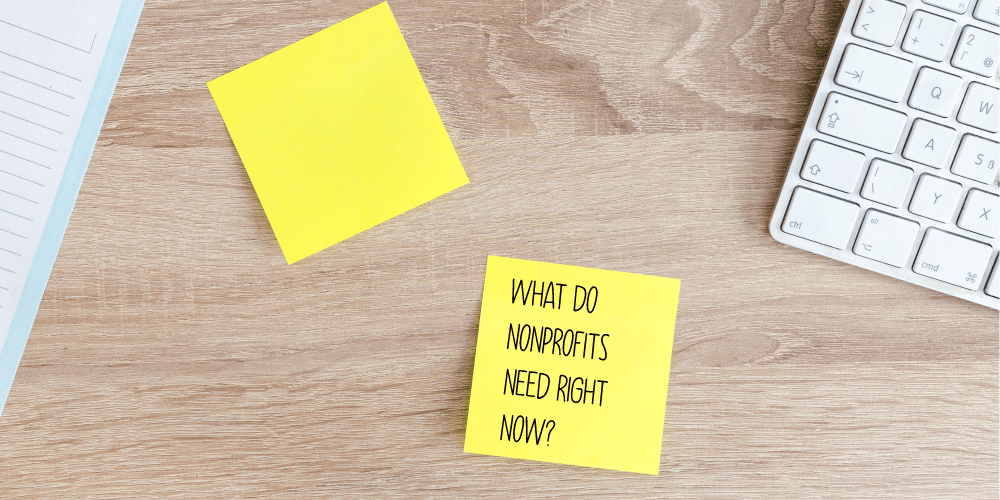 At the Taproot Foundation, we are committed to supporting nonprofits by helping them get the services and expertise the need pro bono. Pictured: sticky notes on a desk, one reads "What do Nonprofits Need Right Now?"
The Top 5 Ways Your Company Can Help Nonprofits Right Now Through Pro Bono
Companies are asking us what nonprofits need right now and how pro bono can help. We've compiled a list of some of the most pervasive urgent organizational needs nonprofits are confronting across the sector due to the COVID-19 crisis, and real-life examples of the types of pro bono support that can make a real difference.
First, two important acknowledgements:
What nonprofits need most right now is funding.  Full stop.
Solving capacity-building problems requires time and bandwidth. In the middle of a crisis like this, some organizations are not in a position to take advantage of pro bono.  But for others, now is exactly when they need it the most. Be a good partner by leaving the space for organizations to assess on a case by case basis.
In addition to the very specific and critical challenges facing nonprofit organizations on the frontlines of the pandemic—like those supporting healthcare access, serving vulnerable populations, and enabling food access—nonprofits across all corners of the social sector are being profoundly impacted by this crisis. Organizations have suddenly lost their primary sources of funding due to cancelled programs, registrations, and events, and they're working day and night to figure out how to sustain their services. Many organizations are seeing a staggering increase in the need for their services, but that's paired with the sudden loss of access to the volunteers and venues they'd previously used to deliver them. And for most nonprofits, this crisis has raised HR and management needs on a scale that hasn't been seen before, often with little to no access to dedicated support in that area.
Providing pro bono support in areas like marketing, HR, strategy, IT, and finance will be an essential part of ensuring that the organizations we've come to rely on can continue their work, during this crisis and beyond.
How your company can help nonprofits
Crafting crisis communications.
Between balancing tone, brevity, and timing, communicating through a crisis is an art. And if organizations don't have trained communications professionals on staff, or their comms team is underwater, it's hard to think strategically about how to convey their important message.
Nonprofits can use support in this area, like developing a crisis communications strategy or an ongoing communications plan for keeping stakeholders informed and engaged as programs adjust to the changing landscape.
Shifting to virtual program delivery.
Organizations have an urgent need to be nimble and adapt their program delivery in this new environment. Shifting as much as possible to a virtual/digital format—be it live programming, content, resources etc.—has become absolutely essential.
Nonprofits can use support in this area, like marketing and design support to convert in-person content to web-friendly content, strategy consulting to identify the best options, and product management insights to plan and implement shifts.
Creative fundraising campaigns.
Fundraising events are being postponed right and left, while program demand continues to increase. Giving campaigns can be a way to jumpstart donations and drive revenue and awareness on a larger scale virtually.
Nonprofits can use support in this area, like drafting compelling messaging, building a creative social media strategy, or designing visually engaging graphics to support campaigns.
Financial reforecasting.
Revenues are taking a hit for organizations across the board, from tickets being refunded to income-generating programs being cancelled. Nonprofits need to get a quick and accurate handle on their revenue and expense outlook in order to make the right decisions.
Nonprofits can use support in this area, like assessing financial data to create a new forecasting model, conducting an analysis to identify true program costs or creating a smart Excel model to enable real-time updates.
HR policy updates.
The way we work has drastically changed in just a few days' time, and many organizations are operating without the necessary policies in place.
Nonprofits can use support in this area, like identifying needed policies and processes to help employees work effectively in this new environment, and establishing new protocols for the safety of their employees and clients.
What other needs are you hearing? Share with us at advisory@taprootfoundation.org. We'll continue compiling and sharing needs and insights with the field from our nonprofit colleagues and corporate partners.
Up next – Supporting your community partners through virtual pro bono. It's crucial that companies' support of their community partners continues during this challenging time so that organizations can access the help they need. Whether it's converting in-person pro bono programs to a virtual format or helping to rapidly implement new remote programs, we will be sharing the best ways to meet the needs listed above, and many more.