TIME Magazine Honors Innovative My Special Aflac Duck™
TIME Magazine Honors Innovative My Special Aflac Duck™
Robotic Duck That Helps Children Cope with Cancer Named One of The 50 Best Inventions of 2018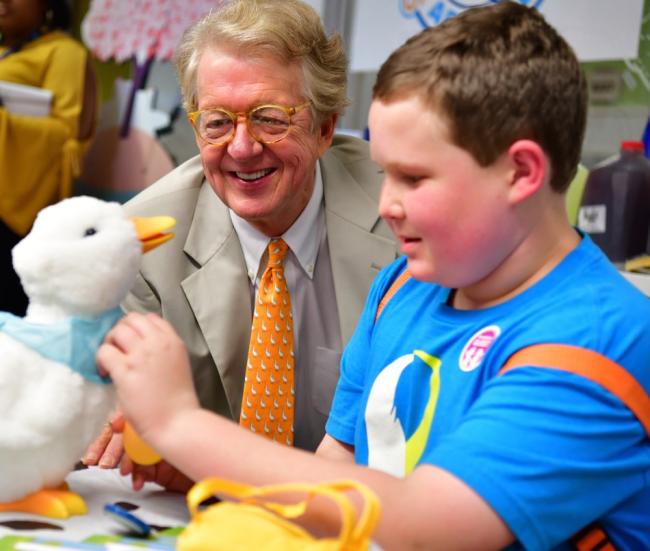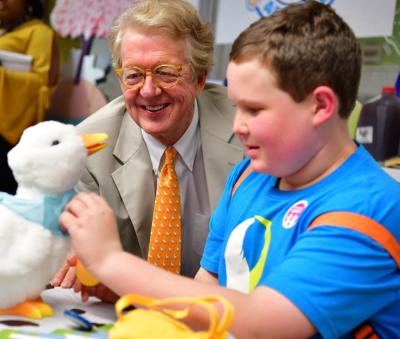 Monday, November 26, 2018 - 1:15pm
COLUMBUS, Ga., November 26, 2018 /3BL Media/ – Aflac, the leader in voluntary insurance sales at the worksite in the United States and a committed leader in seeking a cure for childhood cancer, today announced that its innovative "smart" robot My Special Aflac Duck™ has been named to TIME Magazine's list of the 50 Best Inventions for 2018. My Special Aflac Duck, designed by Sproutel, is a social robot that uses medical play, lifelike movement, and emotions to engage and help comfort kids during their cancer care. Earlier this year, My Special Aflac Duck was named Best in Show and received the coveted Tech for Good Award at the Consumer Electronics Show.
Aflac is providing My Special Aflac Duck, free of charge, to children between the ages of 3 and 13 who are newly diagnosed with cancer across the United States. The company has invested millions for the program and will continue to invest at least $3 million annually for this ongoing philanthropic campaign. The cost of each duck is $200.
"Recognition from TIME Magazine is the ultimate validation of the power of doing 'good' in the community," Aflac Chairman and CEO Dan Amos said. "It has been our goal to help children and families who are facing a terrible diagnosis cope with the treatments during their cancer journey. Our hope is that someday children won't need My Special Aflac Duck, but until childhood cancer is cured, Aflac and our duck will be there."
"We are incredibly proud of Aflac's innovative approach to helping children cope with treatments for cancer," Aflac President of U.S. Operations Teresa L. White said. "Treating a disease like cancer is about more than just medicine; it is about helping provide comfort to people who need it most. My Special Aflac Duck represents how technology will not only help us serve our communities more effectively, but it will [also] help us lead the way in our desire to make the entire world a better place."
According to TIME, to assemble the 2018 list, they solicited nominations across a variety of categories from editors and correspondents around the world, as well as through an online application process. Each contender was then evaluated on key factors, including originality, creativity, influence, ambition and effectiveness. The result: 50 groundbreaking inventions that are changing the way we live, work, play and think about what's possible.
"We are truly honored that Aflac invited Sproutel to join in their commitment to helping children and families by enabling us to do the work we love and design My Special Aflac Duck," Sproutel CEO Aaron Horowitz said. "This has been the most rewarding experience for our company, and seeing Aflac's true heart and commitment to making My Special Aflac Duck a child-centric program has assured us that there is good in corporate America and that helping others truly matters."
Since 1995, Aflac has contributed more than $128 million to the pediatric cancer cause, including more than $500,000 donated each month by 17,000 independent agents licensed to sell Aflac products. To see My Special Aflac Duck in action and to learn more about this important cause, please visit AflacChildhoodCancer.org.
About Aflac 
When a policyholder gets sick or hurt, Aflac pays cash benefits fast. For more than six decades, Aflac insurance policies have given policyholders the opportunity to focus on recovery, not financial stress. In the United States, Aflac is the leader in voluntary insurance sales at the worksite. Through its trailblazing One Day PaySM initiative, for eligible claims, Aflac U.S. can process, approve and electronically send funds to claimants for quick access to cash in just one business day. In Japan, Aflac is the leading provider of medical and cancer insurance and insures 1 in 4 households. Aflac insurance products help provide protection to more than 50 million people worldwide. For 12 consecutive years, Aflac has been recognized by Ethisphere as one of the World's Most Ethical Companies. In 2018, Fortune magazine recognized Aflac as one of the 100 Best Companies to Work for in America for the 20th consecutive year and included Aflac on its list of World's Most Admired Companies for the 17th time. Aflac Incorporated is a Fortune 500 company listed on the New York Stock Exchange under the symbol AFL. To find out more about Aflac and One Day PaySM, visit aflac.com or aflac.com/espanol.
Aflac herein means American Family Life Assurance Company of Columbus and American Family Life Assurance Company of New York. WWHQ | 1932 Wynnton Road | Columbus, GA 31999.
Contact
Aflac analyst and investor contact