Ten New Markets Earmarked as Opportunities to Boost Lagging Sustainable Development Goals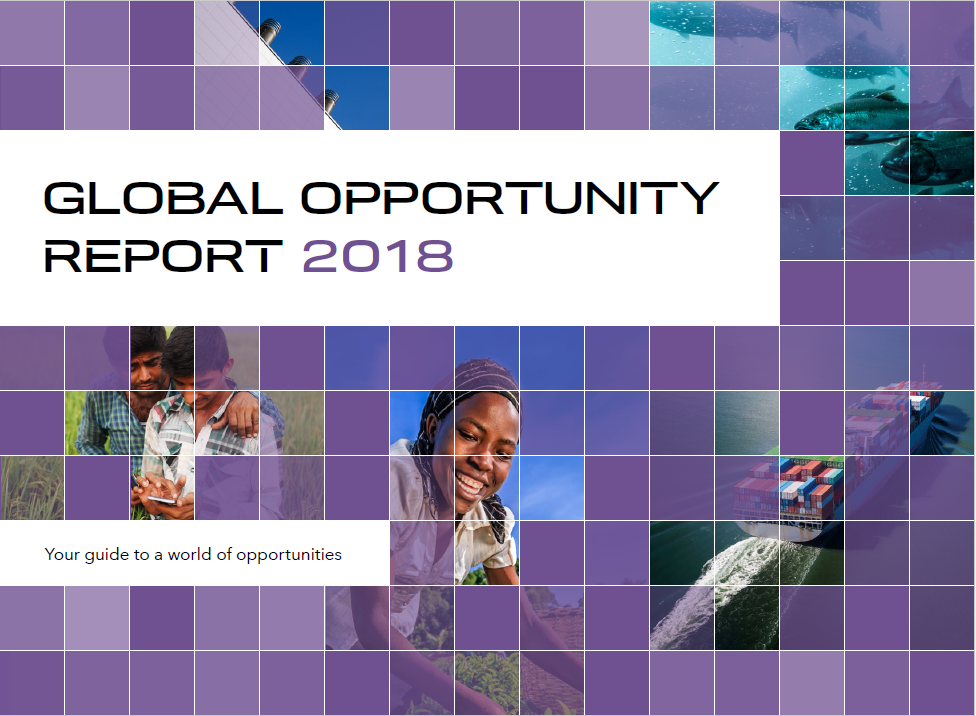 Ten new markets earmarked as opportunities to boost lagging Sustainable Develop…
HØVIK, Norway, February 1, 2018 /3BL Media/ - According to a new Global Opportunity Report from DNV GL, Sustainia and the United Nations Global Compact, renewed efforts are required to ensure four of the 17 UN Sustainable Development Goals do not miss their 2030 targets. The Global Goals addressed in the report are Goal 10: Reduced Inequalities, Goal 12: Responsible Consumption and Production, Goal 13: Climate Action and Goal 14: Life Below Water.
The solution-focused report — the fourth in its series — offers 10 new markets which could help get these Global Goals back on track, such as blockchain-based land rights for Goal 10 and energy-efficient cooling for Goal 13.
So far, the Global Opportunity Reports have identified 55 markets that demonstrate the business opportunities inherent in all of the 17 Sustainable Development Goals. The biggest opportunities can be found at the intersections of traditional markets, which requires collaboration and cooperation across sectors and fields. To facilitate that, the partners behind the report launched the Global Opportunity Explorer last year — an open access innovation hub with markets and solutions for the Global Goals. All 55 markets, including the 10 new opportunities, are now online on the platform.
Lise Kingo, CEO & Executive Director of the United Nations Global Compact, said, "We live in a world in urgent need of change, and businesses are leading the charge towards the transformations ahead. Through developing breakthrough innovations and forging critical partnerships, the business community has the resources and creativity we need to create the world we want. The fourth edition of the Global Opportunity Report highlights issues which affect every human on this planet, and demonstrates how businesses everywhere can tap into emerging markets and deliver solutions to the biggest challenges of our time."
The Global Opportunity Explorer was created on the conviction that the Global Goals offer a myriad of business opportunities with great value to companies, society and the environment. The hub aims to showcase the best solutions and markets relating to the Global Goals and to foster collaboration and cooperation between investors, businesses and entrepreneurs.
Since the inception of the Global Opportunity Report series in 2015, 17,000 business leaders have been consulted; and from their feedback, 55 market opportunities have been identified. The opportunities in the new report include securing land rights for the most disadvantaged through blockchain technology, re-purposing electric vehicle batteries for domestic power grids, and searching for alternative materials to energy-intensive concrete.
Remi Eriksen, Group President & CEO of DNV GL, said, "The UN Sustainable Development Goals define the future desires of mankind.  However, achieving the SDGs will not come without solving some fundamental challenges. This report presents to business and political leaders the many opportunities emerging from solving these challenges and how to produce increasingly shared values."
Rasmus Schjødt Pedersen, CEO of Sustainia said, "Every CEO on the planet should rest assured that by pursuing the Global Goals, they can turn opportunities into profit and long-term growth. Our Global Opportunity Explorer is a tool for that. Take a deep dive!"
###
Media and press enquiries
Ulrike Haugen
Chief Communications Officer
DNV GL Group                 
ulrike.haugen@dnvgl.com
+47 409 24 389
Joachim Marc Christensen
Communications Manager
Sustainia     
jch@sustainia.me 
+45 26 92 99 75
Colleen M. Connors
Manager, Brand & Communications
United Nations Global Compact
connors@unglobalcompact.org 
+1 646-884-7533
About the partners
DNV GL is a global quality assurance and risk management company. Driven by our purpose of safeguarding life, property and the environment, we enable our customers to advance the safety and sustainability of their business. We provide classification, technical assurance, software and independent expert advisory services to the maritime, oil & gas, power and renewables industries. We also provide certification and supply chain services to customers across a wide range of industries. Operating in more than 100 countries, our experts are dedicated to helping customers make the world safer, smarter and greener. www.dnvgl.com
Sustainia is a sustainability advisory group and digital studio working to accelerate action towards a sustainable future. We work with people who are changing the word for the better, helping them integrate sustainability into their core by developing cutting-edge strategies, building engaging digital solutions, and amplifying their messages with impact. www.sustainia.me   
The United Nations Global Compact is a call to companies everywhere to align their operations and strategies with ten universally accepted principles in the areas of human rights, labour, environment and anti-corruption, and to take action in support of UN goals and issues embodied in the Sustainable Development Goals. The UN Global Compact is a leadership platform for the development, implementation and disclosure of responsible corporate practices. Launched in 2000, it is the largest corporate sustainability initiative in the world, with more than 9,500 companies and 3,000 non-business signatories based in over 160 countries, and more than 70 Local Networks. www.unglobalcompact.org