At TD, a WELL Seal Adds Confidence To Help Customers Thrive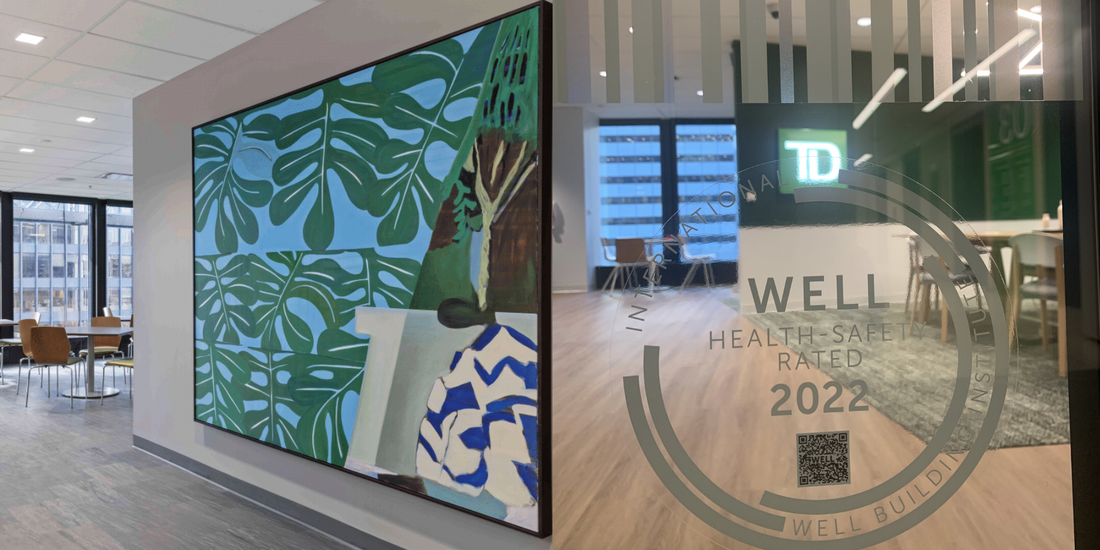 TD Bank Group, a Toronto-based multinational banking and financial services corporation, is one of the world's top banking brands. To deliver "legendary customer experiences and extraordinary places to work" as part of the bank's guiding principles, TD tapped the WELL Building Standard (WELL) as early as 2015 to leverage WELL's holistic approach to buildings, organizations and communities for a culture of health and well-being for employees and customers at large. TD's journey to WELL started with eight locations in Maryland and New Jersey in the United States and Ontario and British Columbia in Canada. Five locations have individually achieved WELL Certification. In March 2022, TD expanded its application of WELL strategies across its entire North America portfolio and achieved the WELL Health-Safety Rating for more than 2,400 locations in the United States and Canada.
Launched in 2020, the WELL Health-Safety Rating is an evidence-based, third-party verified rating for all new and existing building and space types focused on operational policies, maintenance protocols, emergency plans and stakeholder engagement strategies to help organizations prepare their spaces for re-entry and operate with confidence into the future. The Rating draws on a subset of features from the WELL Building Standard (WELL) and the feedback from the 600-member IWBI Task Force on COVID-19. Today, the Rating is adopted in more than 100 countries in 3.5 billion square feet of space. Approximately 20% of Fortune 500 companies today use the WELL Health-Safety Rating or WELL Certification as a tool to support organization well-being strategies.
Q: Can you share how TD started on this WELL journey?
A: This has been a years-long journey for TD that began long before the COVID-19 pandemic struck and focused everyone's attention on the health and safety of where we live, work and play. While TD has always prioritized the health and safety of colleagues and customers, what attracted us to this program is that WELL Health-Safety Rating reinforces that commitment.
We initially focused on our WELL efforts by certifying several individual locations in the U.S. and Canada, but through the process we leveraged best-in-class programs and research and understood the need to expand our parameters across the board with each new location we built. Ultimately, we were excited to participate in the WELL Health-Safety Rating for all of our North American locations because it allowed us to confirm that our portfolio standards meet the robust health and safety requirements that are now top of mind for our colleagues and customers.
Q: Since TD's entire North America portfolio has achieved the WELL Health-Safety Rating , can you give us a landscape view of the locations displaying the WELL Health-Safety seal? Approximately, how many people go through these doors annually to benefit from the achievement?
A: When we began this process to pursue the WELL Health-Safety Rating, we recognized that for TD's 90,000+ colleagues and more than 26 million customers, health and safety is top of mind for everyone, now more than ever. I am proud to say that now more than 2,400 retail and corporate locations – 20.7 million square feet - within our North American footprint have achieved a WELL Health-Safety Rating. That means that whenever customers or colleagues see the WELL seal on the outside of a U.S. store, a Canadian branch, a TD Insurance location or any of our corporate offices, they can feel safer inside.
Q: With so many people to share the good news with, how is TD communicating the achievement and intended well-being benefits to your stakeholders?
A: We are very proud to have every location in TD's North American portfolio covered by the WELL Health-Safety Rating and over the coming months we will install and display the WELL seal in those locations. In the meantime, we deploy internal communications with our colleagues about the benefits of the program and how we are working to keep them safe, as well as providing front-line staff with all the information they would need to share this achievement with our customers. We also shared it through our social media channels. We know that our customers are more focused than ever on personal safety so providing that reassurance to them through the WELL Health-Safety Rating is a real differentiator for us.
Q: Tell us something that helped incorporate TD's brand value with WELL's people-first approach.
A: At TD, our purpose is to enrich the lives of our customers, colleagues, and communities. Being able to reinforce how seriously we take their personal health and safety enables us to live our purpose. Providing that reassurance helps our colleagues, especially those on the front line, deepen their relationships with our customers and bring those values to life. It all begins with the feeling that where you are doing business is safe and that we take those responsibilities incredibly seriously.
Achieving the WELL Health-Safety Rating helps reinforce TD's vision to give our customers, communities and colleagues the confidence to thrive. The WELL seal effectively communicates that sense of confidence for our broader communities in terms of health and safety in places where we bank.
Q: What are the next steps after achieving the WELL Health-Safety Rating?
A: Achieving the WELL Health-Safety Rating is a big milestone in our journey, but that journey continues. The pandemic has taught us that we must remain vigilant, aware and able to adapt to new challenges. In fact, a key component of our real estate strategy is listening. We regularly seek feedback from those who use our spaces so that we can continue to learn, evolve and drive our future strategy. I look forward to continuing our partnership with the folks at IWBI as we work toward the next milestone in our health and safety journey, a journey that communicates TD's commitment to the holistic approach to the well-being of our customers, colleagues and all stakeholders.
View original content here.